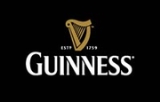 Guinness
Guinness
is a popular Irish
dry stout
Stout
Stout is a dark beer made using roasted malt or barley, hops, water and yeast. Stouts were traditionally the generic term for the strongest or stoutest porters, typically 7% or 8%, produced by a brewery....
that originated in the brewery of
Arthur Guinness
Arthur Guinness
Arthur Guinness was an Irish brewer and the founder of the Guinness brewery business and family.He was also an entrepreneur, visionary and philanthropist....
(1725–1803) at St. James's Gate,
Dublin
. Guinness is directly descended from the
porter
Porter (beer)
Porter is a dark-coloured style of beer. The history and development of stout and porter are intertwined. The name was first used in the 18th century from its popularity with the street and river porters of London. It is generally brewed with dark malts...
style that originated in London in the early 18th century and is one of the most successful beer brands worldwide, brewed in almost 50 countries and available in over 100. 1.8 billion pints are sold annually.
A distinctive feature is the burnt flavour which is derived from the use of roasted unmalted
barley
Barley
Barley is a major cereal grain, a member of the grass family. It serves as a major animal fodder, as a base malt for beer and certain distilled beverages, and as a component of various health foods...
(though this is a relatively modern development since it did not become a part of the grist until well into the 20th century).