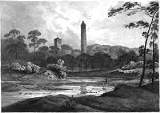 Clondalkin
Today
Modern Clondalkin is a busy
satellite town
Satellite town
A satellite town or satellite city is a concept in urban planning that refers essentially to smaller metropolitan areas which are located somewhat near to, but are mostly independent of, larger metropolitan areas.-Characteristics:...
of Dublin, with a population of 43,929 in 2006. Retail facilities include
Tesco Ireland
Tesco Ireland
Tesco Ireland is the Irish arm of supermarket group Tesco. It was formed in Tesco plc's 1997 takeover of the Irish retailing operations of Associated British Foods, namely Powers' Supermarkets Limited and its subsidiaries, trading as Quinnsworth and Crazy Prices.Tesco operates supermarkets under...
- and Dunnes Stores-led shopping centres, and
Aldi
ALDI
ALDI Einkauf GmbH & Co. oHG, doing business as ', short for "Albrecht Discount", is a discount supermarket chain based in Germany...
and
Lidl
Lidl
Lidl is a discount supermarket chain based in Germany that operates over 7,200 stores across Europe. The company's full name is Lidl Stiftung & Co. KG...
stores on the Fonthill Road and New Nangor Road respectively, and the village centre is a base for small businesses including solicitors, restaurants, pubs, hairdressers, pharmacies and more recently a tattoo and body piercing studio.
Clondalkin has a branch of South Dublin Libraries in a building which used to house a
Carnegie library
Carnegie library
A Carnegie library is a library built with money donated by Scottish-American businessman and philanthropist Andrew Carnegie. 2,509 Carnegie libraries were built between 1883 and 1929, including some belonging to public and university library systems...
. It also has a
post office
An Post
An Post is the State-owned provider of postal services in the Republic of Ireland. An Post provides a universal postal service to all parts of the country as a member of the Universal Postal Union...
.
Clondalkin also plays host to a large number of online businesses including well known websites such as
Elara
- a company who specialises in the supply of computer hardware and related products,
Get Broadband
- broadband comparison website,
Office Spot - office supplies and stationery company
,
Hosting 365
- website hosting and domain registration company, and
Dublinplumber
- plumbing company founded in Clondalkin. The attraction for online businesses is it's location, great internet facilities and communications infrastructure, an accessible location and modern office space in the Park West and Nangor road area.
Transport
Clondalkin is served by public transport to
Dublin
city centre, to nearby suburbs, and to neighbouring towns.
Dublin Bus
Dublin Bus
Dublin Bus is a public transport operator in Ireland. It operates an extensive bus network of 172 radial, cross-city and peripheral routes and 18 night routes in the city of Dublin and the Greater Dublin Area. The company, established in 1987, is a subsidiary of Córas Iompair Éireann which is...
provide bus routes including the 13, 68, 69, 76, 78a and 151. Many of these run from areas near Clondalkin, such as
Rathcoole
Rathcoole, Dublin
Rathcoole is a suburban village, south west of Tallaght, Ireland, in South Dublin County. It lies just off the N7 national primary road. It borders the nearby village of Saggart.- Geography :...
, into the city centre via Clondalkin. Some services, such as the 210, do not service the city centre.
The
Luas
Luas
Luas , also promoted in the development stage as the Dublin Light Rail System, is a tram or light rail system serving Dublin, the first such system in the decades since the closure of the last of the Dublin tramways. In 2007, the system carried 28.4 million passengers, a growth of 10% since...
Red Line runs from the
Red Cow Roundabout
Red Cow roundabout
The Red Cow interchange is a major road junction in west Dublin, Ireland on the M50, meeting the N7 Naas Road at a free-flow grade separated junction which incorporates a light railway line...
park and ride station providing links to the town square in
Tallaght
Tallaght
Tallaght is the largest town, and county town, of South Dublin County, Ireland. The village area, dating from at least the 17th century, held one of the earliest settlements known in the southern part of the island, and one of medieval Ireland's more important monastic centres.Up to the 1960s...
and Dublin city centre. However, the Luas station is approximately half an hour's walk from Clondalkin village.
Clondalkin railway station
Clondalkin railway station
Clondalkin/Fonthill railway station serves the suburb of Clondalkin in County Dublin. It is served by South Western Commuter services. It opened on 13 October 2008,...
opened on 4 August 1846 and was closed for goods traffic on 9 June 1947. Commuter trains are operated by
Iarnród Éireann
Iarnród Éireann
Iarnród Éireann is the national railway system operator of Ireland. Established on 2 February 1987, it is a subsidiary of Córas Iompair Éireann . It operates all internal intercity, commuter and freight railway services in the Republic of Ireland, and, jointly with Northern Ireland Railways, the...
(Irish Rail) and run between
Heuston station
Dublin Heuston railway station
Dublin Heuston , commonly called Heuston Station , is one of Ireland's main railway stations, serving the south, southwest and west. It is operated by Iarnród Éireann , the national railway operator...
in Dublin and Kildare Town in
County Kildare
County Kildare
County Kildare is a county in Ireland. It is part of the Mid-East Region and is also located in the province of Leinster. It is named after the town of Kildare. Kildare County Council is the local authority for the county...
. A new station, to replace rather than supplement the previous station, has been built at Fonthill, north of Bawnogue.
Bus Éireann
Bus Éireann
Bus Éireann provides bus services in Ireland with the exception of those operated entirely within the Dublin Region, which are provided by Dublin Bus. Bus Éireann, established as a separate company in 1987, is a subsidiary of Córas Iompair Éireann. The logo of Bus Éireann incorporates a red Irish...
services stop to collect and set down passengers at
Newlands Cross
Newlands Cross
Newlands Cross is a well-known crossroads in SW Dublin in the county of South Dublin.It is the point where the N7 National Route to the South West and Mid West crosses an orbital local route, the R113. Traditionally Newlands Cross was regarded as the place where Dublin City ended and the "country"...
, on the N7 road near Clondalkin. These services have destinations all over the west and south of the country; services to the north do not pass Newlands Cross.
Clondalkin is on the preferred route for the proposed
Dublin Metro
Dublin Metro
The Dublin Metro is a proposed metro system for the city of Dublin. The first two lines were set out in the Irish Government's 2005 Transport 21 transport plan: they are known as Metro North and Metro West...
West line, as of the announcement of the preferred route in 2007. The Metro is intended to provide a transport link from Dublin city centre to
Dublin Airport
Dublin Airport
Dublin Airport, , is operated by the Dublin Airport Authority. Located in Collinstown, in the Fingal part of County Dublin, 18.4 million passengers passed through the airport in 2010, making it the busiest airport in the Republic of Ireland, followed by Cork and Shannon...
which will not have to go through street traffic. It is proposed that the Metro will have stations near Luas and train stations in some cases, including at Clondalkin train station.
Representation
Clondalkin is in the
Dublin Mid West
Dublin Mid West (Dáil Éireann constituency)
Dublin Mid–West is a parliamentary constituency represented in Dáil Éireann, the lower house of the Irish parliament or Oireachtas. The constituency elects 4 deputies...
Dáil Éireann
Dáil Éireann
Dáil Éireann is the lower house, but principal chamber, of the Oireachtas , which also includes the President of Ireland and Seanad Éireann . It is directly elected at least once in every five years under the system of proportional representation by means of the single transferable vote...
constituency, and mostly in the
Clondalkin Local Electoral Area
for county council elections (with Rathcoole,
Newcastle
Newcastle, County Dublin
The village of Newcastle , in Co. Dublin, Ireland was the location of the Castle of the Barony of Newcastle, more specifically referred to in historical and official documents as Newcastle-Lyons. This ancient name is currently undergoing a welcome revival in use, given the many places called...
and
Saggart
Saggart
Saggart is a suburban village in South Dublin County, Ireland, south west of Dublin city. It lies between the N7 , Rathcoole, and Tallaght.-Name:A monk called Mosacra founded a settlement on the site of the village in the 7th century...
), with parts in the
Tallaght Central Local Electoral Area
Tallaght Central (Local Electoral Area)
Tallaght Central is a local electoral area in South Dublin County. It comprises parts of Clondalkin and Ballymount, much of Tallaght itself , and also Templeogue and large parts of Terenure...
.
Media
Two local newspapers, the Clondalkin Echo and Clondalkin Gazette, serve the area. The latter is published by Gazette Group Newspapers (part-owned by the Irish Times), and was launched in October 2005.
The Clondalkin News is delivered free into householdsin Clondalkin.
Sport
The town's oldest sports club is the
Round Towers GAA Club
Round Towers GAA (Clondalkin)
Round Towers is a Gaelic Athletic Association associated with the Dublin County Board club based in Clondalkin, Co. Dublin. The Club plays the Gaelic games of Gaelic football, Hurling in both men's and women's codes.-Notable players:...
, which was founded in December 1884 and is located on Convent Road. Club members have represented Dublin in inter-county competition since the nineteenth century, when Tom Errity won
All-Ireland Senior Football
All-Ireland Senior Football Championship
The All-Ireland Senior Football Championship, the premier competition in Gaelic football, is a series of games organised by the Gaelic Athletic Association and played during the summer and early autumn...
medals in 1892, 1894, 1898, 1899 and 1902. More recently, Jim Gavin won an All-Ireland senior medal with Dublin in 1995.
Rugby union
Rugby union
Rugby union, often simply referred to as rugby, is a full contact team sport which originated in England in the early 19th century. One of the two codes of rugby football, it is based on running with the ball in hand...
is played at Clondalkin Rugby Club,
Kingswood
Kingswood, Dublin
-General description:The area is located between Belgard Road and the M50 motorway. Traditionally considered to be part of the hinterland of Clondalkin Village yet lying inside of the historical Parish of Tallaght, the area is now divided by the Ballymount Road, with roughly two thirds in Tallaght...
, who were winners of the 2006 Spencer Cup and 2006 Under-18 Premier League. The club was formed in 1974 and fields four senior teams and under 19s, 17s, 15s and other youth teams.
The town's two main association football teams are
Moyle Park
Moyle Park College
Moyle Park College is a secondary school in Clondalkin, South Dublin, Ireland.The school was established by the Marist Brothers in 1957 and grew rapidly, as did the population of the local area....
Past Pupils FC, and Neilstown Rangers (past winners of the
FAI
Football Association of Ireland
The Football Association of Ireland is the governing body for the sport of association football in the Republic of Ireland. It should not to be confused with the Irish Football Association , which is the organising body for the sport in Northern Ireland.For the full history, statistics and records...
Junior Cup), with Booth Road Celtic emerging in the Sruleen community. Castle Park F.C. is another Club on the rise over the last number of years.
In
basketball
Basketball
Basketball is a team sport in which two teams of five players try to score points by throwing or "shooting" a ball through the top of a basketball hoop while following a set of rules...
, Clondalkin Lakers has teams playing in Division 1 and 3 of the Dublin Men Basketball League, and is based in Clondalkin Sports and Leisure Complex. Leinster Lions basketball team is located in Moyle Park College and Colaiste Bride (U18s boys only).
The National
Baseball
Baseball
Baseball is a bat-and-ball sport played between two teams of nine players each. The aim is to score runs by hitting a thrown ball with a bat and touching a series of four bases arranged at the corners of a ninety-foot diamond...
Facility in Ireland, O'Malley Field, is located in Corkagh Demesne Park, in southwest Clondalkin. This is the home of the
Irish national baseball team
Irish national baseball team
The Irish National Baseball Team has been in existence since 1996 and has taken part in several major baseball tournaments and tours. As in many other sports in Ireland, the team represents both the Republic of Ireland and Northern Ireland....
.
Bernard Dunne
Bernard Dunne
Bernard Dunne is a retired Irish professional boxer and a former WBA, and European super bantamweight champion.On Saturday 21 March 2009, Dunne waged the war that he would be best remembered for and defeated Ricardo Cordoba in the 11th round to become the WBA super bantamweight champion in a fight...
the former
WBA
World Boxing Association
The World Boxing Association is a boxing organization that sanctions official matches, and awards the WBA world championship title at the professional level. It was previously known as the National Boxing Association before changing its name in 1962...
Super Bantamweight
Super Bantamweight
Super bantamweight is a weight division in professional boxing. The maximum weight for this division is 122 pounds, or roughly 55.34 kilograms....
World Champion is from Neilstown in Clondalkin.
Kenny Egan, winner of a silver medal for
boxing
Boxing
Boxing, also called pugilism, is a combat sport in which two people fight each other using their fists. Boxing is supervised by a referee over a series of between one to three minute intervals called rounds...
in the 2008 Olympics, comes from Clondalkin, originally Woodford estate.
Education
Clondalkin has a number of schools from many different denominations, including Clonburris National School,
St. Joseph's Boys National School
St. Joseph's Boys National School
St. Josephs Boys National School is located on Boot Road in Clondalkin, County Dublin, Ireland.It was established in 1811, in the early stages of modern educational development in Ireland....
, Scoil Íde, Scoil Áine, St John's, Scoil Mhuire,
Moyle Park College
Moyle Park College
Moyle Park College is a secondary school in Clondalkin, South Dublin, Ireland.The school was established by the Marist Brothers in 1957 and grew rapidly, as did the population of the local area....
(boys only), Talbot S.N.S, Scoil Nano Nagle, Deansrath Community College,
Coláiste Bríde
Coláiste Bríde
Coláiste Bríde is a secondary school located in Clondalkin, South Dublin, Ireland.Coláiste Bríde was founded by the Presentation Sisters. Coláiste Bríde is a Voluntary Catholic Secondary School for girls only, operating under the Trusteeship of CEIST . In 2005 the school received a great...
(girls only) and three Irish-language schools - Coláiste Chilliain, Gaelscoil Chluain Dolcáin, and Gaelscoil na Camóige. It also has a range of Secondary level colleges including St. Kevin's Community College on the Fonthill Road and Collinstown College in Neilstown.
Local organisations
Community organisations include a unit of
Toastmasters International
Toastmasters International
Toastmasters International is a nonprofit educational organization that operates clubs worldwide for the purpose of helping members improve their communication, public speaking and leadership skills...
, an
Order of Malta
Order of Malta Ambulance Corps
The Order of Malta Ambulance Corps is the largest voluntary ambulance and first aid organisation of its kind in Ireland. The Order of Malta is engaged in teaching first aid, providing ambulance cover at large events, patient transport, community and nursing services...
branch and several youth groups - including Clondalkin Youth Theatre (associated with the Irish National Association for Youth Drama).
The town is also home to St Joseph's Pipe band (established in 1937).
The Clondalkin Youth Band was founded in 1986. A marching band, CYB participates in marching, concert and field-show championships, and is consistently ranked among the top bands in Ireland. In 2009, the band won the All-Ireland concert band championships in Cork. The band has numerous European gold medals under its belt, and in 2005 they gained a World Silver Standard Award at the WMC, Kerkrade. Then, at the WMC 2009, the band picked up a gold standard award, and finished 7th out of 20 bands in their category, ranking them the highest out of the Irish bands to participate in the competition.
Áras Chrónáin, which promotes
Irish language
Irish language
Irish , also known as Irish Gaelic, is a Goidelic language of the Indo-European language family, originating in Ireland and historically spoken by the Irish people. Irish is now spoken as a first language by a minority of Irish people, as well as being a second language of a larger proportion of...
and culture (e.g. music and
dancing
Irish dance
Irish dancing or Irish dance is a group of traditional dance forms originating in Ireland which can broadly be divided into social dance and performance dances. Irish social dances can be divided further into céilí and set dancing...
), operates in the village.
Notable people
Katharine Tynan

Katharine Tynan

Katharine Tynan was an Irish-born writer, known mainly for her novels and poetry. After her marriage in 1898 to the writer and barrister Henry Albert Hinkson she usually wrote under the name Katharine Tynan Hinkson...


, novelist
Graham Norton

Graham Norton

Graham William Walker, known by his stage name Graham Norton , is an Irish actor, comedian, television presenter and columnist...


, comedian and presenter
Corrina Durran

Wonderland (band)

Wonderland were an Irish/British girlband, formed by Louis Walsh and Westlife band-member Kian Egan. The band were put together after auditions were held for five females in July 2008. Its five members were Jodi Albert, Sharon Condon, Corrina Durran, Leigh Learmont and Kasey Smith...


, member of girlband Wonderland

Wonderland (band)

Wonderland were an Irish/British girlband, formed by Louis Walsh and Westlife band-member Kian Egan. The band were put together after auditions were held for five females in July 2008. Its five members were Jodi Albert, Sharon Condon, Corrina Durran, Leigh Learmont and Kasey Smith...



Mic Christopher

Mic Christopher

Mic Christopher was an Irish singer-songwriter, best known for his posthumously-released debut album Skylarkin.-Early life:...


, singer-songwriter
Bernard Dunne

Bernard Dunne

Bernard Dunne is a retired Irish professional boxer and a former WBA, and European super bantamweight champion.On Saturday 21 March 2009, Dunne waged the war that he would be best remembered for and defeated Ricardo Cordoba in the 11th round to become the WBA super bantamweight champion in a fight...


, boxer
Kenny Egan, boxer
Stephen Quinn

Stephen Quinn

Stephen Quinn is a professional footballer from the Republic of Ireland who plays as a midfielder for Sheffield United in the English Football League One....


, professional footballer
Brendan Courtney

Brendan Courtney

Brendan Courtney is an Irish comedian and television presenter, the first openly gay presenter in Ireland. He has hosted Wanderlust on RTÉ Two, The Brendan Courtney Show on TV3, Playdate on ITV2 and Off the Rails on RTÉ One.-Career:Brendan began his career on RTÉ Two's Wanderlust and ITV1's Love...


, comedian and television host
Therese Ridge

Therese Ridge

Therese Ridge is a Fine Gael politician from Clondalkin, County Dublin in Ireland.Ridge was educated at Goldenbridge College, Dublin and at St Patrick's College, Maynooth, where she graduated with an MA...


, Fine Gael politician
Mary Kennedy

Mary Kennedy

Mary Kennedy is an Irish writer, television personality and former newscaster. She presented Eurovision Song Contest 1995 from the Point Theatre in Dublin. She has also presented her own Saturday night chat show called Kennedy, a precursor to Saturday Night with Miriam. Kennedy was co-presenter of...


, RTÉ television host
Jim Gavin

Jim Gavin (footballer)

Jim Gavin is the current Under-21 football manager for Dublin GAA. His tenure as manager was extended to 2010. He was previously a senior footballer with Dublin and Round Towers, Clondalkin...


, Gaelic footballer and manager
Neil O'Donoghue

Neil O'Donoghue

Cornelis Joseph Connor Dennis "Neil" O'Donoghue is a former American football placekicker in the National Football League ....


, American football

American football

American football is a sport played between two teams of eleven with the objective of scoring points by advancing the ball into the opposing team's end zone. Known in the United States simply as football, it may also be referred to informally as gridiron football. The ball can be advanced by...


er
Derek Murray, Gaelic footballer
Cathal Mac Coille

Cathal Mac Coille

Cathal Mac Coille is an Irish broadcaster, researcher and journalist. He is currently a co-presenter of Morning Ireland on RTÉ Radio 1. He has been used by Raidió Teilifís Éireann in numerous political broadcasts and has interviewed several prominent politicians.He has also presented other shows...


, broadcaster and journalist
Dean McCarthy

Dean McCarthy

Dean McCarthy is an Irish actor, dancer and model best known for his performance as Billy in Billy Elliot the Musical based on the hit film Billy Elliot.-Career:...


, dancer and actor
Sinéad Mulvey

Sinéad Mulvey

Sinéad Mulvey is an Irishprofessional singer & air hostess who, alongside Black Daisy, represented her country at the Eurovision Song Contest 2009 with the pop-rock song "Et Cetera"...


, singer, represented Ireland in the 2009 Eurovision Song Contest
Aidan Turner

Aidan Turner

Aidan Turner is an Irish actor. He is best known for playing Dante Gabriel Rossetti on Desperate Romantics, Ruairí McGowan on The Clinic, and John Mitchell on the supernatural drama series Being Human. He will be playing Kíli in the upcoming two-part fantasy film The Hobbit.-Early life:Aidan...


, actor
Brian Ormond, RTÉ television host
External links