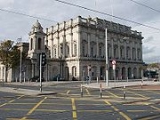 Dublin Heuston railway station
Dublin Heuston
(ˈhjuːstən), commonly called
Heuston Station
, is one of Ireland's main
railway stations
Train station
A train station, also called a railroad station or railway station and often shortened to just station,"Station" is commonly understood to mean "train station" unless otherwise qualified. This is evident from dictionary entries e.g...
, serving the south, southwest and west. It is operated by
Iarnród Éireann
Iarnród Éireann
Iarnród Éireann is the national railway system operator of Ireland. Established on 2 February 1987, it is a subsidiary of Córas Iompair Éireann . It operates all internal intercity, commuter and freight railway services in the Republic of Ireland, and, jointly with Northern Ireland Railways, the...
(IE), the national railway operator. It also houses the head office of IE's parent company,
Córas Iompair Éireann
Córas Iompair Éireann
Córas Iompair Éireann , or CIÉ, is a statutory corporation of the Irish state, answerable to the Irish Government and responsible for most public transport in the Republic of Ireland and, jointly with its Northern Ireland counterpart, the Northern Ireland Transport Holding Company, between the...
(CIÉ).
History
The station opened on 4 August 1846 as the terminus and headquarters of the
Great Southern and Western Railway
Great Southern and Western Railway
The Great Southern and Western Railway was the largest Irish gauge railway company in Ireland in the late 19th and early 20th centuries...
(GS&WR). It was originally called
Kingsbridge Station
from the nearby
Kings Bridge
Sean Heuston Bridge
Seán Heuston Bridge is a cast iron bridge spanning the River Liffey beside Heuston Station, Dublin. It was previously named King's Bridge and Sarsfield Bridge - and the bridge and adjacent train station are still commonly referred to by older Dubliners as "Kings Bridge" and "Kings Bridge...
over the Liffey, but was renamed in 1966 after
Sean Heuston
Sean Heuston
Seán Heuston, , born Jack Heuston, and sometimes referred to as J. J. Heuston, was an Irish rebel and member of Fianna Éireann who took part in the Easter Rising of 1916. With about 20 Volunteers, he held the Mendicity Institution on the River Liffey for over two days, though it was originally only...
, an
Easter Rising
Easter Rising
The Easter Rising was an insurrection staged in Ireland during Easter Week, 1916. The Rising was mounted by Irish republicans with the aims of ending British rule in Ireland and establishing the Irish Republic at a time when the British Empire was heavily engaged in the First World War...
leader who had worked in the station offices.
Designed by Sancton Wood, the handsome original buildings remain. The five panels along the front represent, in order:
VIII.VIC - being the Act of Parliament that incorporated the GS&WR
The Coat of Arms of Cork City
The Coat of Arms of Dublin City
The Coat of Arms of Limerick City
AD. 1844 - being the year of incorporation of the GS&WR
Since its renewal (by Quinn Savage Smyth architects and engineers
Buro Happold
Buro Happold
Buro Happold is a professional services firm providing engineering consultancy, design, planning, project management and consulting services for all aspects of buildings, infrastructure and the environment, with its head office in Bath, Somerset...
) it includes two branches of Eason's, as well as some dining facilities, including a Supermacs, and a
pub
Public house
A public house, informally known as a pub, is a drinking establishment fundamental to the culture of Britain, Ireland, Australia and New Zealand. There are approximately 53,500 public houses in the United Kingdom. This number has been declining every year, so that nearly half of the smaller...
.
Links to other main stations
Although there is a physical rail link between Connolly Station and Heuston, via the Phoenix Park Tunnel, this is usually only used for freight and rolling stock movements. Once or twice a year special trains may operate, usually from Cork to Connolly for
Gaelic Athletic Association
Gaelic Athletic Association
The Gaelic Athletic Association is an amateur Irish and international cultural and sporting organisation focused primarily on promoting Gaelic games, which include the traditional Irish sports of hurling, camogie, Gaelic football, handball and rounders...
matches in
Croke Park
Croke Park
Croke Park in Dublin is the principal stadium and headquarters of the Gaelic Athletic Association , Ireland's biggest sporting organisation...
.
However, both the No. 90 bus and the
Luas
Luas
Luas , also promoted in the development stage as the Dublin Light Rail System, is a tram or light rail system serving Dublin, the first such system in the decades since the closure of the last of the Dublin tramways. In 2007, the system carried 28.4 million passengers, a growth of 10% since...
light rail system connect the two stations.
The Government
Transport 21
Transport 21
Transport 21 is an Irish infrastructure plan, announced in November 2005. It aims to greatly expand Ireland's transport network. A cost estimate of €34 billion was attached to the plan at the time....
initiative plans by 2015 to have an
Interconnector tunnel
Interconnector (rail tunnel)
DART Underground , previously known as the Interconnector, is a planned railway tunnel in Ireland, projected to run under the city centre of Dublin. The tunnel would allow for the expansion of the electrified DART and the Dublin Suburban Rail network, and connect Heuston Station with Pearse Station...
linking Heuston with Pearse Station and onwards to the new
Docklands railway station
Docklands railway station
Docklands Station is a new railway station serving the Dublin Docklands area in Ireland owned by Córas Iompair Éireann planned as part of the Government Transport 21 initiative....
.
Platforms
There are nine platforms - eight terminal platforms and one through platform. Platform 1 is an extension to Platform 2, and reachable only via that platform. Prior to Heuston's recent upgrade, there were five terminal platforms.
The through platform is known as "Platform 10", and may be used for a Donegal rail line; there is no platform nine. Platform 10 is some distance from the main concourse.
Intercity
and
Commuter
services leave the station on a triple line as far as Inchicore, and a double line beyond. This is the main line to Cork, serving Kildare [end of Commuter services occurs at milepost 30] and the junction for Kilkenny and Waterford, Portarlington, a diverging route to west via Tullamore and Athlone, Portlaoise, Ballybrophy, the junction for Limerick via Nenagh, Thurles, Limerick Junction (for direct Limerick and Ennis services, and Waterford via Clonmel), Mallow (junction for Killarney & Tralee). For a full list of stops on these routes, and route descriptions, see
Rail transport in Ireland
Rail transport in Ireland
Rail services in Ireland are provided by Iarnród Éireann in the Republic of Ireland and by Northern Ireland Railways in Northern Ireland.Most routes in the Republic radiate from Dublin...
.
Inchicore Works
The main IE maintenance depot, at
Inchicore
Inchicore
-Location and access:Located five kilometres due west of the city centre, Inchicore lies south of the River Liffey, west of Kilmainham, north of Drimnagh and east of Ballyfermot. The majority of Inchicore is in the Dublin 8 postal district...
, is approximately three kilometres (two miles) away.
Gallery
External links