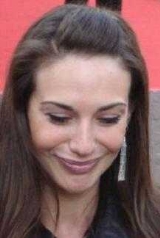 Claire Forlani
Claire Antonia Forlani (born 1 July 1972) is an English actress.
Early life
Claire Forlani was born in
Twickenham
Twickenham
Twickenham is a large suburban town southwest of central London. It is the administrative headquarters of the London Borough of Richmond upon Thames and one of the locally important district centres identified in the London Plan...
, London, the daughter of Barbara (née Dickinson), who was English, and Pierluigi Forlani, a music manager from
Ferrara
Ferrara
Ferrara is a city and comune in Emilia-Romagna, northern Italy, capital city of the Province of Ferrara. It is situated 50 km north-northeast of Bologna, on the Po di Volano, a branch channel of the main stream of the Po River, located 5 km north...
, Italy. At the age of 11, Forlani entered the
Arts Educational School
The Arts Educational School, Tring Park
Tring Park School for the Performing Arts is an independent co-educational school specialising in dance and performing arts. The school was renamed in January 2009 and was previously known as the Arts Educational School, Tring Park.-Overview:...
in London, where she began to study acting. During her six years at the school, she also studied dance, which led to performances on stage in
The Nutcracker
The Nutcracker
The Nutcracker is a two-act ballet, originally choreographed by Marius Petipa and Lev Ivanov with a score by Pyotr Ilyich Tchaikovsky. The libretto is adapted from E.T.A. Hoffmann's story "The Nutcracker and the Mouse King". It was given its première at the Mariinsky Theatre in St...
and
Orpheus in the Underworld
Orpheus in the Underworld
Orphée aux enfers is an opéra bouffon , or opéra féerie in its revised version, by Jacques Offenbach. The French text was written by Ludovic Halévy and later revised by Hector-Jonathan Crémieux....
.
Career
Forlani's parents moved to San Francisco in 1993, in order to allow for wider casting opportunities in Hollywood films. Subsequently, Forlani was cast in the television mini-series
J.F.K.: Reckless Youth
and the film
Police Academy: Mission to Moscow
Police Academy: Mission to Moscow
Police Academy: Mission to Moscow is a 1994 comedy crime film starring George Gaynes, Michael Winslow, David Graf, and Claire Forlani . It is the seventh and final film in the Police Academy series. It was directed by Alan Metter and written by Randolph Davis and Michele S...
. In 1995, she played the supporting role of Brandi Svenning in
Kevin Smith
Kevin Smith
Kevin Patrick Smith is an American screenwriter, actor, film producer, and director, as well as a popular comic book writer, author, comedian/raconteur, and internet radio personality best recognized by viewers as Silent Bob...
's
Mallrats
Mallrats
Mallrats is a 1995 film written and directed by Kevin Smith. It is the second to be set in Smith's View Askewniverse series of interlocking films set mostly in New Jersey, although the movie was filmed in Eden Prairie Center and Osowski's Flea Market which are located in Minnesota...
. In 1996, Forlani appeared in a supporting role as
Sean Connery
Sean Connery
Sir Thomas Sean Connery , better known as Sean Connery, is a Scottish actor and producer who has won an Academy Award, two BAFTA Awards and three Golden Globes Sir Thomas Sean Connery (born 25 August 1930), better known as Sean Connery, is a Scottish actor and producer who has won an Academy...
's daughter in the blockbuster action movie
The Rock
The Rock (film)
The Rock is a 1996 action film that primarily takes place on Alcatraz Island and in the San Francisco Bay area. It was directed by Michael Bay and stars Sean Connery, Nicolas Cage and Ed Harris. It was produced by Don Simpson and Jerry Bruckheimer and released through Hollywood Pictures. The film...
. She continued to appear in both widely released and smaller-budget films. Forlani was cast in the 1998 film
Deep Rising
Deep Rising
Deep Rising is a 1998 action horror film directed by Stephen Sommers. It was distributed by Hollywood Pictures and Cinergi Pictures, and was released in the United States on January 30, 1998.-Plot:...
, but, due to creative conflicts, left the set during the first few days of filming. That same year, she starred with
Anthony Hopkins
Anthony Hopkins
Sir Philip Anthony Hopkins, KBE , best known as Anthony Hopkins, is a Welsh actor of film, stage and television...
and
Brad Pitt
Brad Pitt
William Bradley "Brad" Pitt is an American actor and film producer. Pitt has received two Academy Award nominations and four Golden Globe Award nominations, winning one...
in
Meet Joe Black
Meet Joe Black
Meet Joe Black is a 1998 American fantasy romance film produced by Universal Studios, directed by Martin Brest and starring Brad Pitt, Anthony Hopkins and Claire Forlani, loosely based on the 1934 film Death Takes a Holiday...
, her most financially successful film. She then appeared in
Antitrust
Antitrust (film)
Antitrust is a 2001 thriller film written by Howard Franklin and directed by Peter Howitt....
, a thriller released in January 2001 to mixed reviews. Forlani was the new face of
L'Oréal
L'Oréal
The L'Oréal Group is the world's largest cosmetics and beauty company. With its registered office in Paris and head office in the Paris suburb of Clichy, Hauts-de-Seine, France, it has developed activities in the field of cosmetics...
in 2001. She has been ranked #51 (2000) and #89 (2001) in
Stuff
Stuff (magazine)
Stuff is a men's magazine featuring reviews of consumer electronics, and other articles of interest to a predominantly male audience.- UK edition :...
magazine's
100 Sexiest Women
, #85 (2001) in
FHM
FHM
FHM, originally published as For Him Magazine, is an international monthly men's lifestyle magazine.- History :The magazine began publication in 1985 in the United Kingdom under the name For Him and changed its title to FHM in 1994 when Emap Consumer Media bought the magazine, although the full For...
magazine's
100 Sexiest Women
and was slotted in
Loaded

Loaded (magazine)

Loaded, first published in 1994, is a British magazine for men that is considered to be the "original lads' mag". Its motto is "For men who should know better".-History:...


s
Hot 100 Babes
. In 2003, she co-starred with Jackie Chan

Jackie Chan

Jackie Chan, SBS, MBE is a Hong Kong actor, action choreographer, comedian, director, producer, martial artist, screenwriter, entrepreneur, singer and stunt performer. In his movies, he is known for his acrobatic fighting style, comic timing, use of improvised weapons, and innovative stunts...


in
The Medallion
The Medallion
The Medallion is a 2003 action-comedy film co-written and directed by Hong Kong filmmaker Gordon Chan, and starring Jackie Chan, Lee Evans, and Claire Forlani...
.

In Autumn 2006, Forlani joined the cast of
CSI: NY
CSI: NY
CSI: NY is an American police procedural television series that premiered on September 22, 2004, on CBS. The show follows the investigations of a team of NYPD forensic scientists and police officers as they unveil the circumstances behind mysterious and unusual deaths as well as other crimes...
in a recurring role as a medical examiner

Medical examiner

A medical examiner is a medically qualified government officer whose duty is to investigate deaths and injuries that occur under unusual or suspicious circumstances, to perform post-mortem examinations, and in some jurisdictions to initiate inquests....


, Dr. Peyton Driscoll. In February 2007, Forlani portrayed Tori Bodeen in the movie version

Carolina Moon (film)

Carolina Moon, also known as Nora Roberts' Carolina Moon, is a 2007 made-for-tv movie directed by Stephen Tolkin, which stars Claire Forlani, Oliver Hudson, and Jacqueline Bisset...


of Nora Roberts

Nora Roberts

Nora Roberts is a bestselling American author of more than 209 romance novels. She writes as J.D. Robb for the "In Death" series, and has also written under the pseudonym Jill March...


's best-selling book
Carolina Moon
. In 2008, she starred opposite Daniel Craig

Daniel Craig

Daniel Wroughton Craig is an English actor. His early film roles include Elizabeth, The Power of One, A Kid in King Arthur's Court and the television episodes Sharpe's Eagle, Zorro and The Young Indiana Jones Chronicles: Daredevils of the Desert...


in
Flashbacks of a Fool
Flashbacks of a Fool
Flashbacks of a Fool is a 2008 British drama film about a Hollywood actor who, following the death of his childhood best friend, reflects upon his life and what might have been, had he stayed in England...
. In 2011, Forlani plays Queen Igraine

Igraine

Igraine , in Arthurian legend, is the mother of King Arthur. She is also known in Latin as Igerna, in Welsh as Eigyr, in French as Igerne, in Thomas Malory's Le Morte d'Arthur as Ygrayne— often modernized as Igraine—and in Wolfram von Eschenbach's Parzival as Arnive...


in
Camelot
Camelot (TV series)
Camelot is a historical-fantasy-drama television series which premiered on April 1, 2011. It was co-produced by the Starz cable network and GK-TV which began production during the summer of 2010...
and Kate Templeton in
Love's Kitchen
alongside her husband Dougray Scott

Dougray Scott

-Early life:The son of Elma, a nurse, and Alan Scott, an actor and salesperson, Stephen Dougray Scott was born in Glenrothes, Fife and attended Auchmuty High School...


, that took just £121 in its opening weekend at the UK box office in June 2011.

Personal life
In June 2007, Forlani married Scottish

Scotland

Scotland is a country that is part of the United Kingdom. Occupying the northern third of the island of Great Britain, it shares a border with England to the south and is bounded by the North Sea to the east, the Atlantic Ocean to the north and west, and the North Channel and Irish Sea to the...


actor Dougray Scott

Dougray Scott

-Early life:The son of Elma, a nurse, and Alan Scott, an actor and salesperson, Stephen Dougray Scott was born in Glenrothes, Fife and attended Auchmuty High School...


, with whom she has two stepchildren.

Filmography
Year
Film
Role
Notes
1992
Gypsy Eyes
Katarina
Debut
1994
Police Academy: Mission to Moscow

Police Academy: Mission to Moscow

Police Academy: Mission to Moscow is a 1994 comedy crime film starring George Gaynes, Michael Winslow, David Graf, and Claire Forlani . It is the seventh and final film in the Police Academy series. It was directed by Alan Metter and written by Randolph Davis and Michele S...



Katrina
1995
Mallrats

Mallrats

Mallrats is a 1995 film written and directed by Kevin Smith. It is the second to be set in Smith's View Askewniverse series of interlocking films set mostly in New Jersey, although the movie was filmed in Eden Prairie Center and Osowski's Flea Market which are located in Minnesota...



Brandi Svenning
1996
Basquiat
Gina Cardinale
The Rock

The Rock (film)

The Rock is a 1996 action film that primarily takes place on Alcatraz Island and in the San Francisco Bay area. It was directed by Michael Bay and stars Sean Connery, Nicolas Cage and Ed Harris. It was produced by Don Simpson and Jerry Bruckheimer and released through Hollywood Pictures. The film...



Jade Angelou
1997
The Last Time I Committed Suicide

The Last Time I Committed Suicide

The Last Time I Committed Suicide is a 1997 drama directed by Stephen T. Kay. Based on a letter written by Neal Cassady to Jack Kerouac, it stars Thomas Jane as Cassady. The cast also includes Keanu Reeves, Adrien Brody, Gretchen Mol and Claire Forlani....



Joan
1998
Basil

Basil (film)

Basil is a 1998 British historical drama film directed by Radha Bharadwaj and starring Jared Leto, Derek Jacobi, Claire Forlani, and Christian Slater. It was based on the 1852 novel of the same name by Wilkie Collins. The adaptation was by Bharadwaj.-Plot:...



Julia Sherwin
Into My Heart

Into My Heart

Into My Heart is a 1998 motion picture featuring Rob Morrow and Claire Forlani. It premiered at the Venice Film Festival on September 9, 1998, the drama documents a love triangle involving a woman and two childhood friends, focusing on the themes of marriage, adultery and betrayal. It was written...



Nina
Meet Joe Black

Meet Joe Black

Meet Joe Black is a 1998 American fantasy romance film produced by Universal Studios, directed by Martin Brest and starring Brad Pitt, Anthony Hopkins and Claire Forlani, loosely based on the 1934 film Death Takes a Holiday...



Susan Parrish
1999
Mystery Men

Mystery Men

Mystery Men is a 1999 comedy film based on a Dark Horse comic book series feature in Flaming Carrot Comics by Bob Burden, directed by TV commercial director Kinka Usher. It stars William H. Macy, Ben Stiller, and Hank Azaria as a trio of lesser superheroes with fairly unimpressive superpowers who...



Monica
2000
Boys and Girls

Boys and Girls (2000 film)

Boys and Girls is a romantic comedy film that was released in 2000, directed by Robert Iscove. The two main characters, Ryan and Jennifer meet each other initially as adolescent teenagers...



Jennifer Burrows
2001
Antitrust

Antitrust (film)

Antitrust is a 2001 thriller film written by Howard Franklin and directed by Peter Howitt....



Alice Poulson
2002
Triggermen
Emma Cutler
2003
The Medallion

The Medallion

The Medallion is a 2003 action-comedy film co-written and directed by Hong Kong filmmaker Gordon Chan, and starring Jackie Chan, Lee Evans, and Claire Forlani...



Nicole James
The Pentagon Papers
Patricia Marx
Daniel Ellsberg's Wife
2004
Bobby Jones: A Stroke of Genius

Bobby Jones: A Stroke of Genius

Bobby Jones: Stroke of Genius is a 2004 film based on the life, specifically the golfing career, of Bobby Jones, the first player in the sport ever to win all four of the men's major golf championships consecutively Bobby Jones: Stroke of Genius is a 2004 film based on the life, specifically the...



Mary Malone Jones
2005
Green Street

Green Street

Green Street is a 2005 British/American independent drama film about football hooliganism in England. It was directed by Lexi Alexander and stars Elijah Wood and Charlie Hunnam. In the United States and Australia, the film is called Green Street Hooligans, while in the United Kingdom it has the...



Shannon Dunham
The Shadow Dancer
Isabella Parish
Titled Shadows in the Sun in the United States
Ripley Under Ground

Ripley Under Ground (film)

Ripley Under Ground is a 2005 film directed by Roger Spottiswoode and based on the second novel in Patricia Highsmith's Tom Ripley series. The film stars Barry Pepper as Ripley and features Willem Dafoe, Alan Cumming and Tom Wilkinson in supporting roles....



Cynthia
2006
Nightmares & Dreamscapes

Nightmares & Dreamscapes (TV Series)

Nightmares and Dreamscapes: From the Stories of Stephen King is an 8-episode anthology series on TNT based on short stories written by Stephen King. It debuted on July 12, 2006, and ended its run on August 2, 2006. Although most of them are from the collection of the same name, there are some...


– "Crouch End"
Doris Freeman
2006–07
2010
CSI: NY

CSI: NY

CSI: NY is an American police procedural television series that premiered on September 22, 2004, on CBS. The show follows the investigations of a team of NYPD forensic scientists and police officers as they unveil the circumstances behind mysterious and unusual deaths as well as other crimes...



Dr. Peyton Driscoll
Season 3 (nine episodes)
Seasons 4 & 6 (one episode each)
2007
Hallam Foe
Verity Foe
Carolina Moon

Carolina Moon (film)

Carolina Moon, also known as Nora Roberts' Carolina Moon, is a 2007 made-for-tv movie directed by Stephen Tolkin, which stars Claire Forlani, Oliver Hudson, and Jacqueline Bisset...



Tory Bodeen
2008
Flashbacks of a Fool

Flashbacks of a Fool

Flashbacks of a Fool is a 2008 British drama film about a Hollywood actor who, following the death of his childhood best friend, reflects upon his life and what might have been, had he stayed in England...



Ruth Davies
In the Name of the King: A Dungeon Siege Tale

In the Name of the King: A Dungeon Siege Tale

In the Name of the King: A Dungeon Siege Tale is a 2006 fantasy action film directed by Uwe Boll, inspired by the Dungeon Siege video game series. It was produced by Brightlight Pictures and distributed by Freestyle Releasing and Vivendi Entertainment in the United States and Canada. 20th Century...



Solana
Beer for My Horses

Beer for My Horses (film)

Beer for My Horses is a 2008 American feature film comedy. The film stars country music entertainer Toby Keith and is based on his song by the same name...



Annie
2009
Shannon's Rainbow

Shannon's Rainbow

Shannon's Rainbow is a 2009 drama and family film both produced and directed by Frank E. Johnson. It stars Julianne Michelle and Claire Forlani, with a musical score by emmy winner Charles David Denler....



Christine
False Witness

False Witness

False Witness is an Australian television mini-series produced by Screentime Australia for the Australian subscription television channel UK.TV...


(also known as The Diplomat in the UK and US)
Pippa Porter
Not Forgotten

Not Forgotten (film)

Not Forgotten is a 2009 independent thriller written and directed by Dror Soref starring Simon Baker and Paz Vega. The film takes place on the Texas-Mexico border and tells the story of a kidnapping plot involving the ritualistic cult Santa Muerte...



Katie
2010
Love's Kitchen

No Ordinary Trifle

Love's Kitchen is a 2011 British romantic comedy film directed by James Hacking and starring Dougray Scott, Claire Forlani, and Michelle Ryan...



Kate Templeton
2011
Camelot

Camelot (TV series)

Camelot is a historical-fantasy-drama television series which premiered on April 1, 2011. It was co-produced by the Starz cable network and GK-TV which began production during the summer of 2010...



Queen Igraine

Igraine

Igraine , in Arthurian legend, is the mother of King Arthur. She is also known in Latin as Igerna, in Welsh as Eigyr, in French as Igerne, in Thomas Malory's Le Morte d'Arthur as Ygrayne— often modernized as Igraine—and in Wolfram von Eschenbach's Parzival as Arnive...



2011
NCIS: Los Angeles
Lauren Hunter
Season 2 (two episodes)
Season 3
External links