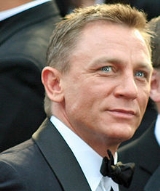 Daniel Craig
Daniel Wroughton Craig
(born 2 March 1968) is an
English
English people
The English are a nation and ethnic group native to England, who speak English. The English identity is of early mediaeval origin, when they were known in Old English as the Anglecynn. England is now a country of the United Kingdom, and the majority of English people in England are British Citizens...
actor. His early film roles include
Elizabeth
Elizabeth (film)
Elizabeth is a 1998 biographical film written by Michael Hirst, directed by Shekhar Kapur, and starring Cate Blanchett in the title role of Queen Elizabeth I of England, alongside Geoffrey Rush, Christopher Eccleston, Joseph Fiennes, Sir John Gielgud, Fanny Ardant and Richard Attenborough...
,
The Power of One
The Power of One (film)
The Power of One is a 1992 dramatic film based on the 1989 novel of the same name by Bryce Courtenay. Set in South Africa during the '30s and '40s, the film centers on the life of Peter Philip 'P.K.' Kenneth-Keith , a young English boy raised during the apartheid era, and his relationship with a...
,
A Kid in King Arthur's Court
A Kid in King Arthur's Court
A Kid in King Arthur's Court is a 1995 film directed by Michael Gottlieb. It is based on the famous Mark Twain novel A Connecticut Yankee in King Arthur's Court, transplanted into the twentieth century....
and the television episodes
Sharpe's Eagle
Sharpe's Eagle (TV programme)
Sharpe's Eagle is the second in the series of Sharpe television dramas, based on the novel of the same name. Shown on ITV in 1993, the adaptation stars Sean Bean, Daragh O'Malley and Assumpta Serna.-Plot summary:...
,
Zorro
Zorro (1990 TV series)
Zorro, also known as The New Zorro, New World Zorro, and Zorro 1990, is an American action-adventure drama series featuring Duncan Regehr as the character of Zorro. Regehr portrayed the fearless Latino hero and fencer on The Family Channel from 1990 to 1993...
and
The Young Indiana Jones Chronicles: Daredevils of the Desert
The Young Indiana Jones Chronicles
The Young Indiana Jones Chronicles is an American television series that aired on ABC from March 4, 1992, to July 24, 1993. The series explores the childhood and youth of the fictional character Indiana Jones and primarily stars Sean Patrick Flanery and Corey Carrier as the title character, with...
. His breakthrough performances were in the films
Lara Croft: Tomb Raider
Lara Croft: Tomb Raider
Lara Croft: Tomb Raider is a 2001 adventure thriller film adapted from the Tomb Raider video game series. Directed by Simon West and starring Angelina Jolie as Lara Croft, it was released in U.S. theaters on June 15, 2001. The film was a commercial success...
,
Road to Perdition
Road to Perdition
Road to Perdition is a 2002 American crime film directed by Sam Mendes. The screenplay was adapted by David Self, from the graphic novel of the same name by Max Allan Collins. The film stars Tom Hanks, Paul Newman, Jude Law, and Daniel Craig...
,
Layer Cake
Layer Cake (film)
Layer Cake is a 2004 British crime thriller produced and directed by Matthew Vaughn, in his directorial debut. It is based on the novel Layer Cake by J. J...
,
Munich
Munich (film)
Munich is a 2005 historical fiction film about the Israeli government's secret retaliation attacks after the massacre of Israeli athletes by the Black September terrorist group during the 1972 Summer Olympics. The film stars Eric Bana and was produced and directed by Steven Spielberg...
, and The Golden Compass.
Craig became well known internationally after he was cast as the sixth actor to portray fictional secret agent
James Bond
James Bond (character)
Royal Navy Commander James Bond, CMG, RNVR is a fictional character created by journalist and novelist Ian Fleming in 1953. He is the main protagonist of the James Bond series of novels, films, comics and video games...
in the
film series
James Bond (film series)
The James Bond film series is a British series of motion pictures based on the fictional character of MI6 agent James Bond , who originally appeared in a series of books by Ian Fleming. Earlier films were based on Fleming's novels and short stories, followed later by films with original storylines...
. He made his début as the character in the 2006 film,
Casino Royale
Casino Royale (2006 film)
Casino Royale is the twenty-first film in the James Bond film series and the first to star Daniel Craig as fictional MI6 agent James Bond...
.
I go through life thinking it's all going to end tomorrow.

I don't believe in self-promotion, really I can't be arsed.

I always wanted to be an actor. I had the arrogance to believe I couldn't be anything else.

As far as I'm concerned, I want to be nowhere else. It's difficult in film because everybody wants to make a safe bet with roles. But if you are going to do stuff then you should be getting strong reactions. I don't want audiences to be going, "Yeah, that's all right."

It's something else. I'm speechless. I've just got to step up to the plate and deal with it. I had a confidence about it but then that's because of the people around me who made me feel good about it. I knew positively on Monday. I was in Baltimore when I took the call. My first reaction was I needed a drink.

I hate handguns. Handguns are used to shoot people and as long as they are around, people will shoot each other. That's a simple fact. I've seen a bullet wound and it was a mess. It was on a shoot and it scared me. Bullets have a nasty habit of finding their target and that's what's scary about them.

If I went onto the Internet and started looking at what some people were saying about me - which, sadly, I have done - it would drive me insane.

Interview with Entertainment Weekly magazine.