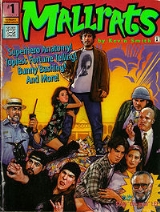 Mallrats
Mallrats
is a 1995 film written and directed by
Kevin Smith
Kevin Smith
Kevin Patrick Smith is an American screenwriter, actor, film producer, and director, as well as a popular comic book writer, author, comedian/raconteur, and internet radio personality best recognized by viewers as Silent Bob...
. It is the second to be set in Smith's
View Askewniverse
View Askewniverse
The View Askewniverse is a fictional universe created by writer/director Kevin Smith, featured in several films, comics and a television series; it is named for Smith's production company, View Askew Productions. The characters Jay and Silent Bob appear in almost all the View Askewniverse media,...
series of interlocking films set mostly in
New Jersey
New Jersey
New Jersey is a state in the Northeastern and Middle Atlantic regions of the United States. , its population was 8,791,894. It is bordered on the north and east by the state of New York, on the southeast and south by the Atlantic Ocean, on the west by Pennsylvania and on the southwest by Delaware...
, although the movie was filmed in Eden Prairie Center and Osowski's Flea Market which are located in
Minnesota
Minnesota
Minnesota is a U.S. state located in the Midwestern United States. The twelfth largest state of the U.S., it is the twenty-first most populous, with 5.3 million residents. Minnesota was carved out of the eastern half of the Minnesota Territory and admitted to the Union as the thirty-second state...
. As in the other View Askewniverse movies, the characters
Jay and Silent Bob
Jay and Silent Bob
Jay and Silent Bob are fictional characters portrayed by Jason Mewes and Kevin Smith, respectively, in Kevin Smith's View Askewniverse, a fictional universe created and used in most films, comics and television by Smith, which began in Clerks....
figure prominently, and characters and events from other films are discussed. Several cast members, including
Jason Lee
Jason Lee (actor)
Jason Michael Lee is an American actor and skateboarder known for his role as the title character on the NBC television series My Name is Earl, his portrayal of Syndrome in the film The Incredibles, his role as Dave Seville in the Alvin and the Chipmunks films, and his work with director Kevin...
,
Ben Affleck
Ben Affleck
Benjamin Géza Affleck-Boldt , better known as Ben Affleck, is an American actor, film director, writer, and producer. He became known with his performances in Kevin Smith's films such as Mallrats and Chasing Amy...
, and
Joey Lauren Adams
Joey Lauren Adams
Joey Lauren Adams is an American actress who has appeared in more than thirty films. She is known for her distinctive, raspy voice and for her roles in View Askewniverse films, particularly Mallrats and Chasing Amy, with the latter giving her a Golden Globe for Best Actress nomination.-Career:She...
, have gone on to work in several other Smith films. Comic book icon
Stan Lee
Stan Lee
Stan Lee is an American comic book writer, editor, actor, producer, publisher, television personality, and the former president and chairman of Marvel Comics....
appeared, as did
Brian O'Halloran
Brian O'Halloran
Brian Christopher O'Halloran is an American actor best known for his roles in Kevin Smith's View Askewniverse films, notably as Dante Hicks in Smith's debut film Clerks and its 2006 sequel, Clerks II...
, the star of Smith's breakout feature
Clerks
Clerks
Clerks is a 1994 independent comedy film written and directed by Kevin Smith, who also appears in the film as Silent Bob. Starring Brian O'Halloran as Dante Hicks and Jeff Anderson as Randal Graves, it presents a day in the lives of two store clerks and their acquaintances...
.
On April 9, 1993, T.S.
Listen, not a year goes by, not a year, that I don't hear about some escalator accident involving some bastard kid which could have easily been avoided had some parent--I don't care which one--but some parent conditioned him to fear and respect that escalator!

Hell hath no fury like a woman scorned for Sega.

You're gonna listen to me? To something I said? Jesus, man, hasn't it become abundantly clear during the tenure of our friendship that I don't know shit? I mean, half the time I'm just talking out of my ass, or sticking my hand in it.

[Modeling women's underwear] I would've been a sexy chick.

You fuckers think just because a guy reads comics he can't start some shit?

Waste not, want not.

I love the smell of commerce in the morning.

[speaking of T.S. and Brandi's love] You two are retarded for each other.

Why don't they ever bring back or remake good shows, like "BJ and the Bear"? Now there's a concept I can't get enough of, a man and his monkey.