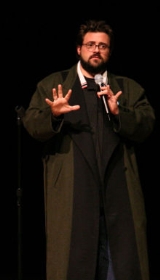 Kevin Smith
Kevin Patrick Smith is an American screenwriter, actor, film producer, and director, as well as a popular comic book writer, author, comedian/raconteur, and
internet radio
Internet radio
Internet radio is an audio service transmitted via the Internet...
personality best recognized by viewers as Silent Bob. Although primarily known for the View Askew film series, Smith also wrote, directed and produced films such as the buddy cop action comedy Cop Out, as well as the horror film
Red State
Red State (2011 film)
Red State is a 2011 American independent horror film written and directed by Kevin Smith, starring Michael Parks, John Goodman, Melissa Leo and Stephen Root...
.
Guy from audience: Your wife is your beard!Kevin: My wife is my beard isn't she?... Oh, sir, who was it? It was you? That was your move. 'Cause in your head you're going "I'm gonna yell out your wife is your beard and they'll laugh like they laughed at the rock guy!" And you yelled it out, you got it out there, you had the guts to do it and shit, and then I even echoed it for you just in case the cheap seats didn't hear it, and there was fucking crickets, sir.

What happened to Riggs?

On what has happened to Mel Gibson
What's your name, new best friend?

Talking to a man who's walked up on stage and handed Kevin a bag of donuts
In Hollywood, you just kind of fail upwards.

On Jon Peters becoming a producer
There would always be a bunch of fucking grousers and nay-sayers being like "that was uncalled for."

On public reaction to George W. Bush calling a news conference and subsequently pulling Osama Bin Laden's head out of a brown paper bag. - SModcast 14:On Guard for Thee
"Look at my dick."

On what a chicken is likely to say to another chicken were you to successfully hide a microphone in a chicken coop - SModcast 10: Eating a Chicken's Soul
Don't get me wrong, I love Schindler's List, but it's not like "Hey, man, let's get loaded and watch Schindler's List." - SModcast 4: Can I get a (Masturbatory) Witness

Americans tend to celebrate even the most mediocre or basic accomplishments... It's like weddings to me. Why is that a big deal?... Why do you have to have a big shindig where you're, like, "Look, we're doing it" and everybody applauds and throws shit in your face. - SModcast 1: Fisting Flipper