Cienfuegos
Cienfuegos
is a city on the southern coast of
Cuba
Cuba
The Republic of Cuba is an island nation in the Caribbean. The nation of Cuba consists of the main island of Cuba, the Isla de la Juventud, and several archipelagos. Havana is the largest city in Cuba and the country's capital. Santiago de Cuba is the second largest city...
, capital of
Cienfuegos Province
Cienfuegos Province
Cienfuegos is one of the provinces of Cuba. The capital city of the province is also called Cienfuegos and was founded by French settlers in 1819....
. It is located about 250 km (155.3 mi) from
Havana
Havana
Havana is the capital city, province, major port, and leading commercial centre of Cuba. The city proper has a population of 2.1 million inhabitants, and it spans a total of — making it the largest city in the Caribbean region, and the most populous...
, and has a population of 150,000. The city is dubbed
La Perla del Sur
(Pearl of the South).
Cienfuegos
literally translates to "Hundred fires".
Geography
Near the entrance to Bahia de Cienfuegos (
bahia
meaning "
bay
Bay
A bay is an area of water mostly surrounded by land. Bays generally have calmer waters than the surrounding sea, due to the surrounding land blocking some waves and often reducing winds. Bays also exist as an inlet in a lake or pond. A large bay may be called a gulf, a sea, a sound, or a bight...
") is
Castillo de Jagua
Castillo de Jagua
The Jagua Fortress is a fortress south of Cienfuegos in Cuba. It is located near the entrance to the Bay of Cienfuegos , in the port of Jagua.The fortress was erected by Spanish king Philip V...
(full name
Castillo de Nuestra Señora de los Angeles de Jagua
), a fortress erected in 1745 for protection against Caribbean pirates.
Cienfuegos, one of the chief seaports of Cuba, is a center of the sugar trade, as well as coffee and tobacco. While
sugarcane
Sugarcane
Sugarcane refers to any of six to 37 species of tall perennial grasses of the genus Saccharum . Native to the warm temperate to tropical regions of South Asia, they have stout, jointed, fibrous stalks that are rich in sugar, and measure two to six metres tall...
is the chief crop, local farmers grow coffee.
The downtown contains 6 buildings from 1819–50, 327 buildings from 1851–1900, and 1188 buildings from the 20th century. There is no other place in the Caribbean which contains such a remarkable cluster of
Neoclassical
Neoclassical architecture
Neoclassical architecture was an architectural style produced by the neoclassical movement that began in the mid-18th century, manifested both in its details as a reaction against the Rococo style of naturalistic ornament, and in its architectural formulas as an outgrowth of some classicizing...
structures.
Demographics
In 2004, the municipality of Cienfuegos had a population of 163,824. With a total area of 333 km² (128.6 sq mi), it has a population density of 492 /km2.
History
The area was called the
Cacicazgo de Jagua
by the early Spaniards, and was settled by indigenous people.
The city was settled by
French
French people
The French are a nation that share a common French culture and speak the French language as a mother tongue. Historically, the French population are descended from peoples of Celtic, Latin and Germanic origin, and are today a mixture of several ethnic groups...
immigrants from
Bordeaux
Bordeaux
Bordeaux is a port city on the Garonne River in the Gironde department in southwestern France.The Bordeaux-Arcachon-Libourne metropolitan area, has a population of 1,010,000 and constitutes the sixth-largest urban area in France. It is the capital of the Aquitaine region, as well as the prefecture...
and
Louisiana
Louisiana
Louisiana is a state located in the southern region of the United States of America. Its capital is Baton Rouge and largest city is New Orleans. Louisiana is the only state in the U.S. with political subdivisions termed parishes, which are local governments equivalent to counties...
, led by Don Louis de Clouet, on April 22, 1819. Its original name was
Fernardina de Jagua
, in honor of
Ferdinand VII of Spain
. The settlement became a town (Spanish:
Villa
) in 1829, and a city in 1880. The city was subsequently named
Cienfuegos
, sharing the name with Cienfuegos, a
Captain General
Captain General
Captain general is a high military rank and a gubernatorial title.-History:This term Captain General started to appear in the 14th century, with the meaning of commander in chief of an army in the field, probably the first usage of the term General in military settings...
in this time, in the island.
Near Cienfuegos was the scene of a
battle
Battle of Cienfuegos
The Battle of Cienfuegos, or the Raid on Cienfuegos, was an engagement of the Spanish-American War, intended by the United States Navy to tighten its blockade of Cuba.-Background:...
on May 11, 1898, between American marines who attempted to sever underwater Spanish communication lines and the Spanish defenders.
During the
Cuban Revolution
Cuban Revolution
The Cuban Revolution was an armed revolt by Fidel Castro's 26th of July Movement against the regime of Cuban dictator Fulgencio Batista between 1953 and 1959. Batista was finally ousted on 1 January 1959, and was replaced by a revolutionary government led by Castro...
the city saw an uprising against
Fulgencio Batista
Fulgencio Batista
Fulgencio Batista y Zaldívar was the United States-aligned Cuban President, dictator and military leader who served as the leader of Cuba from 1933 to 1944 and from 1952 to 1959, before being overthrown as a result of the Cuban Revolution....
and was bombed, on September 5, 1957.
World Heritage Site
In 2005,
UNESCO
UNESCO
The United Nations Educational, Scientific and Cultural Organization is a specialized agency of the United Nations...
inscribed the
Urban Historic Centre of Cienfuegos
on the World Heritage List, citing Cienfuegos as the best extant example of the 19th-century early
Spanish Enlightenment
implementation in
urban planning
Urban planning
Urban planning incorporates areas such as economics, design, ecology, sociology, geography, law, political science, and statistics to guide and ensure the orderly development of settlements and communities....
.
Hurricane Dennis 2005
In 2005,
Hurricane Dennis
Hurricane Dennis
Hurricane Dennis was an early-forming major hurricane in the Caribbean and Gulf of Mexico during the very active 2005 Atlantic hurricane season. Dennis was the fourth named storm, second hurricane, and first major hurricane of the season...
made its second
landfall
Landfall (meteorology)
Landfall is the event of a tropical cyclone or a waterspout coming onto land after being over water. When a waterspout makes landfall it is reclassified as a tornado, which can then cause damage inland...
near Cienfuegos at about 1:00PM AST (17:00 UTC) with winds of 232 km/h (144 mph), and gusts reaching 285 km/h (177 mph).
Attractions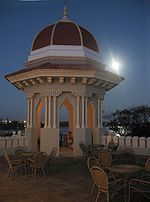 Castillo de Nuestra Señora de los Ángeles de Jagua

Castillo de Jagua

The Jagua Fortress is a fortress south of Cienfuegos in Cuba. It is located near the entrance to the Bay of Cienfuegos , in the port of Jagua.The fortress was erected by Spanish king Philip V...


- fortress
Arco de Triunfo - the only Arco de Triunfo in Cuba
Cathedral de la Purisma Concepción - cathedral with stained glass work, built 1833-1869.
Delfinario - dolphins and sea lions in a saltwater lagoon
Jardín Botánico de Cienfuegos

Jardín Botánico de Cienfuegos

Cienfuegos Province Botanical Garden, also known as Jardín Botanico Soledad, is located 14 kilometers from the city centre. With 97 hectares it's the oldest institution of its kind on the island, founded in 1901 by Edwin F. Atkins and his wife. They arrived in Cuba in search of the island's most...


- 97 hectares of botanic garden
Museo Provincial - furniture and porcelain museum
Palacio de Valle - built 1913–1917 in neo-gothic

Gothic Revival architecture

The Gothic Revival is an architectural movement that began in the 1740s in England...


style
Palmira Yorubá Pantheon - museum of religious afro-catholic syncretism
Parque José Martí - park in Plaza de Armas
University of Cienfuegos

University of Cienfuegos

The University of Cienfuegos "Carlos Rafael Rodríguez" is a university located in Cienfuegos, Cuba.- See also :*Education in Cuba*List of universities in Cuba* Cienfuegos...


"Carlos Rafael Rodríguez" (UCF) - the province's secondary education institution.
Famous residents
See also
Municipalities of Cuba

Municipalities of Cuba

The provinces of Cuba are divided into 169 municipalities or municipios. They were defined by Cuban Law Number 1304 of July 3, 1976.-Summary:The municipalities are listed below, by province:...



Cienfuegos' Scientific Electronic Medical Journal
External links