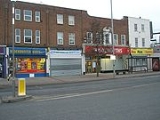 Cheam
Cheam
is a large suburban village close to
Sutton
Sutton, London
Sutton is a large suburban town in southwest London, England, and the administrative headquarters of the London Borough of Sutton. It is located south-southwest of Charing Cross and is one of the major metropolitan centres identified in the London Plan. The town was connected to central London by...
in the
London Borough of Sutton
London Borough of Sutton
The London Borough of Sutton is a London borough in South London, England and forms part of Outer London. It covers an area of and is the 80th largest local authority in England by population. It is one of the southernmost boroughs of London...
, England, and is located close to the southern boundary between Greater London and
Surrey
Surrey
Surrey is a county in the South East of England and is one of the Home Counties. The county borders Greater London, Kent, East Sussex, West Sussex, Hampshire and Berkshire. The historic county town is Guildford. Surrey County Council sits at Kingston upon Thames, although this has been part of...
. It is divided into two main areas: North Cheam and Cheam Village. North Cheam includes more retail shops and
supermarket
Supermarket
A supermarket, a form of grocery store, is a self-service store offering a wide variety of food and household merchandise, organized into departments...
s, whilst Cheam Village and the south of Cheam are more residential. It is bordered by Worcester Park (to the north-west), Morden (to the north-east), Sutton (to the east), Ewell (to the west) as well as Banstead and Belmont to the South. Cheam is one of the southernmost areas in Outer London under the control of a Greater London Authority (The London Borough of Sutton) as opposed to Surrey County Council, which controls bordering towns to the South and West including Banstead and Ewell. It is located in London Travelcard Zone 5, and the area is served by
Cheam railway station
Cheam railway station
Cheam railway station serves Cheam in the London Borough of Sutton. It is located on the Sutton & Mole Valley Lines section from Sutton to Epsom with trains to London Victoria and London Bridge both via Mitcham Junction and West Croydon.-History:...
.
History
The village lay within the
Anglo-Saxon
Anglo-Saxons
Anglo-Saxon is a term used by historians to designate the Germanic tribes who invaded and settled the south and east of Great Britain beginning in the early 5th century AD, and the period from their creation of the English nation to the Norman conquest. The Anglo-Saxon Era denotes the period of...
administrative division of
Wallington
Wallington (hundred)
Wallington was an ancient hundred in the north east of the county of Surrey, England. The majority of its area has been absorbed by the growth of London; with its name currently referring to the district of Wallington...
hundred
Hundred (division)
A hundred is a geographic division formerly used in England, Wales, Denmark, South Australia, some parts of the United States, Germany , Sweden, Finland and Norway, which historically was used to divide a larger region into smaller administrative divisions...
.
Cheam's roots can be dated back as far as 1018, when
Chertsey Abbey
Chertsey Abbey
Chertsey Abbey, dedicated to St Peter, was a Benedictine monastery located at Chertsey in the English county of Surrey.It was founded by Saint Erkenwald, later Bishop of London, in 666 AD and he became the first abbot. In the 9th century it was sacked by the Danes and refounded from Abingdon Abbey...
owned the area. In the
Domesday Book
Domesday Book
Domesday Book , now held at The National Archives, Kew, Richmond upon Thames in South West London, is the record of the great survey of much of England and parts of Wales completed in 1086...
, the Bishop was holding Cheam to cater for the monks.
Cheam appears in
Domesday Book
Domesday Book
Domesday Book , now held at The National Archives, Kew, Richmond upon Thames in South West London, is the record of the great survey of much of England and parts of Wales completed in 1086...
as
Ceiham
. It was held by Archbishop Lanfranc of
Canterbury
Canterbury
Canterbury is a historic English cathedral city, which lies at the heart of the City of Canterbury, a district of Kent in South East England. It lies on the River Stour....
. Its Domesday assets were: 4
hide
Hide (unit)
The hide was originally an amount of land sufficient to support a household, but later in Anglo-Saxon England became a unit used in assessing land for liability to "geld", or land tax. The geld would be collected at a stated rate per hide...
s; 1 church, 17
plough
Plough
The plough or plow is a tool used in farming for initial cultivation of soil in preparation for sowing seed or planting. It has been a basic instrument for most of recorded history, and represents one of the major advances in agriculture...
s, 1 acres (4,046.9 m²) of
meadow
Meadow
A meadow is a field vegetated primarily by grass and other non-woody plants . The term is from Old English mædwe. In agriculture a meadow is grassland which is not grazed by domestic livestock but rather allowed to grow unchecked in order to make hay...
,
woodland
Woodland
Ecologically, a woodland is a low-density forest forming open habitats with plenty of sunlight and limited shade. Woodlands may support an understory of shrubs and herbaceous plants including grasses. Woodland may form a transition to shrubland under drier conditions or during early stages of...
worth 25 hogs. It rendered £14.
In the
Middle Ages
Middle Ages
The Middle Ages is a periodization of European history from the 5th century to the 15th century. The Middle Ages follows the fall of the Western Roman Empire in 476 and precedes the Early Modern Era. It is the middle period of a three-period division of Western history: Classic, Medieval and Modern...
, Cheam was known for its potteries , and recent excavations have been carried out by archaeologists. In 1538, part of Cheam was handed over to
Henry VIII
Henry VIII of England
Henry VIII was King of England from 21 April 1509 until his death. He was Lord, and later King, of Ireland, as well as continuing the nominal claim by the English monarchs to the Kingdom of France...
. The same year, Henry began work on
Nonsuch Palace
Nonsuch Palace
Nonsuch Palace was a Tudor royal palace, built by Henry VIII in Surrey, England; it stood from 1538 to 1682–3. Its ruins are in Nonsuch Park.- Background :Nonsuch Palace in Surrey was perhaps the grandest of Henry VIII's building projects...
, which he decorated fantastically. This was later sold and demolished. In 1801, the time of the first census, Cheam had a population of 616.
Cheam was the original home of
Cheam School
Cheam School
Cheam School is a preparatory school in Headley in the civil parish of Ashford Hill with Headley in the English county of Hampshire. It was founded in 1645 by the Reverend George Aldrich in Cheam, Surrey and has been in operation ever since....
which was formed in Whitehall in 1645 and later occupied Tabor Court from 1719 until 1934 when the school moved to Berkshire. Prince Philip attended the school in Cheam in the years immediately preceding its move.
Lumley Chapel
Situated next to St Dunstan's church, it is the oldest standing building in the London Borough of Sutton. It contains many notable monuments to local families and is in the care of a national charity the
Churches Conservation Trust
Churches Conservation Trust
The Churches Conservation Trust, which was initially known as the Redundant Churches Fund, is a charity whose purpose is to protect historic churches at risk, those that have been made redundant by the Church of England. The Trust was established by the Pastoral Measure of 1968...
. Too small to be used for regular worship it is open to visitors with the key being held by nearby properties.
Whitehall
Whitehall is a
timber framed
Timber framing
Timber framing , or half-timbering, also called in North America "post-and-beam" construction, is the method of creating structures using heavy squared off and carefully fitted and joined timbers with joints secured by large wooden pegs . It is commonplace in large barns...
and weatherboarded house in the centre of Cheam Village. It was originally built in about 1500 as a
wattle and daub
Wattle and daub
Wattle and daub is a composite building material used for making walls, in which a woven lattice of wooden strips called wattle is daubed with a sticky material usually made of some combination of wet soil, clay, sand, animal dung and straw...
yeoman
Yeoman
Yeoman refers chiefly to a free man owning his own farm, especially from the Elizabethan era to the 17th century. Work requiring a great deal of effort or labor, such as would be done by a yeoman farmer, came to be described as "yeoman's work"...
farmer's house but has been much extended. The external weatherboarded appearance dates from the 18th century. In the garden there is a medieval
well
Water well
A water well is an excavation or structure created in the ground by digging, driving, boring or drilling to access groundwater in underground aquifers. The well water is drawn by an electric submersible pump, a trash pump, a vertical turbine pump, a handpump or a mechanical pump...
which served an earlier building on the site.
The building is open to the public on Wednesday, Thursday & Friday 2-5pm; Saturday 10 am - 5 pm, Sunday & Bank Holiday Monday 2-5 pm. There is an admission charge, and an audio guide. There is a programme of events and changing exhibitions in the house, which also has displays about the history of the house and its inhabitants, nearby Cheam School, and Henry VIII's Nonsuch Palace.
Nonsuch Mansion
A Gothic revival mansion within Nonsuch Park built in 1802-6. The service wing is occasionally open to the public. A popular place for wedding receptions, as it is available for hire.
The Old Rectory
A large part timber-framed house, built in Tudor period, but extended and remodelled in the Eighteenth Century. Occasionally open to the public.
The Old Farmhouse
A large timber-framed and weatherboarded Yeoman farmers house, forming part of the Cheam Conservation Area with St Dunstan's Church, Whitehall, The Old Rectory and the Lumley Chapel. The Old Farmhouse has a crown post roof and large Tudor axial chimney stack in the centre with large fireplaces. The earliest part of the house is 15th Century, with several building stages extending the house in the 16th and 17th centuries, creating a Baffle House design popular in the 17th Century. Many original features remain including oak doors and hinges, window shutters and fireplaces. Much of the timber framing is exposed throughout the house. Recent excavation and ground imaging uncovered a large Tudor kitchen underneath the house with a Tudor hearth and hood visible. Access to the cellar kitchen was by a staircase going north to south, which is now under the floor of the current owners kitchen. A file of text and images relating to the house is available in the Conservation Archive in Sutton Library.
North Cheam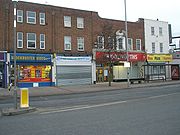 North Cheam is situated at the main cross roads between Sutton and Central London. There are well established bus services serving the area, including services 213 (Sutton to Kingston), 151 (Wallington to Worcester Park), 93 (North Cheam to Putney Bridge) and the less frequent X26 express service between Heathrow and Croydon. The nearest tube station is in
Morden
Morden
Morden is a district in the London Borough of Merton. It is located approximately South-southwest of central London between Merton Park , Mitcham , Sutton and Worcester Park .- Origin of name :...
.
Victoria Junction is the centre of North Cheam. The area consists of a Sainsbury's supermarket, a neighboring park, numerous independent shops and restaurants, a post office and several banks. The North Cheam branch of Woolworths, which had been in existence since the 1950s, closed on 30 December 2008.
St. Anthony's Hospital is a large private hospital which exists on the London Road in North Cheam.
Cheam Leisure Centre, on Malden Road, offers facilities including a swimming pool (30m x 12m), squash courts and fitness gym.
Parks and gardens
Today Cheam is mainly built up, but still retains
Nonsuch Park
Nonsuch Park
Nonsuch Park is a public park between Stoneleigh, North Cheam, Cheam, and Ewell and the last surviving part of the Little Park of Nonsuch, a deer hunting park established by Henry VIII of England surrounding the former Nonsuch Palace...
, also home to a chicken pen, drinking fountain, ice cream shop, and car park. Cheam Park backs onto Nonsuch Park, with many facilities such as tennis courts, football pitches and a children's playground.
Schools
There are a number of schools in Cheam, most notably
Nonsuch High School
Nonsuch High School
Nonsuch High School is an all-girls' grammar school located in Cheam, South London, England, standing in of grounds on the edge of Nonsuch Park. The school holds Specialist Science College and Specialist language status.-Awards:...
, a
grammar school
Grammar school
A grammar school is one of several different types of school in the history of education in the United Kingdom and some other English-speaking countries, originally a school teaching classical languages but more recently an academically-oriented secondary school.The original purpose of mediaeval...
for girls and
Cheam High School
Cheam High School
Cheam High School is a mixed gender comprehensive school located in Cheam, Greater London, England. It consists of a lower school, for those aged between 11-16, and a sixth form for 17-18.The school holds dual Specialist Language College and Arts College status...
, a mixed comprehensive which is considerably above average. There are also a number of primary schools in the area such as Cuddington Croft, St Cecilias Catholic Primary School, Cheam Fields Primary, Cheam Common Primary, Cheam Park Farm Nursery and Infants School, Cheam Park Farm Juniors, Nonsuch Primary and St. Dunstans Church of England Primary.
Cultural references
In most series of the comedy show
Hancock's Half Hour
Hancock's Half Hour
Hancock's Half Hour was a BBC radio comedy, and later television comedy, series of the 1950s and 60s written by Ray Galton and Alan Simpson. The series starred Tony Hancock, with Sid James; the radio version also co-starred, at various times, Moira Lister, Andrée Melly, Hattie Jacques, Bill Kerr...
,
Tony Hancock
Tony Hancock
Anthony John "Tony" Hancock was an English actor and comedian.-Early life and career:Hancock was born in Southam Road, Hall Green, Birmingham, England, but from the age of three was brought up in Bournemouth, where his father, John Hancock, who ran the Railway Hotel in...
lived in the fictional road Railway Cuttings, in fictional East Cheam.
British stand-up comedian and actor
Eddie Izzard
Eddie Izzard
Edward John "Eddie" Izzard is a British stand-up comedian and actor. His comedy style takes the form of rambling, whimsical monologue and self-referential pantomime...
mentions Cheam in the 'Death Star Canteen' act of his 2000 tour
Circle
Circle (Eddie Izzard)
Circle is the name of a stand-up tour by the comedian Eddie Izzard in 2000.It was released on VHS and DVD in the United Kingdom on 18 November 2002...
, using it jokingly as the birth place of Darth Vader:
"...
Sir Lord Vader? Sir Lord Vader of Cheam?
"
British stand-up comedian Tim Vine mentions Cheam in his act.
Notable people
Film locations
St. Dunstan's Church was used in an episode of The I.T. Crowd Series 2.
Peep Show

Peep Show (TV series)

Peep Show is a British sitcom starring David Mitchell and Robert Webb. The television programme is written by Jesse Armstrong and Sam Bain, with additional material by Mitchell and Webb themselves, amongst others. It has been broadcast on Channel 4 since 2003. The show's seventh series makes it...


used Cheam Park for a location shoot.
An episode of Terry and June

Terry and June

Terry and June is a British sitcom that was broadcast on BBC1 from 1979 to 1987. The programme is largely a continuation of Happy Ever After, and stars Terry Scott and June Whitfield as a middle-class suburban couple, Terry and June Medford...


features the walkway between the library car park and St. Dunstans Church.
The Village crossroads was used in a police chase on The Bill

The Bill

The Bill is a police procedural television series that ran from October 1984 to August 2010. It focused on the lives and work of one shift of police officers, rather than on any particular aspect of police work...


.
South Drive and the houses within, where used for a soap opera during the mid-90's.
The Old Rectory was used as a location for the rap group N-Dubz

N-Dubz

N-Dubz are a British hip hop group from Camden Town, London. The group consists of members Dappy, Tulisa Contostavlos and Fazer.N-Dubz were previously signed to Polydor Records before joining All Around the World Records...


in the group's earlier videos
The Bill used the Nonsuch Manor House in Nonsuch Park in one of its episodes.
Nearby places
External links
Hancock's Legacy David McKie

David McKie

David McKie is a British journalist and historian. He was deputy editor of The Guardian and continued to write a weekly column for that paper until 4 October 2007, with the byline "Elsewhere". Until 10 September 2005, he also wrote a second weekly column, under the pseudonym "Smallweed"...


in The Guardian

The Guardian

The Guardian, formerly known as The Manchester Guardian , is a British national daily newspaper in the Berliner format...


, November 30, 2006.
Cheam Rangers http://www.cheamrangers.co.uk