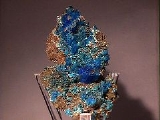 Chalcanthite
Chalcanthite
, whose name derives from the Greek,
chalkos
and
anthos
, meaning copper flower, is a richly-colored blue/green water-soluble
sulfate
Sulfate
In inorganic chemistry, a sulfate is a salt of sulfuric acid.-Chemical properties:...
mineral
Mineral
A mineral is a naturally occurring solid chemical substance formed through biogeochemical processes, having characteristic chemical composition, highly ordered atomic structure, and specific physical properties. By comparison, a rock is an aggregate of minerals and/or mineraloids and does not...
CuSO
4
·5H
2
O. It is commonly found in the late-stage oxidation zones of
copper
Copper
Copper is a chemical element with the symbol Cu and atomic number 29. It is a ductile metal with very high thermal and electrical conductivity. Pure copper is soft and malleable; an exposed surface has a reddish-orange tarnish...
deposits. Due to its ready solubility, chalcanthite is more common in arid regions.
Chalcanthite is a penta
hydrate
Hydrate
Hydrate is a term used in inorganic chemistry and organic chemistry to indicate that a substance contains water. The chemical state of the water varies widely between hydrates, some of which were so labeled before their chemical structure was understood....
and the most common member of a group of similar hydrated sulfates, the chalcanthite group. These other sulfates are identical in chemical composition to chalcanthite, with the exception of replacement of the copper
ion
Ion
An ion is an atom or molecule in which the total number of electrons is not equal to the total number of protons, giving it a net positive or negative electrical charge. The name was given by physicist Michael Faraday for the substances that allow a current to pass between electrodes in a...
by either
manganese
Manganese
Manganese is a chemical element, designated by the symbol Mn. It has the atomic number 25. It is found as a free element in nature , and in many minerals...
as jokokuite,
iron
Iron
Iron is a chemical element with the symbol Fe and atomic number 26. It is a metal in the first transition series. It is the most common element forming the planet Earth as a whole, forming much of Earth's outer and inner core. It is the fourth most common element in the Earth's crust...
as
siderotil
Siderotil
Siderotil is an iron sulfate hydrate mineral with formula: FeSO4·5H2O which forms by the dehydration of melanterite. Copper commonly occurs substituting for iron in the structure. It typically occurs as fibrous or powdery encrustations, but may also occur as acicular triclinic crystals.It was...
, or
magnesium
Magnesium
Magnesium is a chemical element with the symbol Mg, atomic number 12, and common oxidation number +2. It is an alkaline earth metal and the eighth most abundant element in the Earth's crust and ninth in the known universe as a whole...
as pentahydrite.
Uses of chalcanthite
As chalcanthite is a copper mineral, it can be used as an
ore
Ore
An ore is a type of rock that contains minerals with important elements including metals. The ores are extracted through mining; these are then refined to extract the valuable element....
of copper. However, its ready solubility in
water
Water
Water is a chemical substance with the chemical formula H2O. A water molecule contains one oxygen and two hydrogen atoms connected by covalent bonds. Water is a liquid at ambient conditions, but it often co-exists on Earth with its solid state, ice, and gaseous state . Water also exists in a...
means that it tends to crystallize, dissolve, and recrystallize as crusts over any mine surface in more humid regions. Therefore, chalcanthite is only found in the most arid regions in sufficiently large quantities for use as an ore.
Secondarily, chalcanthite, due to its rich color and beautiful
crystal
Crystal
A crystal or crystalline solid is a solid material whose constituent atoms, molecules, or ions are arranged in an orderly repeating pattern extending in all three spatial dimensions. The scientific study of crystals and crystal formation is known as crystallography...
s, is a sought after collector's mineral. However, as with its viability as an ore, the solubility of the mineral causes significant problems. First, the mineral readily absorbs and releases its water content, which, over time, leads to a disintegration of the crystal structure, destroying even the finest specimens. It is critical to store specimens properly to limit exposure to humidity. Second, higher quality crystals can be easily grown synthetically, and, as such, there is a concern that disreputable mineral dealers would present a sample as natural when it is not.
Associated minerals
Given that chalcanthite is found in oxidized copper deposits, it is frequently found in association with other copper minerals. Frequently associated minerals include
Alternative names
Chalcanthite has several alternative names, including
blue stone
Blue stone
Blue stone is a generic mineral description commonly applied to a variety of minerals. Perhaps the most common reference is to the hydrated copper sulfate mineral, chalcanthite. The name "blue stone" is also applicable to lazurite, the core constituent of lapis lazuli, a sulfide of sodium aluminium...
,
blue vitriol
, and
copper vitriol
.