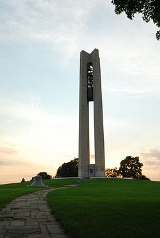 Carillon Historical Park
Carillon Historical Park
is a 65-acre (26.3 ha) park and museum in
Dayton
Dayton, Ohio
Dayton is the 6th largest city in the U.S. state of Ohio and the county seat of Montgomery County, the fifth most populous county in the state. The population was 141,527 at the 2010 census. The Dayton Metropolitan Statistical Area had a population of 841,502 in the 2010 census...
,
Ohio
Ohio
Ohio is a Midwestern state in the United States. The 34th largest state by area in the U.S.,it is the 7th‑most populous with over 11.5 million residents, containing several major American cities and seven metropolitan areas with populations of 500,000 or more.The state's capital is Columbus...
, which contains historic buildings and exhibits concerning the history of technology and the history of Dayton and its residents from 1796 to the present. The historical elements of the park were the brainchild of
Colonel Edward Deeds
Edward A. Deeds
Edward Andrew Deeds was an American engineer, inventor and industrialist prominent in the Dayton, Ohio area.-Biography:...
. The major sections include settlement, transportation, invention, and industry.
In 2005, Carillon Historical Park merged with the
Montgomery County Historical Society
Montgomery County Historical Society
The Montgomery County Historical Society, located in Dayton, Ohio, USA, was designated as official historian of Montgomery County, Ohio, and of the cultural heritage of Ohio's Miami Valley...
to form
Dayton History
Dayton History
Dayton History is an organization located in Dayton, Ohio, USA, formed in 2005 by the merger of the Montgomery County Historical Society and Dayton's Carillon Historical Park....
.
Kettering Family Education Center
The Kettering Family Education Center anchors the park and features changing exhibits in the National City Exhibit Gallery, a video about the park, and gift and snack shops. There are also rooms for education presentations.
Wright Brothers Aviation Center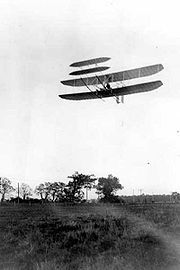 The John W. Berry Sr. Wright Brothers Aviation Center houses the 1905
Wright Flyer III
Wright Flyer III
The Wright Flyer III was the third powered aircraft built by the Wright Brothers. Orville Wright made the first flight with it on June 23, 1905. The Flyer III had an airframe of spruce construction with a wing camber of 1-in-20 as used in 1903, rather than the less effective 1-in-25 used in 1904...
, the world's first practical airplane. The airplane, a unit of
Dayton Aviation Heritage National Historical Park
Dayton Aviation Heritage National Historical Park
thumb|left|200 px|The Wright Flyer III, now in Carillon Historical Park, shown being flown by Orville Wright on October 4, 1905, over [[Huffman Prairie]] near Dayton...
, was restored from 1948 to 1950 with the initial consultation of Orville Wright before his 1948 death.
Settlement exhibits
Newcom Tavern

Newcom Tavern

Newcom Tavern, also known as the "Old Cabin", is a historic structure in Dayton, Ohio. It was built in 1796 by Colonel George Newcom, one of the first settlers in Dayton after the Treaty of Greenville . It was established as the New Jersey Land Company, under the leadership of Jonathan Dayton, with...


- 1796 home of Col. George Newcom and family, oldest building in Dayton
William Morris House - 1815 stone cottage
Locust Grove School - 1896 one-room schoolhouse used for over 30 years
Transportation exhibits
An original lock of the
Miami and Erie Canal
Miami and Erie Canal
The Miami and Erie Canal was a canal that connected the Ohio River in Cincinnati, Ohio with Lake Erie in Toledo, Ohio. Construction on the canal began in 1825 and was completed in 1845. It consisted of 19 aqueducts, three guard locks, and 103 canal locks. Each lock measured by and they...
is located on the grounds, as is a canal toll office. The transportation center vehicles include a
Barney and Smith
Barney and Smith
Barney and Smith Car Company was a railcar manufacturer in Dayton, Ohio.Founded in 1849 by Eliam Eliakim Barney and Ebenezer Thresher as Thresher, Packard & Company, it changed names as partners came and went:* 1850: E. Thresher & Company...
passenger car, built in Dayton, a
Conestoga wagon
Conestoga wagon
The Conestoga wagon is a heavy, broad-wheeled covered wagon that was used extensively during the late 18th century and the 19th century in the United States and sometimes in Canada as well. It was large enough to transport loads up to 8 tons , and was drawn by horses, mules or oxen...
, a 1908
Stoddard-Dayton
Stoddard-Dayton
Stoddard-Dayton was a high quality car manufactured by Dayton Motor Car Company in Dayton, Ohio, USA, between 1905 and 1913. John W. Stoddard and his son Charles G...
automobile, a 1915
Xenia
Xenia (automobile)
The Xenia was an American cyclecar designed by P. E. Hawkins and manufactured in 1914. The automobile was built with the odd combination of an epicyclic gearbox and belt final drive; it was powered by an 1164 cc vee-twin Deluxe engine....
cyclecar
Cyclecar
Cyclecars were small, generally inexpensive cars manufactured mainly between 1910 and the late 1920s.-General description:Cyclecars were propelled by single cylinder, V-twin or more rarely four cylinder engines, often air cooled. Sometimes these had been originally used in motorcycles and other...
, an
interurban
Interurban
An interurban, also called a radial railway in parts of Canada, is a type of electric passenger railroad; in short a hybrid between tram and train. Interurbans enjoyed widespread popularity in the first three decades of the twentieth century in North America. Until the early 1920s, most roads were...
railcar and other vehicles associated with Dayton. Among the latter, added to the collection in 1988, is a 1949-built
Marmon-Herrington
Marmon-Herrington
The Marmon-Herrington Company, Inc. is an American-based manufacturer of axles and transfer cases for trucks and other vehicles. Earlier, the company built military vehicles and some tanks during World War II, and until the late 1950s or early 1960s was a manufacturer of trucks and trolley buses...
trolley bus
Trolleybus
A trolleybus is an electric bus that draws its electricity from overhead wires using spring-loaded trolley poles. Two wires and poles are required to complete the electrical circuit...
, which was number 515 in the fleet of the City Transit Company and provided service on the
Dayton trolley bus system
Trolleybuses in Dayton
The Dayton trolleybus system forms part of the public transportation network serving Dayton, in the state of Ohio, United States. Opened on April 23, 1933, it presently comprises seven lines, and is operated by the Greater Dayton Regional Transit Authority, with a fleet of 54...
from 1949 until about 1982. It arrived at the museum in August 1988 and replaced a similar Marmon-Herrington trolley bus, ex-Dayton 501, that had been on display there since April 1988 but was then donated to the Cincinnati Transit Historical Association under an agreement in which Carillon Park received No. 515 from the
Miami Valley Regional Transit Authority
Greater Dayton Regional Transit Authority
The Greater Dayton Regional Transit Authority, formerly known as the Miami Valley RTA, is a public transit agency that generally serves the greater Dayton, Ohio area. The GDRTA serves communities within Montgomery County and parts of Greene County, Ohio, USA. There are 29 routes...
in exchange.
Invention and industry
Deeds Barn - features such inventions as a Liberty aircraft engine, early Frigidaire

Frigidaire

Frigidaire is a brand of consumer and commercial appliances. Frigidaire was founded as the Guardian Frigerator Company in Fort Wayne, Indiana, and developed the first self-contained refrigerator in 1916. In 1918, William C...


refrigerator, 1912 Cadillac

Cadillac

Cadillac is an American luxury vehicle marque owned by General Motors . Cadillac vehicles are sold in over 50 countries and territories, but mostly in North America. Cadillac is currently the second oldest American automobile manufacturer behind fellow GM marque Buick and is among the oldest...


with the Delco

Delco

Delco may refer to:* Delaware County, Ohio* Delaware County, Pennsylvania* Delco, North Carolina* Delco Electronics...


automobile electric system.
Print Shop - working 1930s print shop
Deeds Carillon
The park is named for the 151-foot-tall (46 m) Deeds
Carillon
Carillon
A carillon is a musical instrument that is typically housed in a free-standing bell tower, or the belfry of a church or other municipal building. The instrument consists of at least 23 cast bronze, cup-shaped bells, which are played serially to play a melody, or sounded together to play a chord...
. The art moderne-style carillon tower was built in 1942, funded by Edward Deeds' wife Edith Walton Deeds and was designed to commemorate the Deeds family. When the tower was built, each of 23 bells was inscribed with the name of a family member, with the "silent" bells bearing the names of deceased family members and ringing bells cast with the names of family members then living. Today, with 57 bells, the carillon is Ohio's largest. The
National Park Service
National Park Service
The National Park Service is the U.S. federal agency that manages all national parks, many national monuments, and other conservation and historical properties with various title designations...
listed the Deeds Carillon on the
National Register of Historic Places
National Register of Historic Places
The National Register of Historic Places is the United States government's official list of districts, sites, buildings, structures, and objects deemed worthy of preservation...
in 2005.
Carillon Park refurbished the carillon in 1988, converting it from an electric keyboard controlled instrument to a traditional, baton-keyboard mechanical carillon. The Park's carillonneur, Larry Weinstein performs live carillon concerts every Sunday at 3:00 from May to October.
External links