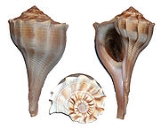 Busycon
Busycon
is a
genus
Genus
In biology, a genus is a low-level taxonomic rank used in the biological classification of living and fossil organisms, which is an example of definition by genus and differentia...
of very large edible
sea snail
Sea snail
Sea snail is a common name for those snails that normally live in saltwater, marine gastropod molluscs....
s,
marine
Marine (ocean)
Marine is an umbrella term. As an adjective it is usually applicable to things relating to the sea or ocean, such as marine biology, marine ecology and marine geology...
gastropod mollusks in the
family
Family (biology)
In biological classification, family is* a taxonomic rank. Other well-known ranks are life, domain, kingdom, phylum, class, order, genus, and species, with family fitting between order and genus. As for the other well-known ranks, there is the option of an immediately lower rank, indicated by the...
Buccinidae
Buccinidae
Buccinidae is a very large and diverse taxonomic family of large sea snails, often known as whelks or true whelks.True whelks are mostly marine gastropod mollusks in the clade Neogastropoda...
. These snails are commonly known in the
United States
United States
The United States of America is a federal constitutional republic comprising fifty states and a federal district...
as
whelk

Whelk

Whelk, also spelled welk or even "wilks", is a common name used to mean one or more kinds of sea snail. The species, genera and families referred to using this common name vary a great deal from one geographic area to another...


s
or
Busycon whelks
.
Busycon
comes from the Greek
bousykon
meaning
large fig
, from
bous
meaning
cow
and
sykon
meaning
fig
Ficus
Ficus is a genus of about 850 species of woody trees, shrubs, vines, epiphytes, and hemiepiphyte in the family Moraceae. Collectively known as fig trees or figs, they are native throughout the tropics with a few species extending into the semi-warm temperate zone. The Common Fig Ficus is a genus of...
.
Shell description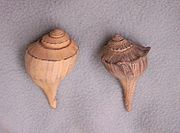 Shells of species in this genus can grow to a length of 40 cm. They all have a long
siphonal canal
Siphonal canal
Some sea marine gastropods have a soft tubular anterior extension of the mantle called a siphon through which water is drawn into the mantle cavity and over the gill and which serves as a chemoreceptor to locate food. In many carnivorous snails, where the siphon is particularly long, the structure...
.
The shells are generally a solid
cream
Cream
Cream is a dairy product that is composed of the higher-butterfat layer skimmed from the top of milk before homogenization. In un-homogenized milk, over time, the lighter fat rises to the top. In the industrial production of cream this process is accelerated by using centrifuges called "separators"...
, light grey or
tan
Tan (color)
Tan is a pale whiteish, tawny shade of white. The name is derived from tannum used in the tanning of leather.The first recorded use of tan as a shade name in English was in the year 1590....
in color, however the shell of
Busycon perversum
is marked with brown and white streaks.
The shell of individuals can sometimes vary quite widely in coloration and
sculpture
Sculpture (mollusc)
The sculpture of a mollusc shell is the three-dimensional ornamentation on the outer surface, as distinct from the basic shape of the shell itself or colouration. Sculpture may be concave as well as convex. Sometimes it has microscopic detail. Sculpture refers to the calcareous outer layer, not the...
.
The
lightning whelk
Lightning whelk
The lightning whelk, scientific name Busycon contrarium, is an edible species of very large predatory sea snail or whelk, a marine gastropod mollusk in the family Buccinidae, the busycon whelks. This species has a left-handed or sinistral shell...
, native to the
Gulf of Mexico
Gulf of Mexico
The Gulf of Mexico is a partially landlocked ocean basin largely surrounded by the North American continent and the island of Cuba. It is bounded on the northeast, north and northwest by the Gulf Coast of the United States, on the southwest and south by Mexico, and on the southeast by Cuba. In...
, is unusual among gastropods, having a sinistral shell.
Behavior
Busycon whelks are scavengers and carnivores, equipped with a
proboscis
Proboscis
A proboscis is an elongated appendage from the head of an animal, either a vertebrate or an invertebrate. In simpler terms, a proboscis is the straw-like mouth found in several varieties of species.-Etymology:...
tipped with a file-like
radula
Radula
The radula is an anatomical structure that is used by molluscs for feeding, sometimes compared rather inaccurately to a tongue. It is a minutely toothed, chitinous ribbon, which is typically used for scraping or cutting food before the food enters the esophagus...
used to bore holes through the shells of
barnacle
Barnacle
A barnacle is a type of arthropod belonging to infraclass Cirripedia in the subphylum Crustacea, and is hence related to crabs and lobsters. Barnacles are exclusively marine, and tend to live in shallow and tidal waters, typically in erosive settings. They are sessile suspension feeders, and have...
s,
clam
Clam
The word "clam" can be applied to freshwater mussels, and other freshwater bivalves, as well as marine bivalves.In the United States, "clam" can be used in several different ways: one, as a general term covering all bivalve molluscs...
s, crabs, and
lobster
Lobster
Clawed lobsters comprise a family of large marine crustaceans. Highly prized as seafood, lobsters are economically important, and are often one of the most profitable commodities in coastal areas they populate.Though several groups of crustaceans are known as lobsters, the clawed lobsters are most...
s. They have a large, muscular foot with which they hold their victims. Small
shark
Shark
Sharks are a type of fish with a full cartilaginous skeleton and a highly streamlined body. The earliest known sharks date from more than 420 million years ago....
s,
gull
Gull
Gulls are birds in the family Laridae. They are most closely related to the terns and only distantly related to auks, skimmers, and more distantly to the waders...
s,
crab
Crab
True crabs are decapod crustaceans of the infraorder Brachyura, which typically have a very short projecting "tail" , or where the reduced abdomen is entirely hidden under the thorax...
s, and other gastropods are known to feed upon them.
The
knobbed whelk
Knobbed whelk
The knobbed whelk, Busycon carica, is a species of very large predatory sea snail, or in the USA, a whelk, a marine gastropod mollusk in the family Buccinidae, the busycon whelks....
,
Busycon carica
, is the second-largest species, growing up to 30 cm long. They have
tubercle
Tubercle
A tubercle is generally a wart-like projection, but it has slightly different meaning depending on which family of plants or animals it is used to refer to....
s (spines) along the shoulder. They open clams with their muscular foot and insert their long proboscis to digest the flesh. The knobbed whelk is a common predator of the foreshore mudflats as far offshore as 50 m.
Eggs
Strings of Busycon whelk egg capsules commonly wash ashore and desiccate, becoming brittle. These objects are sometimes called
mermaid's necklaces
because they resemble a large necklace strung with medallion-shaped egg pouches. Each pouch of the string contains numerous
protoconch
Protoconch
A protoconch is an embryonic or larval shell of some classes of molluscs, e.g., the initial chamber of an ammonite or the larval shell of a gastropod...
s (baby whelks), similar in appearance to adults but with fewer whorls and less sculpture.
Human use
When used for cooking in the United States, busycon whelks are sometimes called
scungilli
, an Italian-American adaptation of the
Neapolitan
Neapolitan language
Neapolitan is the language of the city and region of Naples , and Campania. On October 14, 2008 a law by the Region of Campania stated that the Neapolitan language had to be protected....
sconciglio
which means the meat of a (usually edible) sea snail.
Species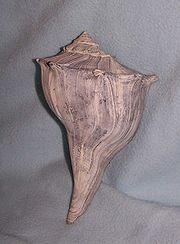 The genus
Busycon
contains the following species:
Busycon candelabrum Lamarck, 1816 - Splendid whelk
Busycon carica Gmelin, 1791) - Knobbed whelk

Knobbed whelk

The knobbed whelk, Busycon carica, is a species of very large predatory sea snail, or in the USA, a whelk, a marine gastropod mollusk in the family Buccinidae, the busycon whelks....



Busycon coarctatum (Sowerby I, 1825)
Busycon contrarium - Lightning whelk

Lightning whelk

The lightning whelk, scientific name Busycon contrarium, is an edible species of very large predatory sea snail or whelk, a marine gastropod mollusk in the family Buccinidae, the busycon whelks. This species has a left-handed or sinistral shell...


- synonyms: Busycon perversum, Busycon sinistrum
Busycon laeostomum Kent, 1982 - Snow whelk
Busycon lyonsi Petuch, 1987
Busycon pulleyi - Prickly whelk
The following species have been moved from
Busycon
to the genus
Busycotypus
Busycotypus canaliculatus (Linnaeus, 1758) Channeled whelk

Channeled whelk

The channeled whelk, Busycotypus canaliculatus, previously known as Busycon canaliculatum, is a very large predatory sea snail, a marine prosobranch gastropod, a busycon whelk, belonging to the family Buccinidae. This species is edible....


. The Busycotypus canaliculatus, is slightly smaller than the knobbed whelk and has a smooth shell with a deep square channel which is continuous on all the whorls, just below the suture of the shell.
Busycotypus plagosus (Conrad, 1862)