 Brooch
A
brooch
(ˈbroʊtʃ); also known in ancient times as a
fibula
; is a decorative jewelry item designed to be attached to garments. It is usually made of
metal
Metal
A metal , is an element, compound, or alloy that is a good conductor of both electricity and heat. Metals are usually malleable and shiny, that is they reflect most of incident light...
, often
silver
Silver
Silver is a metallic chemical element with the chemical symbol Ag and atomic number 47. A soft, white, lustrous transition metal, it has the highest electrical conductivity of any element and the highest thermal conductivity of any metal...
or
gold
Gold
Gold is a chemical element with the symbol Au and an atomic number of 79. Gold is a dense, soft, shiny, malleable and ductile metal. Pure gold has a bright yellow color and luster traditionally considered attractive, which it maintains without oxidizing in air or water. Chemically, gold is a...
but sometimes
bronze
Bronze
Bronze is a metal alloy consisting primarily of copper, usually with tin as the main additive. It is hard and brittle, and it was particularly significant in antiquity, so much so that the Bronze Age was named after the metal...
or some other material. Brooches are frequently decorated with
enamel
Vitreous enamel
Vitreous enamel, also porcelain enamel in U.S. English, is a material made by fusing powdered glass to a substrate by firing, usually between 750 and 850 °C...
or with
gemstone
Gemstone
A gemstone or gem is a piece of mineral, which, in cut and polished form, is used to make jewelry or other adornments...
s and may be solely for
ornament
Jewellery
Jewellery or jewelry is a form of personal adornment, such as brooches, rings, necklaces, earrings, and bracelets.With some exceptions, such as medical alert bracelets or military dog tags, jewellery normally differs from other items of personal adornment in that it has no other purpose than to...
(as in the
stomacher
Stomacher
A stomacher is a decorated triangular panel that fills in the front opening of a woman's gown or bodice. The stomacher may be boned, as part of a corset, or may cover the triangular front of a corset...
) or sometimes serve a practical function as a fastening, perhaps for a
cloak
Cloak
A cloak is a type of loose garment that is worn over indoor clothing and serves the same purpose as an overcoat; it protects the wearer from the cold, rain or wind for example, or it may form part of a fashionable outfit or uniform. Cloaks are as old as human history; there has nearly always been...
.
The earliest known brooches are from the
Bronze Age
Bronze Age
The Bronze Age is a period characterized by the use of copper and its alloy bronze as the chief hard materials in the manufacture of some implements and weapons. Chronologically, it stands between the Stone Age and Iron Age...
. As fashions in brooches changed rather quickly, they are important chronological indicators.
Fibula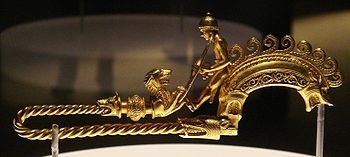 The fibula or fibulae (plural) is an ornamental clasp used by Romans,
Greeks
Greeks
The Greeks, also known as the Hellenes , are a nation and ethnic group native to Greece, Cyprus and neighboring regions. They also form a significant diaspora, with Greek communities established around the world....
,
Germanic peoples
Germanic peoples
The Germanic peoples are an Indo-European ethno-linguistic group of Northern European origin, identified by their use of the Indo-European Germanic languages which diversified out of Proto-Germanic during the Pre-Roman Iron Age.Originating about 1800 BCE from the Corded Ware Culture on the North...
and also by
Celt
Celt
The Celts were a diverse group of tribal societies in Iron Age and Roman-era Europe who spoke Celtic languages.The earliest archaeological culture commonly accepted as Celtic, or rather Proto-Celtic, was the central European Hallstatt culture , named for the rich grave finds in Hallstatt, Austria....
s and migratory tribes in
Europe
Europe
Europe is, by convention, one of the world's seven continents. Comprising the westernmost peninsula of Eurasia, Europe is generally 'divided' from Asia to its east by the watershed divides of the Ural and Caucasus Mountains, the Ural River, the Caspian and Black Seas, and the waterways connecting...
from the Early
Bronze Age
Bronze Age
The Bronze Age is a period characterized by the use of copper and its alloy bronze as the chief hard materials in the manufacture of some implements and weapons. Chronologically, it stands between the Stone Age and Iron Age...
. They may have replaced fibulae made of more perishable Neolithic materials, such as bone to as late as
800
800
Year 800 was a leap year starting on Wednesday of the Julian calendar. It was around this time that the Anno Domini calendar era became the prevalent method in Europe for naming years, so from this time on, the years began being known as 800 and onwards.- Europe :* December 25 - Pope Leo III...
AD. Fibulae are useful type-objects: carefully catalogued local typologies, dating and distribution of fibulae can help date finds where neither numismatic nor ceramic materials provide a secure date. Fibulae were shaped somewhat like a large safety pin and were used to hold clothing together. They came in many varieties and held prominent significance for the identity of the wearer, indicating ethnicity (until local costume became Romanized) and class. Elaborately designed fibulae were an important part of Late Antique dress, and simpler ones were part of Roman military equipment.
The same types of fibulae can often be found on either side of the Roman
limites
Limes
A limes was a border defense or delimiting system of Ancient Rome. It marked the boundaries of the Roman Empire.The Latin noun limes had a number of different meanings: a path or balk delimiting fields, a boundary line or marker, any road or path, any channel, such as a stream channel, or any...
, both among "Roman" and "barbarian" populations. The cultural interplay of elite objects designed to show status can be quite complex. For example, Lawrence Nees,
Early Medieval Art
notes fibulae depicted in ivory
diptych
Diptych
A diptych di "two" + ptychē "fold") is any object with two flat plates attached at a hinge. Devices of this form were quite popular in the ancient world, wax tablets being coated with wax on inner faces, for recording notes and for measuring time and direction.In Late Antiquity, ivory diptychs with...
s of
Stilicho
Stilicho
Flavius Stilicho was a high-ranking general , Patrician and Consul of the Western Roman Empire, notably of Vandal birth. Despised by the Roman population for his Germanic ancestry and Arian beliefs, Stilicho was in 408 executed along with his wife and son...
and his entourage:

"The type of fibula worn by Stilicho and his son, and by Turcius Secundus, occurs also among metal works of art commonly termed barbarian, as new Germanic figures usurped the symbols of imperial authority. It is likely that this type originated among Celtic groups and came to be adopted as an exotic fashion by Roman aristocrats, becoming 'naturalized' as an important Roman emblem, and then exported".

Ancient fibulae are prized items for collectors since they are well preserved in many cases and are not difficult to obtain; divorced from their cultural context, they still present a fascinating array of shapes and decoration.
Celtic brooches
A distinct tradition of penannular brooches and the related pseudo-penannular types developed in Early Medieval Ireland and Scotland, producing some of the most elaborately decorated brooches ever made, including the
Tara Brooch
Tara Brooch
The Tara Brooch is a Celtic brooch of about 700 AD generally considered to be the most impressive of over 50 elaborate Irish brooches to have been discovered...
.
Hair and portrait brooches
From the eighteenth century through the Victorian era it was fashionable to incorporate hair and portraiture into a brooch. The practice began as an expression of mourning, then expanded to keepsakes of loved ones who were living. Human hair was encased within the brooch or braided and woven into a band to which clasps were affixed. It was not uncommon for miniature brooch portraits to incorporate ground human hair as pigment. Two sided swivel brooches would display a portrait on one side and a lock of hair on the other; the latter could be crafted with semiprecious stones to resemble a bouquet.