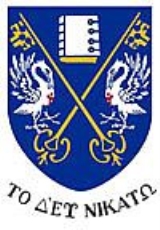 Brighton College
Brighton College
is an institution divided between a
Senior School
known simply as
Brighton College
, the
Prep School
Brighton College Preparatory School
Brighton College Preparatory School, often referred to as the Brighton College Prep School, or within The College simply as The Prep School is a co-educational independent school in Brighton, England. The School teaches children from approx...
and the
Pre-Prep School
Kindergarten
A kindergarten is a preschool educational institution for children. The term was created by Friedrich Fröbel for the play and activity institute that he created in 1837 in Bad Blankenburg as a social experience for children for their transition from home to school...
. All of these schools are co-educational independent schools in
Brighton
Brighton
Brighton is the major part of the city of Brighton and Hove in East Sussex, England on the south coast of Great Britain...
, England, sited immediately next to each another. The Senior School caters for children ages approx. 11 to 18. The current headmaster is Richard J. Cairns.
The
Good Schools Guide
called the school a "Happy and forward-looking town school with a wide and healthy spread of pupils and parents", also stating: "A good bet to become an even more impressive school in the future."
In September 2011, Brighton College will open Brighton College Abu Dhabi, the first in a planned chain of international franchises "aimed at the
new rich
Nouveau riche
The nouveau riche , or new money, comprise those who have acquired considerable wealth within their own generation...
in fast-growing economies" for the purpose of generating revenue to be diverted back to the home campus in the UK.
History
Founded in 1845 by William Aldwin Soames, who collected a group of like-minded local citizens to join him in the task (especially Edward Cornford, a solicitor), Brighton College was the first of the public schools to be founded in
Sussex
Sussex
Sussex , from the Old English Sūþsēaxe , is an historic county in South East England corresponding roughly in area to the ancient Kingdom of Sussex. It is bounded on the north by Surrey, east by Kent, south by the English Channel, and west by Hampshire, and is divided for local government into West...
.
Houses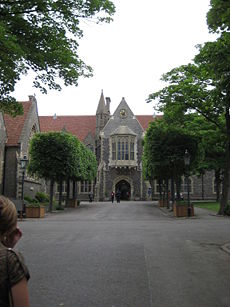 Brighton College has 11 houses which all serve a similar but different purpose. The houses are all split by gender, although staff of both sexes can be attached to any house. All houses contain between 48 and 70 pupils.
The house system provides not only a framework on which sporting, music and other competitions can be formed, but also a core community for the children.
Day Houses
Community spirit in the houses allows the day students a similar experience of camaraderie as the bonds formed by pupils who live and work together in boarding accommodation.
Staff attached to the day houses include a House Master/Mistress and a tutor for each Year Group or 'form'. These staff are academic teaching staff, and the House Masters/Mistresses are drawn from the senior teachers. These, with the assistance of Form Tutors, are responsible for overseeing pupil achievement and welfare.
Boarding Houses
The structure of the boarding houses varies slightly from that of the day houses, in reflection of their subtly different role within the College.
All houses have a House Master/Mistress and the team of form tutors. They also have a duty teacher in each house, who at any given time can be called upon by students in need. The ethos of the boarding houses tends to be one of extended family, giving the House Masters/Mistresses a less distant role to their counterparts in the day houses.
Staff in boarding houses have the option to live within the School grounds.
List of Houses
Abraham - Boys
Aldrich - Boys
Chichester - Girls
Durnford - Boys
Fenwick - Girls
Hampden - Boys
Heads' - Girls
Leconfield - Boys
Ryle - Boys
School - Boys
Seldon - Girls
Williams - Girls
Of these, Abraham and School are boy's boarding houses, and Fenwick and Heads' are girl's boarding houses.
The most recent addition is Heads' house which was opened in September 2010 in order to create room for the large number of girls boarding.
Location
The school occupies a large site in the east of the city, facing south onto Eastern Road. It is immediately to the east of the site of the former
Kemptown railway station
Kemptown railway station
Kemp Town railway station, sometimes referred to as Kemptown railway station, was a terminus station in Kemptown, Brighton , East Sussex, England, UK, on a branch line which terminated at Kemp Town station...
, across Sutherland Road.
Buildings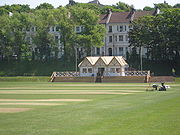 The school's principal buildings are in the gothic revival style by Sir George Gilbert Scott RA (flint with Caen stone dressings, 1848–66). Later buildings were designed by his pupil and former student at the College Sir Thomas Graham Jackson RA (brick and flint with cream and pink terracotta dressings, 1883–87; flint with Clipsham stone dressings 1922–23). It now has a new building development which recently finished, in the form of a brand new £1.3M art centre to further its already renowned arts department. Included in this centre is the Confucius Language Lab.
The School recently completed a new cricket pavilion on the "Home Ground" which is the school's best cricket ground which is also used as a Rugby pitch in the
Michaelmas
Michaelmas
Michaelmas, the feast of Saint Michael the Archangel is a day in the Western Christian calendar which occurs on 29 September...
Term. It is situated opposite the site of the old Pavilion and the Sports Hall.
A new Chaplaincy is planned to be created in part of the space which will be left by Durnford House, which is on the end of the Bristol wing, Dawson Building which currently contains both Durnford and Abraham Houses.
Notable developments
The school occupied a significant niche in the development of English
secondary education
Secondary education
Secondary education is the stage of education following primary education. Secondary education includes the final stage of compulsory education and in many countries it is entirely compulsory. The next stage of education is usually college or university...
during the nineteenth century. Notable accomplishments include:
The use of individual classroom

Classroom

A classroom is a room in which teaching or learning activities can take place. Classrooms are found in educational institutions of all kinds, including public and private schools, corporations, and religious and humanitarian organizations...


s for teaching small groups
Being an early pioneer in teaching both modern languages and science
Inventing the school magazine (1852)
Building the first school gym

Gym

The word γυμνάσιον was used in Ancient Greece, that mean a locality for both physical and intellectual education of young men...


nasium (1859)
Erecting the first purpose-built science laboratory

Laboratory

A laboratory is a facility that provides controlled conditions in which scientific research, experiments, and measurement may be performed. The title of laboratory is also used for certain other facilities where the processes or equipment used are similar to those in scientific laboratories...


(1871)
First independent school to introduce compulsory Mandarin from the age of 13 and the first public school in the UK to sign a deal with Chinese government to encourage teaching of Mandarin and Chinese culture (2006)
Victorian school culture
The school's evolution also questions the "traditional" account of how the
Victorian
Victorian era
The Victorian era of British history was the period of Queen Victoria's reign from 20 June 1837 until her death on 22 January 1901. It was a long period of peace, prosperity, refined sensibilities and national self-confidence...
public schools developed. For example, the school initially had a ban on the use of
corporal punishment
Corporal punishment
Corporal punishment is a form of physical punishment that involves the deliberate infliction of pain as retribution for an offence, or for the purpose of disciplining or reforming a wrongdoer, or to deter attitudes or behaviour deemed unacceptable...
— until 1851. The
School Captain
School Captain
School Captain is a student appointed or elected to represent the school.This student, usually in the senior year, in their final year of attending that school...
was elected by universal suffrage among the entire pupil body until 1878, when a prefectorial system was also introduced. Sporting games remained voluntary until 1902 (and team members had chosen their own captain and awarded colours to their outstanding players until 1878).
Charitable tax status: campaigns to change the law
Brighton College led the legal fight to secure the charitable tax status currently enjoyed by all registered charities. A legal case between the school and
Inland Revenue
Inland Revenue
The Inland Revenue was, until April 2005, a department of the British Government responsible for the collection of direct taxation, including income tax, national insurance contributions, capital gains tax, inheritance tax, corporation tax, petroleum revenue tax and stamp duty...
from 1916-26 produced a series of changes to tax law in the 1918 Income Tax Act, the 1921 and 1922 Finance Acts and, above all, section 24 of the 1927 Finance Act. The case (
Brighton College v Marriott
) went to the High Court (June 1924, 40 T.L.R. 763-5), the Court of Appeal (November 1924, 1 KB 312) and ultimately the House of Lords (November 1925, AC 192-204).
Combined Cadet Force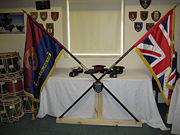 The first attempt to put pupils into uniform came during the French invasion scare of 1860 when the school set up a company of Rifle Volunteers, attached as the 4th Company to the 1st Sussex (Brighton) Rifles. This lasted only a few years. Thirty years later, a cadet corps was founded in 1900, rather late for a public school. The unit was attached to the 1st Volunteer Battalion,
Royal Sussex Regiment
Royal Sussex Regiment
The Royal Sussex Regiment was an infantry regiment of the British Army from 1881 to 1966. The regiment was formed as part of the Childers reforms by the amalgamation of the 35th Regiment of Foot and the 107th Regiment of Foot...
and became part of the OTC in 1908. Re-classified as a Junior Training Corps (JTC) in the War Office reorganisation of 1941, Brighton College's JTC was in the first group of schools to be allowed an
Air Training Corps
Air Training Corps
The Air Training Corps , commonly known as the Air Cadets, is a cadet organisation based in the United Kingdom. It is a voluntary youth group which is part of the Air Cadet Organisation and the Royal Air Force . It is supported by the Ministry of Defence, with a regular RAF Officer, currently Air...
. When a naval section was established as well in 1949, it became a
Combined Cadet Force
Combined Cadet Force
The Combined Cadet Force is a Ministry of Defence sponsored youth organisation in the United Kingdom. Its aim is to "provide a disciplined organisation in a school so that pupils may develop powers of leadership by means of training to promote the qualities of responsibility, self reliance,...
.
In 1940, College boys and staff also formed an LDV section. From 1942 to 1945, this was classified as 30th Platoon, 10th Sussex Home Guard.
The school's
Combined Cadet Force
Combined Cadet Force
The Combined Cadet Force is a Ministry of Defence sponsored youth organisation in the United Kingdom. Its aim is to "provide a disciplined organisation in a school so that pupils may develop powers of leadership by means of training to promote the qualities of responsibility, self reliance,...
(CCF) is among a tiny handful to carry both a regimental and a king's colour. The originals were presented by Sir Berry Cusack-Smith in the 1920s.
The army section is affiliated to the
Princess of Wales's Royal Regiment
Princess of Wales's Royal Regiment
"PWRR" redirects here. For the railroad with these reporting marks, see Portland and Western Railroad.The Princess of Wales's Royal Regiment is the senior English line infantry regiment of the British Army, part of the Queen's Division...
. The School's CCF also stands out as it is a contingent with a dedicated Signals Troop which is entitled to wear the uniform of the
Royal Corps of Signals
Royal Corps of Signals
The Royal Corps of Signals is one of the combat support arms of the British Army...
.
Notable personnel
Commanding Officer (CO) - Lieutenant Commander Derek Roberts BA LSDC
OC (Officer Commanding) Army Section - Major Stephen Radojcic BSc
OC (Officer Commanding) Royal Navy Section - Lieutenant Ben Collie BSc
OC (Officer Commanding) Royal Air Force Section - Flight Lieutenant Bernadine Walsh BA
School Staff Instructor - Regimental Sergeant Major Tony Tighe
Note: The Signals Troop is part of the Army section, so does not have its own commanding officer, although the Signals Officer attached to the school is Captain Dan Lehmann.
Music in the CCF
In the past, the Brighton College CCF has also had a Military Band and Drum Corps. Neither are currently operational, although the contingent still retains 8
Marching Snare Drums
Snare drum
The snare drum or side drum is a melodic percussion instrument with strands of snares made of curled metal wire, metal cable, plastic cable, or gut cords stretched across the drumhead, typically the bottom. Pipe and tabor and some military snare drums often have a second set of snares on the bottom...
, a
Marching Bass Drum
Bass drum
Bass drums are percussion instruments that can vary in size and are used in several musical genres. Three major types of bass drums can be distinguished. The type usually seen or heard in orchestral, ensemble or concert band music is the orchestral, or concert bass drum . It is the largest drum of...
, and 4
Bugle
Bugle (instrument)
The bugle is one of the simplest brass instruments, having no valves or other pitch-altering devices. All pitch control is done by varying the player's embouchure, since the bugle has no other mechanism for controlling pitch. Consequently, the bugle is limited to notes within the harmonic series...
s. The Contingent also maintains 6 old brass Snare Drums, 1 old tenor Drum, and an old wooden Bass Drum which are used in ceremonial events such as the
Remembrance Day
Remembrance Day
Remembrance Day is a memorial day observed in Commonwealth countries since the end of World War I to remember the members of their armed forces who have died in the line of duty. This day, or alternative dates, are also recognized as special days for war remembrances in many non-Commonwealth...
Parade, as an altar of drums on which the School CCF Colours will be laid.
Additional information
The school is unique among English public schools in having a Greek motto: ΤΟ Δ'ΕΥ ΝΙΚΑΤΩ. From
Aeschylus
Aeschylus
Aeschylus was the first of the three ancient Greek tragedians whose work has survived, the others being Sophocles and Euripides, and is often described as the father of tragedy. His name derives from the Greek word aiskhos , meaning "shame"...
'
Agamemnon
, it means "Let Right Prevail".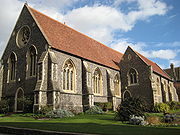 The chapel is unusual amongst British school chapels because
George Bell
George Bell (bishop)
George Kennedy Allen Bell was an Anglican theologian, Dean of Canterbury, Bishop of Chichester, member of the House of Lords and a pioneer of the Ecumenical Movement.-Early career:...
,
Bishop of Chichester
Bishop of Chichester
The Bishop of Chichester is the Ordinary of the Church of England Diocese of Chichester in the Province of Canterbury. The diocese covers the Counties of East and West Sussex. The see is in the City of Chichester where the seat is located at the Cathedral Church of the Holy Trinity...
created the school grounds as an extra-parochial ecclesiastical district. Placed outside the parish of St. Matthew's, Brighton, the school chapel holds an episcopal licence to perform weddings for its residents, after banns; no archiepiscopal licence is required.
Current fees stand at circa £29,000 p.a for full time boarders and circa £17,000 p.a for day pupils in sixth form.
Lower School
In September 2009, the school opened a new "Lower School" for children between the ages of 11 and 13. The site of this new part of the Senior School is on the old Art Block, with that now having moved to above the Woolton Quad. The Lower School means that Brighton College has been open to intake children at the age of 11 into the senior school for the first time in its history, as opposed to its traditional youngest intake of thirteen year-old boys and girls, since the academic year starting 2009.
The position of the Lower School's First head is taken by Miss Leah K Hamblett MA whose school title is technically Assistant Head - Lower School, but as with all female teachers at school will be addressed as "Miss".
The Lower School is expected to teach 80 pupils in total, with two classes in each year group.
Note: The Brighton College Prep School will still take 11 year old children into that school for the foreseeable future, as the Lower School does not replace years 7 and 8 at the Prep School.
Although the Lower School has its own head, it will be an integral part of the Senior School, where students will "encouraged to respect one another's differences in a climate that is warm and tolerant, and one which seeks to enthuse and challenge children to give of their very best."
As With the rest of the Senior School, there are a small number of Bursaries and Scholarships available to new students at school.
Franchising the Brighton College Brand Internationally: Brighton College Abu Dhabi
In 2010, Brighton College announced to parents that it is "helping to set up schools in
Abu Dhabi
Abu Dhabi
Abu Dhabi , literally Father of Gazelle, is the capital and the second largest city of the United Arab Emirates in terms of population and the largest of the seven member emirates of the United Arab Emirates. Abu Dhabi lies on a T-shaped island jutting into the Persian Gulf from the central western...
". A campus in Abu Dhabi is due to open in September 2011. This is the first of a planned "chain" of franchises around the globe, "aimed at the
new rich
Nouveau riche
The nouveau riche , or new money, comprise those who have acquired considerable wealth within their own generation...
in fast-growing economies".
This venture is a
for-profit
For-Profit School
For-profit education refers to educational institutions operated by private, profit-seeking businesses....
franchise operation through a company the school has set up, Brighton College International Schools Ltd, in a joint venture with a UAE property development company Bloom Properties. Parents have been assured that the governors have "set up BCIS Ltd with its own directors so that there is no distraction for Brighton College UK... the separate company will run the schools, which will appoint headmasters, bursars, teachers, etc., so there will be no distraction from our core mission".. Principal Richard Cairns, chair of the board of governors Lord Skidelsky and various other people associated with Brighton College are listed as directors of Brighton College International Schools Ltd.
Although tuition fees at Brighton College Abu Dhabi are among the highest in the
United Arab Emirates
United Arab Emirates
The United Arab Emirates, abbreviated as the UAE, or shortened to "the Emirates", is a state situated in the southeast of the Arabian Peninsula in Western Asia on the Persian Gulf, bordering Oman, and Saudi Arabia, and sharing sea borders with Iraq, Kuwait, Bahrain, Qatar, and Iran.The UAE is a...
, parents at the UK campus have been assured that a proportion of the profits from the Abu Dhabi venture will be funnelled back into Brighton College UK and used for bursaries, scholarships and keeping fees down at the home campus, meaning more children from the surrounding area will be able to get places at a discounted rate. Although such a repatriation of some of the profits to Britain has been posed as possibly "morally questionable", when "locals realise that profits from the satellite schools are funding kids back in Britain rather than kids in New Delhi, Bangkok or Abu Dhabi", Brighton College says its planned franchises will be "marketed in the same way as a
Tiger Woods golf course
The Tiger Woods Dubai
The Tiger Woods Dubai is a proposed Tiger Woods-designed golf course and residential development in Dubai. It is a joint venture between Tiger Woods Design and Tatweer, a member company of Dubai Holding...
... providing a quality brand service for a wealthy clientele, both local and expatriate."
While Brighton College Abu Dhabi has announced Arabic and
Islamic Studies
Islamic studies
In a Muslim context, Islamic studies can be an umbrella term for all virtually all of academia, both originally researched and as defined by the Islamization of knowledge...
will play a "key part" in the curriculum, the new school launched a UAE-wide radio advertising campaign featuring the
"plummy tones"
Received Pronunciation
Received Pronunciation , also called the Queen's English, Oxford English or BBC English, is the accent of Standard English in England, with a relationship to regional accents similar to the relationship in other European languages between their standard varieties and their regional forms...
of the Old Etonian cricket commentator
Henry Blofeld
Henry Blofeld
Henry Calthorpe Blofeld is a sports journalist. He is best known as a cricket commentator for Test Match Special on BBC Radio 4 and BBC Radio 5 Live Sports Extra.Blofeld had an exceptional career as a schoolboy cricketer, cut short by injury...
, in what the
local paper of record
The National (Abu Dhabi)
The National is a government-owned English-language daily newspaper published in Abu Dhabi. The editor-in-chief since June 8, 2009 has been Hassan Fattah. Prior to this, and from the launch of the newspaper Martin Newland was editor-in-chief. Mubadala Development Company, an investment company...
describes as an attempt to evoke connotations of an upper crust English public school. Ironically, in 2004 the then principal, who is no longer connected in anyway to Brighton College UK, was criticized for implying in a national newspaper interview that many Brighton College parents were in fact "not quite out of the top drawer", stating "we're not
Charterhouse
Charterhouse School
Charterhouse School, originally The Hospital of King James and Thomas Sutton in Charterhouse, or more simply Charterhouse or House, is an English collegiate independent boarding school situated at Godalming in Surrey.Founded by Thomas Sutton in London in 1611 on the site of the old Carthusian...
or
Tonbridge
Tonbridge School
Tonbridge School is a British boys' independent school for both boarding and day pupils in Tonbridge, Kent, founded in 1553 by Sir Andrew Judd . It is a member of the Eton Group, and has close links with the Worshipful Company of Skinners, one of the oldest London livery companies...
" and conceding that they were constrained by the "quality" of the intake, as the parents are "mainly small business people and professionals... (who) tend not to have lots of books in their homes or a wide cultural life".
Through the franchise arrangement, Brighton College is also considering the possibility of opening "a string of schools around the world for the purpose of generating revenue to be diverted back to the home campus in the UK. Future sites might include
Mauritius
Mauritius
Mauritius , officially the Republic of Mauritius is an island nation off the southeast coast of the African continent in the southwest Indian Ocean, about east of Madagascar...
,
Jordan
Jordan
Jordan , officially the Hashemite Kingdom of Jordan , Al-Mamlaka al-Urduniyya al-Hashemiyya) is a kingdom on the East Bank of the River Jordan. The country borders Saudi Arabia to the east and south-east, Iraq to the north-east, Syria to the north and the West Bank and Israel to the west, sharing...
,
Oman
Oman
Oman , officially called the Sultanate of Oman , is an Arab state in southwest Asia on the southeast coast of the Arabian Peninsula. It is bordered by the United Arab Emirates to the northwest, Saudi Arabia to the west, and Yemen to the southwest. The coast is formed by the Arabian Sea on the...
,
Romania
Romania
Romania is a country located at the crossroads of Central and Southeastern Europe, on the Lower Danube, within and outside the Carpathian arch, bordering on the Black Sea...
,
Vietnam
Vietnam
Vietnam – sometimes spelled Viet Nam , officially the Socialist Republic of Vietnam – is the easternmost country on the Indochina Peninsula in Southeast Asia. It is bordered by China to the north, Laos to the northwest, Cambodia to the southwest, and the South China Sea –...
and
India
India
India , officially the Republic of India , is a country in South Asia. It is the seventh-largest country by geographical area, the second-most populous country with over 1.2 billion people, and the most populous democracy in the world...
.
However much of what is written in the preceeding paragraph is conjecture and has not been confirmed by Brighton College Uk or Abu Dhabi.
Musical activities
Advanced Composition

Musical composition

Musical composition can refer to an original piece of music, the structure of a musical piece, or the process of creating a new piece of music. People who practice composition are called composers.- Musical compositions :...


- An after-school club where students are shown advanced compositional techniques.
Barber Shop Group - A group for male singers at the school mainly singing American Barber Shop music.
Chamber Choir - A Choral group consisting mainly of the most advanced singers in the school, therefore including many Music Scholars

Scholarship

A scholarship is an award of financial aid for a student to further education. Scholarships are awarded on various criteria usually reflecting the values and purposes of the donor or founder of the award.-Types:...


.
Chamber Music - An activity run for small ensemble groups of musicians of any standard within the school, some of which go on to take part in the National Chamber Music Competition.
Chamber Orchestra - A large ensemble

Musical ensemble

A musical ensemble is a group of people who perform instrumental or vocal music. In classical music, trios or quartets either blend the sounds of musical instrument families or group together instruments from the same instrument family, such as string ensembles or wind ensembles...


for the best string players in the school to play Orchestra

Orchestra

An orchestra is a sizable instrumental ensemble that contains sections of string, brass, woodwind, and percussion instruments. The term orchestra derives from the Greek ορχήστρα, the name for the area in front of an ancient Greek stage reserved for the Greek chorus...


l chamber music

Chamber music

Chamber music is a form of classical music, written for a small group of instruments which traditionally could be accommodated in a palace chamber. Most broadly, it includes any art music that is performed by a small number of performers with one performer to a part...


.
Chapel Choir - A choir open to any pupil in the school which performs each Tuesday for the School Chapel

Chapel

A chapel is a building used by Christians as a place of fellowship and worship. It may be part of a larger structure or complex, such as a church, college, hospital, palace, prison or funeral home, located on board a military or commercial ship, or it may be an entirely free-standing building,...


service, and on occasional Sunday Services. They regularly also perform for school events such as Speech Day, and Remembrance Day. The Chapel Choir released their album "The Truth From Above", recorded on 4 and 5 September 2005.
Choral Society - A choral group requiring no singing experience, and open to all students, Old Brightonians, members of staff, parents at the college, and friends. They regularly perform in Brighton

Brighton

Brighton is the major part of the city of Brighton and Hove in East Sussex, England on the south coast of Great Britain...


venues, and have performed Carmina Burana

Carmina Burana (Orff)

Carmina Burana is a scenic cantata composed by Carl Orff in 1935 and 1936. It is based on 24 of the poems found in the medieval collection Carmina Burana...


by Carl Orff

Carl Orff

Carl Orff was a 20th-century German composer, best known for his cantata Carmina Burana . In addition to his career as a composer, Orff developed an influential method of music education for children.-Early life:...


, in St John's, Smith Square.
Concert Band - A wind ensemble, for all wind, brass and percussion

Percussion instrument

A percussion instrument is any object which produces a sound when hit with an implement or when it is shaken, rubbed, scraped, or otherwise acted upon in a way that sets the object into vibration...


players in the college to practice together and perform in concert twice a year.
Saxophone Ensemble - This ensemble is open to all of the college Saxophone

Saxophone

The saxophone is a conical-bore transposing musical instrument that is a member of the woodwind family. Saxophones are usually made of brass and played with a single-reed mouthpiece similar to that of the clarinet. The saxophone was invented by the Belgian instrument maker Adolphe Sax in 1846...


players.
Swing Band - A similar ensemble to Concert band, but this band specialises in swing and jazz music, playing many songs from popular music

Popular music

Popular music belongs to any of a number of musical genres "having wide appeal" and is typically distributed to large audiences through the music industry. It stands in contrast to both art music and traditional music, which are typically disseminated academically or orally to smaller, local...


culture such as: "My Girl". They perform at many school events such as Open Day, and at school concerts. This ensemble is occasionally professionally commissioned to play at events outside of Brighton College. The swing band are widely renowned across Brighton, having performed for the first Brighton Marathon in 2010, for example. They are led by Neil Carter.
Symphony Orchestra - The school's largest ensemble, with compulsory attendance for musicians of Grade 5 standard or above, with some past members of Junior Conservatoire standard. This orchestra encompasses players from all years of the Senior School, and runs throughout the Michaelmas and Lent terms. It does not run in the Summer term

Summer term

Summer term is the name of the summer academic term at many British schools and universities and elsewhere in the world.In the UK, 'Summer term' runs from the Easter holiday until the end of the academic year in June or July, and thus corresponds to the Easter term at Cambridge University, and...


, as many of the players have exams from years 10 up to those in year 13 who are about to leave the school.

Junior Orchestra - This smaller orchestra runs only in the summer term, and is open to players in years 9 and 10. This orchestra presents an opportunity for less able players to gain orchestral experience.
Art activities
Life Drawing Club - A club for Sixth Form

Sixth form

In the education systems of England, Wales, and Northern Ireland, and of Commonwealth West Indian countries such as Barbados, Trinidad and Tobago, Belize, Jamaica and Malta, the sixth form is the final two years of secondary education, where students, usually sixteen to eighteen years of age,...


pupils to practice drawing from life.
de Glehn Club - An activity allowing pupils of all ages to experiment with, and share ideas.
Jackson Club - A club allowing GCSE and younger pupils, to partake in artistic activities such as watercolour and collage.
Nash Club - A club specifically for AS and A2 level artists to complete coursework, and write essays. This club is named after the famous artist and Old Brightonian: David Nash (artist)

David Nash (Artist)

David Nash, OBE RA is a British sculptor based in Blaenau Ffestiniog. Nash has worked worldwide with wood, trees and the natural environment.-Early life:...


.
The Poynter Club - A GCSE dedicated club, to help with the "Drawing Element" which makes up a large part of their GCSE syllabus

Syllabus

A syllabus , is an outline and summary of topics to be covered in an education or training course. It is descriptive...


.
The Worsley Club - An informal media exploration club, open to GCSE pupils. This club was named after John Worsley, who is an Old Brightonian, and notable for being an accomplished artist and German Prisoner of War camp escapee. He was also the president of the Royal Society of Marine Arts.
Digital Photography Club - The only club to exclusively deal with photography, and all associated areas. This club is open to all college students, although most members are currently taking an A level in Photography

Photography

Photography is the art, science and practice of creating durable images by recording light or other electromagnetic radiation, either electronically by means of an image sensor or chemically by means of a light-sensitive material such as photographic film...


.
Design technology activities
Workshop Skills - An introduction to skills and equipment used in the workshop. This activity is open to all college pupils.
Jewellery Club - This club gives students the opportunity to learn about the skills in jewellery making, and coaches in design techniques which they can employ in designing jewellery in this activity slot. It is open to all pupils.
Engineers Club - A hands on club, concentrating on the world of engineering, and teaches advanced Metalwork skills.
Home Crafts Club - An activity for members to experiment with artistic ideas and working with any materials available. This is a very informal activity, and is open to all college pupils.
Sport
One of the strongest performing co-ed sporting independent school in Sussex, Brighton College's major sports are rugby, cricket and netball with 1st teams in all three being some of the strongest in England.
The 1st XV rugby team play in the schools blue and maroon hoops, and most home games are played on the Home Ground a large expanse of ground located to the rear of the college and surrounded on all sides by housing and the college's sports hall.
The school also has a very successful old boys sporting network, particularly its rugby team who won back to back U21 National Old Boy titles in 2005 and 2006.
Other activities
Christian

Christianity

Christianity is a monotheistic religion based on the life and teachings of Jesus as presented in canonical gospels and other New Testament writings...


Union - A Student organisation bringing together the Christian contingent of the student body. They run "Lunchtime with a Difference" a union funded lunch each Monday lunchtime, where Christians, or other interested persons can go to discuss the Christian faith. In 2008, the leader of the Christian Union was Katie Sullivan, a member of the Upper Sixth
Other clubs such as Bible study and Strictly Come Dancing regularly take place in school, but do not occur every year, so have not been added to this list.
Principals and Headmasters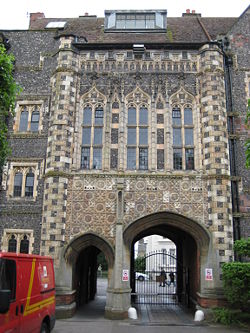 Rev. Arthur Macleane (1846)
Rev. Henry Cotterill

Henry Cotterill

The Rt Rev Henry Cotterill was an eminent Anglican Bishop in the second half of the 19th century.Henry Cotterill was born in Ampton in 1812 into an ecclesiastical family of committed Church Evangelicals. His father Joseph was Rector of Blakeney, Norfolk, and a prebendary of Norwich Cathedral. His...


(1851)
Rev. Dr. John Griffith (1856)
Rev. Dr. Charles Bigg (1871)
Rev. Thomas Hayes Belcher (1881)
Rev. Robert Chambers (1892), formerly Principal of Victoria College, Jersey

Victoria College, Jersey

Victoria College is a fee paying States of Jersey-provided school in membership of the HMC, in St Helier, Jersey, Channel Islands. The castellated neo-gothic architecture is a landmark overlooking the town.-History:In the 1590s, Laurens Baudains - a wealthy farmer from St...



Rev. Arthur Titherington (1895)
Rev. Canon William Dawson (1906), formerly Headmaster of Corby Grammar School and King's School Grantham
Rev. Arthur Belcher (1933), a pupil 1886-95, son of Rev. Thomas Hayes Belcher
Christopher Fairfax Scott (1937), formerly Headmaster of Monmouth School

Monmouth School

Monmouth School is an HMC boys' boarding and day school in Monmouth, Monmouthshire in south east Wales. It was founded in 1614 by William Jones. It is run as a trust, the William Jones's Schools Foundation, by the Worshipful Company of Haberdashers, one of the Livery Companies...


1928-37
Walter Hett (1939)
Arthur Stuart-Clark (1944), formerly Headmaster of Steyning Grammar School

Steyning Grammar School

Steyning Grammar School is a state comprehensive school in Steyning, West Sussex, England. It is the only state school in West Sussex which caters for boarders...



Roland Lester (1950) (acting)
William Stewart MC (1950)
Henry Christie (1963), subsequently Warden of St Edward's School, Oxford
William Blackshaw (1971)
John Leach (1987)
Dr. Anthony Seldon

Anthony Seldon

Dr. Anthony F. Seldon MA, PhD, FRSA, MBA, FRHistS is a political commentator best known as Tony Blair's biographer and the Master of Wellington College...


(1997)
Simon Smith (2005) (acting)
Richard Cairns (2006)
The title of Principal was changed to Headmaster in December 1885. The requirement for the headmaster to be an ordained priest of the
Church of England
Church of England
The Church of England is the officially established Christian church in England and the Mother Church of the worldwide Anglican Communion. The church considers itself within the tradition of Western Christianity and dates its formal establishment principally to the mission to England by St...
was removed in 1909.
Note: Simon Smith returned to his position as
Second Master
Deputy head teacher
A deputy head teacher, deputy headmaster or deputy headmistress is the second most senior teacher in a school in the United Kingdom and elsewhere....
after Richard Cairns took leadership in 2006.
Notable alumni and former members of staff
List of notable Old Brightonians and Staff
External links