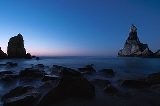 Blue hour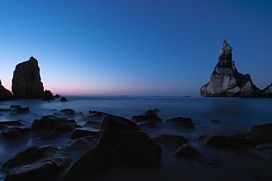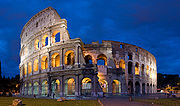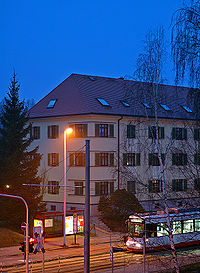 The blue hour
comes from the French expression
l'heure bleue
, which refers to the period of
twilight
Twilight
Twilight is the time between dawn and sunrise or between sunset and dusk, during which sunlight scattering in the upper atmosphere illuminates the lower atmosphere, and the surface of the earth is neither completely lit nor completely dark. The sun itself is not directly visible because it is below...
each morning and evening where there is neither full
daylight
Daylight
Daylight or the light of day is the combination of all direct and indirect sunlight outdoors during the daytime. This includes direct sunlight, diffuse sky radiation, and both of these reflected from the Earth and terrestrial objects. Sunlight scattered or reflected from objects in outer space is...
nor complete
darkness
Darkness
Darkness, in contrast with brightness, is a relative absence of visible light. It is the appearance of black in a color space. When light is not present, rod and cone cells within the eye are not stimulated. This lack of stimulation means photoreceptor cells are unable to distinguish color...
. The time is considered special because of the quality of the light at this time of day.
A time of innocence
The phrase is also used to refer to
Paris
Paris
Paris is the capital and largest city in France, situated on the river Seine, in northern France, at the heart of the Île-de-France region...
immediately prior to
World War I
World War I
World War I , which was predominantly called the World War or the Great War from its occurrence until 1939, and the First World War or World War I thereafter, was a major war centred in Europe that began on 28 July 1914 and lasted until 11 November 1918...
, which was considered to be a time of relative innocence.
Influence in popular culture
As a result of the perceived specialness of this time, there are various restaurants, theatres and hotels called
L'Heure Bleue
located worldwide. There is also a women's perfume by Guerlain (1912) of the same name. The Norwegian rock band Madrugada (Spanish and Portuguese for "early morning") were also named after this time.
In English culture the term was used to describe the period of inactivity and uselessness a drinker encounters when pubs and other licensed premises have closed after the lunch-time session (typically 15:30 hrs) and will not open for the evening session until (typically 18:30 hrs) based on pub opening times in
England
England
England is a country that is part of the United Kingdom. It shares land borders with Scotland to the north and Wales to the west; the Irish Sea is to the north west, the Celtic Sea to the south west, with the North Sea to the east and the English Channel to the south separating it from continental...
.
Scotland
Scotland
Scotland is a country that is part of the United Kingdom. Occupying the northern third of the island of Great Britain, it shares a border with England to the south and is bounded by the North Sea to the east, the Atlantic Ocean to the north and west, and the North Channel and Irish Sea to the...
and
Wales
Wales
Wales is a country that is part of the United Kingdom and the island of Great Britain, bordered by England to its east and the Atlantic Ocean and Irish Sea to its west. It has a population of three million, and a total area of 20,779 km²...
, now largely abolished in favour of all-day opening.
Art
l'Heure Bleue is a concept often expressed, in his works and in his thought, by the contemporary artist Jan Fabre

Jan Fabre

Jan Fabre is a Belgian multidisciplinary artist, playwright, stage director, choreographer and designer.He studied at the Municipal Institute of Decorative Arts and the Royal Academy of Fine Arts in Antwerp...



Books
The cover background of The Junior Encyclopedia of Canada, Volume 5 (S-Z)
A series of city scenes by David Mamet

David Mamet

David Alan Mamet is an American playwright, essayist, screenwriter and film director.Best known as a playwright, Mamet won a Pulitzer Prize and received a Tony nomination for Glengarry Glen Ross . He also received a Tony nomination for Speed-the-Plow . As a screenwriter, he received Oscar...


collected in his Goldberg Street: Short Plays and Monologue anthology
Blue Hour (2003), a book by Carolyn Forché

Carolyn Forché

Carolyn Forché is an American poet, editor, translator, and human rights advocate.-Life:Forché was born in Detroit, Michigan, on April 28, 1950, to Michael Joseph and Louise Nada Blackford Sidlosky. Forché earned a B.A...



Blue Moon

Blue Moon (Noel novel)

Blue Moon is the second novel in the The Immortals series by Alyson Noel.-External links :http://www.goodreads.com/book/show/6134826-blue-moon...


(2009), the second novel in the The Immortals

The Immortals (books)

The Immortals is a sequence of novels written by Alyson Noël. The first two books, Evermore and Blue Moon, are New York Times Bestsellers.-The Story:...


series by Alyson Noël

Alyson Noel

Alyson Noël is an American author writing from her home in Orange County, California.-Biography:Noel was raised in Orange County and attended Richard Nixon Elementary School for two years. She lived in Mykonos, Greece after leaving her high school, Troy High School...



Blue Noon

Blue Noon

Midnighters 3: Blue Noon is a young adult novel by Scott Westerfeld. The third book in his Midnighters series, it was released in 2005 through Eos.- Plot summary :...


(2005), the third book in Scott Westerfeld

Scott Westerfeld

Scott Westerfeld is an American author of science fiction. He was born in Texas and now divides his time between Sydney, Australia and New York City, USA.-Books:...


's Midnighters trilogy
L'heure Bleue, a book by Edward Gorey

Edward Gorey

Edward St. John Gorey was an American writer and artist noted for his macabre illustrated books.-Early life:...



The Blue Hour (1995), a novel by Elizabeth Evans, set in 1950's America
The Blue Hour (1999), a novel by T. Jefferson Parker

T. Jefferson Parker

thumb|T. Jefferson ParkerT. Jefferson Parker is an American novelist. Parker's books are police procedurals set in Southern California.-Early life and career:...


in the Merci Rayborn series
The Blue Hour (2002), a romantic novel by Kate Thompson

Kate Thompson (romantic novelist)

Kate Thompson is an Northern Irish actress and romantic novelist who also writes as Pixie Pirelli . She was born in Belfast and studied English and French at Trinity College, Dublin. She spent many years as an actress in theatre and television, most notably in the Irish drama serial Glenroe...



The Blueing Hours, a poetry collection by Albert DeGenova
Films
The first portion of the 1987 episodic film, 4 aventures de Reinette et Mirabelle, by Éric Rohmer

Éric Rohmer

Éric Rohmer was a French film director, film critic, journalist, novelist, screenwriter and teacher. A figure in the post-war New Wave cinema, he was a former editor of Cahiers du cinéma....



A 1991

1991 in film

The year 1991 in film involved some significant events.-Events:*April 28 - Bonnie Raitt marries actor Michael O'Keefe in New York* Terminator 2: Judgment Day, became one of the landmarks for science fiction action films with its groundbreaking visual effects from Industrial Light & Magic.*November...


film by director Marcel Gisler
The TV calendar series Jul i Blåfjell (Christmas in Blåfjell) associates magic/other-wordly powers with the Blue Hour - blåtimen, Jul i Blåfjell (norwegian Wikipedia) (1999)
The Blue Hour

The Blue Hour

The Blue Hour is a film directed and written by Eric Nazarian. It stars Alyssa Milano and had its world premiere at the San Sebastián International Film Festival in 2007...


is a 2007 film starring Alyssa Milano

Alyssa Milano

Alyssa Jayne Milano is an American actress and former singer, known for her childhood role as Samantha Micelli in the sitcom Who's the Boss? and an eight-year stint as Phoebe Halliwell on the series Charmed. She was also a series regular on the original Melrose Place portraying the role of...



Music
The blue hour is also a common theme in popular music and the subject appears in various songs:
Pete Anderson

Pete Anderson

Pete Anderson is an American guitarist and music producer.Anderson is most known for his guitar work with, and critically acclaimed production of, country music star Dwight Yoakam from 1984 through 2002...


- "Blue Hour"
Turin Brakes

Turin Brakes

Turin Brakes are a modern folk duo, comprising Olly Knights and Gale Paridjanian, hailing from Balham, London. They had a UK top 5 hit with their song "Painkiller ".-1999–2003:...


- "Blue Hour"
Stephen Cummings

Stephen Cummings

Stephen Donald Cummings is an Australian rock singer-songwriter and writer. He was lead singer of Melbourne-based rock band, The Sports, during 1976–1981, followed by a solo career which has met with critical acclaim but has had limited commercial success...


- "Blue Hour"
Vanessa Daou

Vanessa Daou

Vanessa Daou is an American singer, songwriter, poet, visual artist and dancer. Most notably a musician, her work is known among electronica, nu jazz and trip hop circles for her trademark spoken word and aspirated singing style as well as its erotic and literary subtexts.-Formative years:Daou was...


- "This Blue Hour"
Christian Death

Christian Death

Christian Death is an American deathrock band formed in Los Angeles, California in 1979. The band was founded and fronted by Rozz Williams. Christian Death is most notable for their first album Only Theatre of Pain....


- "The Blue Hour"
Peter Fox

Peter Fox

Peter Fox was a politician in Manitoba, Canada. He was a New Democratic Party member of the Legislative Assembly of Manitoba from 1966 to 1986. From 1971 to 1977, he served as Speaker of the legislature....


- "Schwarz zu Blau" ("Black to Blue")
Nina Gordon

Nina Gordon

Nina Rachel Shapiro Gordon is an American rock singer, and is the co-founder of the band Veruca Salt, having written the songs "Seether" and "Volcano Girls"...


- "The Blue Hour"
Françoise Hardy

Françoise Hardy

Françoise Madeleine Hardy is a French singer, actress and astrologer. Hardy is an iconic figure in fashion, music and style. She is married to the singer and movie actor Jacques Dutronc.-Biography:...


- "L'Heure Bleue"
Killer Loop

Killer Loop

Killer Loop is a futuristic racing game released in 1999. It was developed by VCC Entertainment and published by Crave Entertainment.-Gameplay:...


- "The Blue Hour"
Ute Lemper

Ute Lemper

Ute Lemper is a German chanteuse and actress renowned for her interpretation of the work of Kurt Weill.- Biography :Born in Münster, Germany, Ute Lemper was raised in a Roman Catholic family. She joined the punk music group known as the Panama Drive Band at the age of 16...


- "L'Heure Bleue"
Madrugada - "Strange Colour Blue"; both the song and the eponymous album title (which means "dawn" in Portugese and Spanish) refer to the blue hour
Roy Orbison

Roy Orbison

Roy Kelton Orbison was an American singer-songwriter, well known for his distinctive, powerful voice, complex compositions, and dark emotional ballads. Orbison grew up in Texas and began singing in a rockabilly/country & western band in high school until he was signed by Sun Records in Memphis...


- "When The Blue Hour Comes"
Oysterband

Oysterband

Oysterband is a British electric folk or folk rock band formed in Canterbury in or around 1976.-Early history:...


- "Lost and Found"
Radiohead

Radiohead

Radiohead are an English rock band from Abingdon, Oxfordshire, formed in 1985. The band consists of Thom Yorke , Jonny Greenwood , Ed O'Brien , Colin Greenwood and Phil Selway .Radiohead released their debut single "Creep" in 1992...


- "The Gloaming"
Andreas Vollenweider

Andreas Vollenweider

Andreas Vollenweider is a Swiss musician. His music has been categorized as World Music, Jazz, New Age and even Classical; two of his albums were number 1 on the Billboard charts simultaneously in the categories Classical, Jazz, Pop and Crossover for more than 11 weeks. His music could be...


- "Chanson de l'Heure Bleue" ("Song of the Blue Hour")
See also
Civil twilight
Midnight sun

Midnight sun

The midnight sun is a natural phenomenon occurring in summer months at latitudes north and nearby to the south of the Arctic Circle, and south and nearby to the north of the Antarctic Circle where the sun remains visible at the local midnight. Given fair weather, the sun is visible for a continuous...



Polar night

Polar night

The polar night occurs when the night lasts for more than 24 hours. This occurs only inside the polar circles. The opposite phenomenon, the polar day, or midnight sun, occurs when the sun stays above the horizon for more than 24 hours.-Description:...



Green flash

Green flash

Green flashes and green rays are optical phenomena that occur shortly after sunset or before sunrise, when a green spot is visible, usually for no more than a second or two, above the sun, or it may resemble a green ray shooting up from the sunset point. Green flashes are a group of phenomena...



Golden hour

Golden hour (photography)

In photography, the golden hour is the first and last hour of sunlight during the day,when a specific photographic effect is achieved due to the quality of the light.-Overview:...



Belt of Venus

Belt of Venus

The Belt of Venus or Venus's Girdle is the Victorian-era name for an atmospheric phenomenon seen at sunrise and sunset. Shortly after sunset or shortly before sunrise, the observer is, or is very nearly, surrounded by a pinkish glow or antitwilight arch that extends roughly 10°–20° above the horizon...



External links