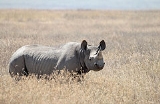 Black Rhinoceros
The
Black Rhinoceros
or
Hook-lipped Rhinoceros
(
Diceros bicornis
), is a species of
rhinoceros
Rhinoceros
Rhinoceros , also known as rhino, is a group of five extant species of odd-toed ungulates in the family Rhinocerotidae. Two of these species are native to Africa and three to southern Asia....
, native to the eastern and central areas of Africa including
Kenya
Kenya
Kenya , officially known as the Republic of Kenya, is a country in East Africa that lies on the equator, with the Indian Ocean to its south-east...
,
Tanzania
Tanzania
The United Republic of Tanzania is a country in East Africa bordered by Kenya and Uganda to the north, Rwanda, Burundi, and the Democratic Republic of the Congo to the west, and Zambia, Malawi, and Mozambique to the south. The country's eastern borders lie on the Indian Ocean.Tanzania is a state...
,
Cameroon
Cameroon
Cameroon, officially the Republic of Cameroon , is a country in west Central Africa. It is bordered by Nigeria to the west; Chad to the northeast; the Central African Republic to the east; and Equatorial Guinea, Gabon, and the Republic of the Congo to the south. Cameroon's coastline lies on the...
,
South Africa
South Africa
The Republic of South Africa is a country in southern Africa. Located at the southern tip of Africa, it is divided into nine provinces, with of coastline on the Atlantic and Indian oceans...
,
Namibia
Namibia
Namibia, officially the Republic of Namibia , is a country in southern Africa whose western border is the Atlantic Ocean. It shares land borders with Angola and Zambia to the north, Botswana to the east and South Africa to the south and east. It gained independence from South Africa on 21 March...
,
Zimbabwe
Zimbabwe
Zimbabwe is a landlocked country located in the southern part of the African continent, between the Zambezi and Limpopo rivers. It is bordered by South Africa to the south, Botswana to the southwest, Zambia and a tip of Namibia to the northwest and Mozambique to the east. Zimbabwe has three...
, and
Angola
Angola
Angola, officially the Republic of Angola , is a country in south-central Africa bordered by Namibia on the south, the Democratic Republic of the Congo on the north, and Zambia on the east; its west coast is on the Atlantic Ocean with Luanda as its capital city...
. Although the Rhino was referred to as
black
, it is actually more of a grey/brown/white color in appearance.
The other African rhinoceros is the
White Rhinoceros
White Rhinoceros
The White Rhinoceros or Square-lipped rhinoceros is one of the five species of rhinoceros that still exist. It has a wide mouth used for grazing and is the most social of all rhino species...
(
Ceratotherium simum
). These common names are misleading, as those two species are not really distinguishable by color. The word
white
in the name "White Rhinoceros" is a mistranslation of the
Dutch
Dutch language
Dutch is a West Germanic language and the native language of the majority of the population of the Netherlands, Belgium, and Suriname, the three member states of the Dutch Language Union. Most speakers live in the European Union, where it is a first language for about 23 million and a second...
word
wijd
for wide, referring to its square upper lip, as opposed to the pointed or hooked lip of the Black Rhinoceros. These species are now sometimes referred to as the Square-lipped (for White) or Hook-lipped (for Black) Rhinoceros.
The
species
Species
In biology, a species is one of the basic units of biological classification and a taxonomic rank. A species is often defined as a group of organisms capable of interbreeding and producing fertile offspring. While in many cases this definition is adequate, more precise or differing measures are...
overall is classified as
critically endangered
Critically endangered
Version 2010.3 of the IUCN Red List of Threatened Species identified 3744 Critically Endangered species, subspecies and varieties, stocks and subpopulations.Critically Endangered by kingdom:*1993 Animalia*2 Fungi*1745 Plantae*4 Protista-References:...
, and one
subspecies
Subspecies
Subspecies in biological classification, is either a taxonomic rank subordinate to species, ora taxonomic unit in that rank . A subspecies cannot be recognized in isolation: a species will either be recognized as having no subspecies at all or two or more, never just one...
, the
Western Black Rhinoceros
Western Black Rhinoceros
The Western Black Rhinoceros or West African Black Rhinoceros is an extinct subspecies of the Black Rhino...
, was declared
extinct
Extinction
In biology and ecology, extinction is the end of an organism or of a group of organisms , normally a species. The moment of extinction is generally considered to be the death of the last individual of the species, although the capacity to breed and recover may have been lost before this point...
by the IUCN in 2011.
Taxonomy and naming
There are four recognized subspecies of the black rhinoceros:
Description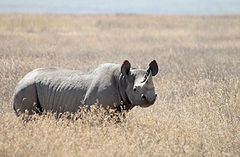 An adult Black Rhinoceros stands 132 – high at the shoulder and is 2.8–3.8 m (9.2–12.5 ft) in length, plus a tail of about 60 cm (23.6 in) in length. An adult typically weighs from 800 to 1400 kg (1,763.7 to 3,086.5 lb), however unusually large male specimens have been reported at up to 2199–2896 kg (4,848–6,384.6 lb). The females are smaller than the males. Two
horns
Horn (anatomy)
A horn is a pointed projection of the skin on the head of various animals, consisting of a covering of horn surrounding a core of living bone. True horns are found mainly among the ruminant artiodactyls, in the families Antilocapridae and Bovidae...
on the skull are made of
keratin
Keratin
Keratin refers to a family of fibrous structural proteins. Keratin is the key of structural material making up the outer layer of human skin. It is also the key structural component of hair and nails...
with the larger front horn typically 50 cm (19.7 in) long, exceptionally up to 140 cm (55.1 in).
The longest known horn measured nearly 1.5 m (4.9 ft) in length. Sometimes, a third smaller horn may develop. These horns are used for defense, intimidation, and digging up roots and breaking branches during feeding. Skin color depends more on local
soil
Soil
Soil is a natural body consisting of layers of mineral constituents of variable thicknesses, which differ from the parent materials in their morphological, physical, chemical, and mineralogical characteristics...
conditions and the rhinoceros' wallowing behavior than anything else, so many black rhinos are typically not truly black in color.
The Black Rhino is smaller than the
White Rhino
White Rhinoceros
The White Rhinoceros or Square-lipped rhinoceros is one of the five species of rhinoceros that still exist. It has a wide mouth used for grazing and is the most social of all rhino species...
, and has a long, pointed, and prehensile upper lip, which it uses to grasp leaves and twigs when feeding.
White Rhinoceros
White Rhinoceros
The White Rhinoceros or Square-lipped rhinoceros is one of the five species of rhinoceros that still exist. It has a wide mouth used for grazing and is the most social of all rhino species...
have square lips used for eating grass. The Black Rhinoceros can also be distinguished from the
White Rhinoceros
White Rhinoceros
The White Rhinoceros or Square-lipped rhinoceros is one of the five species of rhinoceros that still exist. It has a wide mouth used for grazing and is the most social of all rhino species...
by its smaller skull and ears.
Their thick layered skin protects the rhino from
thorns
Thorns, spines, and prickles
In botanical morphology, thorns, spines, and prickles are hard structures with sharp, or at least pointed, ends. In spite of this common feature, they differ in their growth and development on the plant; they are modified versions of different plant organs, stems, stipules, leaf veins, or hairs...
and sharp
grass
Grass
Grasses, or more technically graminoids, are monocotyledonous, usually herbaceous plants with narrow leaves growing from the base. They include the "true grasses", of the Poaceae family, as well as the sedges and the rushes . The true grasses include cereals, bamboo and the grasses of lawns ...
es. Their skin harbors external
parasites
Parasitism
Parasitism is a type of symbiotic relationship between organisms of different species where one organism, the parasite, benefits at the expense of the other, the host. Traditionally parasite referred to organisms with lifestages that needed more than one host . These are now called macroparasites...
, such as
mite
Mite
Mites, along with ticks, are small arthropods belonging to the subclass Acari and the class Arachnida. The scientific discipline devoted to the study of ticks and mites is called acarology.-Diversity and systematics:...
s and
tick
Tick
Ticks are small arachnids in the order Ixodida, along with mites, constitute the subclass Acarina. Ticks are ectoparasites , living by hematophagy on the blood of mammals, birds, and sometimes reptiles and amphibians...
s, which are eaten by
oxpecker
Oxpecker
The oxpeckers are two species of bird which make up the family Buphagidae. Some ornithologists regard them as a subfamily Buphaginae within the starling family Sturnidae but they appear to be quite distinct. Oxpeckers are endemic to the savanna of Sub-Saharan Africa...
s and
egret
Egret
An egret is any of several herons, most of which are white or buff, and several of which develop fine plumes during the breeding season. Many egrets are members of the genera Egretta or Ardea which contain other species named as herons rather than egrets...
s that live with the rhino. Such behaviour was originally thought to be an example of mutualism, but recent evidence suggests that oxpeckers may be parasites instead, feeding on rhino blood. Black rhinos have poor eyesight, relying more on hearing and smell. Their ears possess a relatively wide rotational range to detect sounds. An excellent sense of smell alerts rhinos to the presence of
predators
Predation
In ecology, predation describes a biological interaction where a predator feeds on its prey . Predators may or may not kill their prey prior to feeding on them, but the act of predation always results in the death of its prey and the eventual absorption of the prey's tissue through consumption...
.
Distribution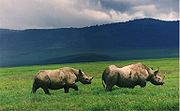 For most of the 20th century the continental black rhino was the most numerous of all rhino species. Around 1900 there were probably several hundred thousand living in Africa. During the latter half of the 20th century their numbers were severely reduced from an estimated 70,000 in the late 1960s to only 10,000 to 15,000 in 1981. In the early 1990s the number dipped below 2,500, and in 2004 it was reported that only 2,410 black rhinos remained. According to the
International Rhino Foundation
International Rhino Foundation
The International Rhino Foundation is a Yulee, Florida-based charity focused on the conservation of the five species of rhinoceros: the White Rhinoceros and Black Rhinoceros in Africa; the Indian Rhinoceros, Javan Rhinoceros and Sumatran Rhinoceros in Asia....
, the total African population had recovered to 4240 by 2008 (which suggests that the 2004 number was low). In 2002 only 10 West African Black Rhinos remained in Cameroon, and in 2006 intensive surveys across its putative range failed to locate any, leading to fears that this subspecies was extinct. In 2011 the IUCN declared the Western Black Rhino extinct.
The only rhino that has recovered somewhat from the brink of extinction is the southern white whose numbers now are estimated around 14,500, up from fewer than 50 in the first decade of the 20th century.
The Black Rhinoceros had been pushed to the brink of extinction by illegal poaching for their horn, and to a lesser extent by loss of habitat. A major market for rhino horn has historically been in the Middle East to make ornately carved handles for ceremonial daggers called
jambiya
Jambiya
Janbiya, also spelt janbia, jambiya, and jambia, , is the Arabic term for dagger, but it is generally used to describe a specific type of dagger with a short curved blade that is worn on a belt. Although the term jambiya is also used in other Arab countries, it is mostly associated with people of...
s. Demand for these exploded in the 1970s causing the Black Rhinoceros population to decline 96% between 1970 and 1992. The horn is also used in
traditional Chinese medicine
Traditional Chinese medicine
Traditional Chinese Medicine refers to a broad range of medicine practices sharing common theoretical concepts which have been developed in China and are based on a tradition of more than 2,000 years, including various forms of herbal medicine, acupuncture, massage , exercise , and dietary therapy...
, and is said by
herbalist
Herbalist
An herbalist is:#A person whose life is dedicated to the economic or medicinal uses of plants.#One skilled in the harvesting and collection of medicinal plants ....
s to be able to revive comatose patients, cure fevers, and aid male sexual stamina and fertility. The purported effectiveness of the use of rhino horn in treating any illness has not been confirmed by medical science. In June 2007, the first-ever documented case of the medicinal sale of black rhino horn in the United States (confirmed by genetic testing of the confiscated horn) occurred at a
traditional Chinese medicine
Traditional Chinese medicine
Traditional Chinese Medicine refers to a broad range of medicine practices sharing common theoretical concepts which have been developed in China and are based on a tradition of more than 2,000 years, including various forms of herbal medicine, acupuncture, massage , exercise , and dietary therapy...
supply store in
Portland, Oregon
Portland, Oregon
Portland is a city located in the Pacific Northwest, near the confluence of the Willamette and Columbia rivers in the U.S. state of Oregon. As of the 2010 Census, it had a population of 583,776, making it the 29th most populous city in the United States...
's
Chinatown
Chinatown
A Chinatown is an ethnic enclave of overseas Chinese people, although it is often generalized to include various Southeast Asian people. Chinatowns exist throughout the world, including East Asia, Southeast Asia, the Americas, Australasia, and Europe. Binondo's Chinatown located in Manila,...
.
Behavior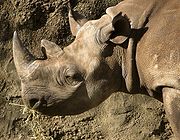 Although they are typically solitary animals, with the exception of coming together to mate, mothers and calves will sometimes congregate in small groups for short periods of time. Males are not as sociable as females, although they will sometimes allow the presence of other rhinos. They are not very territorial and often intersect other rhino territories. Home ranges vary depending on season and the availability of food and water. Generally they have smaller home ranges and larger density in habitats that have plenty of food and water available, and vice versa if resources are not readily available. In the
Serengeti
Serengeti
The Serengeti ecosystem is a geographical region in Africa. It is located in north Tanzania and extends to south-western Kenya between latitudes 1 and 3 S and longitudes 34 and 36 E. It spans some ....
home ranges are around 43 to 133 km² (16.6 to 51.4 sqmi), while in the
Ngorongoro
Ngorongoro Conservation Area
The Ngorongoro Conservation Area is a conservation area and a UNESCO World Heritage Site situated west of Arusha in the Crater Highlands area of Tanzania. The conservation area is administered by the Ngorongoro Conservation Area Authority, an arm of the Tanzanian government, and its boundaries...
it is between 2.6 to 44 km² (1 to 17 sqmi). Black Rhinos have also been observed to have a certain area they tend to visit and rest frequently called "houses" which are usually on a high ground level.
The Black Rhino has a reputation for being extremely aggressive, and charges readily at perceived threats. They have even been observed to charge tree trunks and termite mounds. Black Rhinos will fight each other, and they have the highest rates of mortal combat recorded for any mammal: about 50% of males and 30% of females die from combat-related injuries. Adult Black Rhinos normally have no natural predators, but they may fall prey to
crocodiles
Nile crocodile
The Nile crocodile or Common crocodile is an African crocodile which is common in Somalia, Ethiopia, Uganda, Kenya, Egypt, Tanzania, Zambia, Zimbabwe, Gabon, South Africa, Malawi, Sudan, Botswana, and Cameroon...
in exceptional circumstances.
Black Rhinoceros follow the same trails as elephants use to get from foraging areas to water holes. They also use smaller trails when they are browsing. They are very fast and can get up to speeds of 56 kilometres per hour (34.8 mph) running on their toes.
Diet
The Black Rhinoceros is a
herbivorous
Herbivore
Herbivores are organisms that are anatomically and physiologically adapted to eat plant-based foods. Herbivory is a form of consumption in which an organism principally eats autotrophs such as plants, algae and photosynthesizing bacteria. More generally, organisms that feed on autotrophs in...
browser that eats leafy plants, branches, shoots, thorny wood bushes, and fruit. Their diet can reduce the amount of woody plants, which may benefit grazers (who eat grass), but not competing browsers. It has been known to eat up to 220 species of plants. It can live up to 5 days without water during drought. Black Rhinos live in primarily
grassland
Grassland
Grasslands are areas where the vegetation is dominated by grasses and other herbaceous plants . However, sedge and rush families can also be found. Grasslands occur naturally on all continents except Antarctica...
s,
savanna
Savanna
A savanna, or savannah, is a grassland ecosystem characterized by the trees being sufficiently small or widely spaced so that the canopy does not close. The open canopy allows sufficient light to reach the ground to support an unbroken herbaceous layer consisting primarily of C4 grasses.Some...
s, and tropical
bushland
Bushland
Bushland is any area in Australia that is predominantly indigenous flora and fauna.Bushland is the term commonly used by conservation protection groups and other environmental groups as a blanket term for natural vegetation, which may cover any kind of habitat from open shrubby country with few...
habitats.
They browse for food in the morning and evening. In the hottest part of the day they are most inactive- resting, sleeping, and wallowing in the mud. Wallowing helps cool down body temperature during the day and protects against parasites. If mud is not available rhinos will wallow in dust. Drinking water is most common in the afternoon. When Black Rhinos browse they use their lips to strip the branches of their leaves.
Communication
Rhinos use several forms of communication. Due to their bad eyesight and solitary nature, scent marking is often used to identify themselves to other Black Rhinos. Urine spraying occurs on trees and bushes, around water holes and feeding areas. Females urine spray more often when receptive for breeding. Defecation sometimes occurs in the same spot used by different rhinos, such as around feeding stations and watering tracks. Coming upon these spots, rhinos will smell to see who is in the area and add their own marking. Less commonly they will rub their heads or horns against tree trunks to scent-mark.
Different types of vocalizations have also been observed. Growls and trumpets may be used during a fight. A long snort indicates anger, while sneeze-like calls are used as an alarm to danger. Short snorts with pricked ears and wrinkled nostrils are a startle reaction to a newcomer. A high-pitched "wonk" has been described for when they are fearful. A high-pitched scream has been observed in times of terror. "Mmwonk", a deep, resonant sound is a sign of contentment. Squeak, done with different tones and intonations may mean "I'm lost", "Where are you?", "I'm over here", or other signals that are not yet understood. Breathing speeds can be used to communicate greetings, anxiety, and reassurance. A puffing snort is a common greeting when males and females encounter one another.
Body language also a form of Black Rhinoceros communications. A bull will sometimes display an aggressive ritual towards a potential rival. They will smell, spray repeatedly, scrape, trample, and bash with their heads in bushes. They may also snort in an attack posture. When their tail is up, it may indicate one of several things: curiosity, alarm, or sexual receptivity. Erect ears also indicate curiosity, and flat ears express anger.
Reproduction
The adults are solitary in nature, coming together only for mating. Mating does not have a seasonal pattern but births tend to be towards the end of the rainy season in more arid environments.
When in season the females will mark dung piles. Males following females that are in season will follow her; when she defecates he will scrape and spread the dung, making it more difficult for any other adult males to pick up her scent trail.
Courtship behaviors before mating include snorting and sparring with the horns among males. Another courtship behavior is called bluff and bluster, where the rhino will snort and swing its head from side to side aggressively before running away repeatedly. Breeding pairs stay together for 2–3 days and sometimes even weeks. They mate several times a day over this time and copulation lasts for a half an hour.
The gestation period is 15 to 16 months. The single calf weighs about 35–50 kg at birth, and can follow its mother around after just three days. Weaning occurs at around 2 years of age for the offspring. The mother and calf stay together for 2–3 years until the next calf is born; female calves may stay longer, forming small groups. The young are occasionally taken by
hyena
Hyena
Hyenas or Hyaenas are the animals of the family Hyaenidae of suborder feliforms of the Carnivora. It is the fourth smallest biological family in the Carnivora , and one of the smallest in the mammalia...
s and
lion
Lion
The lion is one of the four big cats in the genus Panthera, and a member of the family Felidae. With some males exceeding 250 kg in weight, it is the second-largest living cat after the tiger...
s. Sexual maturity is reached from 5–7 years old for females, and 7–8 years for males. The life expectancy in natural conditions (without
poaching
Poaching
Poaching is the illegal taking of wild plants or animals contrary to local and international conservation and wildlife management laws. Violations of hunting laws and regulations are normally punishable by law and, collectively, such violations are known as poaching.It may be illegal and in...
pressure) is from 35–50 years.
External links