 Beniamino Gigli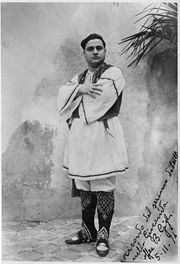 Beniamino Gigli
(March 20, 1890 – November 30, 1957) was an Italian
opera
Opera
Opera is an art form in which singers and musicians perform a dramatic work combining text and musical score, usually in a theatrical setting. Opera incorporates many of the elements of spoken theatre, such as acting, scenery, and costumes and sometimes includes dance...
singer. The most famous
tenor
Tenor
The tenor is a type of male singing voice and is the highest male voice within the modal register. The typical tenor voice lies between C3, the C one octave below middle C, to the A above middle C in choral music, and up to high C in solo work. The low extreme for tenors is roughly B2...
of his generation, he was renowned internationally for the great beauty of his voice and the soundness of his vocal technique. Music critics sometimes took him to task, however, for what was perceived to be the over-emotionalism of his interpretations. Nevertheless, such was Gigli's talent, he is considered to be one of the very finest tenors in the recorded history of music.
Biography
Gigli was born in
Recanati
Recanati
Recanati is a town and comune in the Province of Macerata, Marche region of Italy. Recanati was founded around 1150 AD from three pre-existing castles. In 1290 it proclaimed itself an independent republic and, in the 15th century, was famous for its international fair...
, in the
Marche
Marche
The population density in the region is below the national average. In 2008, it was 161.5 inhabitants per km2, compared to the national figure of 198.8. It is highest in the province of Ancona , and lowest in the province of Macerata...
, the son of a shoemaker who loved opera. His brother Lorenzo became a famous Italian painter.
In 1914, he won first prize in an international singing competition in
Parma
Parma
Parma is a city in the Italian region of Emilia-Romagna famous for its ham, its cheese, its architecture and the fine countryside around it. This is the home of the University of Parma, one of the oldest universities in the world....
. His operatic debut came on October 15, 1914, when he played Enzo in
Amilcare Ponchielli
Amilcare Ponchielli
Amilcare Ponchielli was an Italian composer, largely of operas.-Biography:Born in Paderno Fasolaro, now Paderno Ponchielli, near Cremona, Ponchielli won a scholarship at the age of nine to study music at the Milan Conservatory, writing his first symphony by the time he was ten years old.Two years...
's
La Gioconda
La Gioconda (opera)
La Gioconda is an opera in four acts by Amilcare Ponchielli set to an Italian libretto by Arrigo Boito, based on Angelo, tyran de Padoue, a play in prose by Victor Hugo, dating from 1835...
in
Rovigo
Rovigo
Rovigo is a town and comune in the Veneto region of North-Eastern Italy, the capital of the eponymous province. -Geography:...
, following which he was in great demand.
Gigli made many important debuts in quick succession, and always in
Mefistofele
Mefistofele
Mefistofele is an opera in a prologue, four acts and an epilogue, the only completed opera by the Italian composer-librettist Arrigo Boito.-Composition history:...
:
Teatro Massimo
Teatro Massimo
The Teatro Massimo Vittorio Emanuele is an opera house and opera company located on the Piazza Verdi in Palermo, Sicily. It was dedicated to King Victor Emanuel II....
in
Palermo
Palermo
Palermo is a city in Southern Italy, the capital of both the autonomous region of Sicily and the Province of Palermo. The city is noted for its history, culture, architecture and gastronomy, playing an important role throughout much of its existence; it is over 2,700 years old...
(March 31, 1915),
Teatro di San Carlo
Teatro di San Carlo
The Real Teatro di San Carlo is an opera house in Naples, Italy. It is the oldest continuously active such venue in Europe.Founded by the Bourbon Charles VII of Naples of the Spanish branch of the dynasty, the theatre was inaugurated on 4 November 1737 — the king's name day — with a performance...
in Naples (December 26, 1915),
Teatro Costanzi di Roma
Teatro dell'Opera di Roma
The Teatro dell'Opera di Roma is an opera house in Rome, Italy. Originally opened in November 1880 as the 2,212 seat Costanzi Theatre, it has undergone several changes of name as well modifications and improvements...
(December 26, 1916),
La Scala
La Scala
La Scala , is a world renowned opera house in Milan, Italy. The theatre was inaugurated on 3 August 1778 and was originally known as the New Royal-Ducal Theatre at La Scala...
(November 19, 1918), and finally the
Metropolitan Opera
Metropolitan Opera
The Metropolitan Opera is an opera company, located in New York City. Originally founded in 1880, the company gave its first performance on October 22, 1883. The company is operated by the non-profit Metropolitan Opera Association, with Peter Gelb as general manager...
(November 26, 1920). Two other great Italian tenors present on the roster of Met singers during the 1920s also happened to be Gigli's chief contemporary rivals for tenor supremacy in the Italian repertory—namely,
Giovanni Martinelli
Giovanni Martinelli
Giovanni Martinelli was a celebrated Italian operatic tenor. He was particularly associated with the Italian lyric-dramatic repertory, although he performed French operatic roles to great acclaim as well...
and
Giacomo Lauri-Volpi
Giacomo Lauri-Volpi
Giacomo Lauri-Volpi was an Italian tenor with a lyric-dramatic voice of exceptional range and technical facility. He performed throughout Europe and the Americas in a top-class career that spanned 40 years....
.
Some of the roles with which Gigli became particularly associated during this period included Edgardo in Donizetti's
Lucia di Lammermoor
Lucia di Lammermoor
Lucia di Lammermoor is a dramma tragico in three acts by Gaetano Donizetti. Salvadore Cammarano wrote the Italian language libretto loosely based upon Sir Walter Scott's historical novel The Bride of Lammermoor....
, Rodolfo in
Giacomo Puccini
Giacomo Puccini
Giacomo Antonio Domenico Michele Secondo Maria Puccini was an Italian composer whose operas, including La bohème, Tosca, Madama Butterfly, and Turandot, are among the most frequently performed in the standard repertoire...
's
La Bohème
La bohème
La bohème is an opera in four acts,Puccini called the divisions quadro, a tableau or "image", rather than atto . by Giacomo Puccini to an Italian libretto by Luigi Illica and Giuseppe Giacosa, based on Scènes de la vie de bohème by Henri Murger...
and the title role in
Umberto Giordano
Umberto Giordano
Umberto Menotti Maria Giordano was an Italian composer, mainly of operas.He was born in Foggia in Puglia, southern Italy, and studied under Paolo Serrao at the Conservatoire of Naples...
's
Andrea Chénier
Andrea Chénier
Andrea Chénier is a verismo opera in four acts by the composer Umberto Giordano, set to an Italian libretto by Luigi Illica. It is based loosely on the life of the French poet, André Chénier , who was executed during the French Revolution....
, both of which he would later record in full.
Gigli rose to true international prominence after the death of the great Italian tenor Enrico Caruso in 1921. Such was his popularity with audiences he was often called "Caruso Secondo", though he much preferred to be known as "Gigli Primo." In fact, the comparison was not valid as Caruso had a bigger, darker, more heroic voice than Gigli's honey-toned lyric instrument.
Gigli left the Met in 1932, ostensibly after refusing to take a pay cut.
Giulio Gatti-Casazza
Giulio Gatti-Casazza
Giulio Gatti-Casazza was an Italian opera manager. He was general manager of La Scala in Milan, Italy and later the Metropolitan Opera in New York City.-Life and career:...
, the Met's then general manager, was furious at his company's most popular male singer; he told the press that Gigli was the only singer not to accept the pay cut. There were in fact several others,
Lily Pons
Lily Pons
Lily Pons was a French-American operatic soprano and actress who had an active career from the late 1920s through the early 1970s. As an opera singer she specialized in the coloratura soprano repertoire and was particularly associated with the title roles in Léo Delibes' Lakmé and Gaetano...
and
Rosa Ponselle
Rosa Ponselle
Rosa Ponselle , was an American operatic soprano with a large, opulent voice. She sang mainly at the New York Metropolitan Opera and is generally considered by music critics to have been one of the greatest sopranos of the past 100 years.-Early life:She was born Rosa Ponzillo on January 22, 1897,...
among them; and it is well documented that Gatti-Casazza gave himself a large pay increase in 1931, so that after the pay cut in 1932 his salary remained the same as it had been originally. Furthermore, Gatti was careful to hide Gigli's counter offer from the press, in which the singer offered to sing five or six concerts gratis, which in dollars saved was worth more than Gatti's imposed pay cut.
After leaving the Met, Gigli returned again to Italy, and sang in houses there, elsewhere in Europe, and in South America. He was criticized for being a favorite singer of the Italian dictator
Benito Mussolini
Benito Mussolini
Benito Amilcare Andrea Mussolini was an Italian politician who led the National Fascist Party and is credited with being one of the key figures in the creation of Fascism....
, and toward the end of World War II was able to give few performances. However, he immediately returned to the stage when the war ended in 1945, and the audience acclaim was greater and more clamorous than ever.
In addition to his stage performances, Gigli appeared as an actor in over twenty films from 1935 to 1953. Some notable appearances include 1936's Johannes Riemann-directed musical drama
Ave Maria
opposite actress
Käthe von Nagy
Käthe von Nagy
Käthe von Nagy , as Ekaterina Nagy von Cziser; † 20 December 1973 in Los Angeles, California, USA) was an Hungarian actress.-Life History and Films:...
and Giuseppe Fatigati's 1943 drama
I Pagliacci
(
English
English language
English is a West Germanic language that arose in the Anglo-Saxon kingdoms of England and spread into what was to become south-east Scotland under the influence of the Anglian medieval kingdom of Northumbria...
release title:
Laugh Pagliacci
), opposite Italian actress
Alida Valli
Alida Valli
Alida Valli , sometimes simply credited as Valli, was an Italian actress who appeared in more than 100 films, including Mario Soldati's Piccolo mondo antico, Alfred Hitchcock's The Paradine Case, Carol Reed's The Third Man, Michelangelo Antonioni's Il Grido, Luchino Visconti's Senso, Bernardo...
.
In the last few years of his life, Gigli gave concert performances more often than he appeared on stage. Before his retirement in 1955, Gigli undertook an exhausting world tour of farewell concerts. This impaired his health in the two years that remained to him, during which time he helped prepare his memoirs (based primarily on an earlier memoir, fleshed out by a series of interviews). Gigli died in Rome in 1957.
Personal life
Like many artists, Gigli was a man of contradictions. On the one hand, he gave more fund-raising concerts and raised more money than any other singer in history, with close to one thousand benefit concerts. He was deeply devoted to Padre Pio, his confessor, to whom he donated a large amount of money. Also, Gigli sang an unusual amount of sacred music (especially in the 1950s), atypical of a leading operatic tenor. Additionally, he was throughout his life deeply devoted to the sacred music of Don Lorenzo Perosi.
On the other hand, Gigli's relationships with women were often tainted by scandal. He lied in his memoirs, saying that he was married six months earlier than he really was. This was to conceal that his wife Costanza was pregnant before reaching the altar. Gigli had two children with Costanza: Enzo and Rina. (The latter was a well-known soprano in her own right.) Later, Gigli is well-known to have had a second family with Lucia Vigarani, producing three children. Gigli is rumored to have had at least three other children with as many different women. Gigli's exact number of offspring is unknown.
Gigli's musical legacy
Such is Gigli's popularity that most of his recordings including complete operas normally with
Toti dal Monte
Toti Dal Monte
Antonietta Meneghel , better known by her stage name Toti Dal Monte, was a celebrated Italian operatic soprano with a sweet and limpid lyric voice. She was a favourite artist of the celebrated conductor Arturo Toscanini...
have been converted to CD and are freely available. His disc legacy dates back to recordings in the 1920s, which provide a good insight into the beauty of his voice due to EMI's digital enhancement of the recordings quality using the CEDAR process. He was liked by many composers and was the first to sing the title role in
Andrea Chénier
Andrea Chénier
Andrea Chénier is a verismo opera in four acts by the composer Umberto Giordano, set to an Italian libretto by Luigi Illica. It is based loosely on the life of the French poet, André Chénier , who was executed during the French Revolution....
. Listen to his rendition of the complete opera
Cavalleria Rusticana
Cavalleria rusticana
Cavalleria rusticana is an opera in one act by Pietro Mascagni to an Italian libretto by Giovanni Targioni-Tozzetti and Guido Menasci, adapted from a play written by Giovanni Verga based on his short story. Considered one of the classic verismo operas, it premiered on May 17, 1890 at the Teatro...
and you will hear
Pietro Mascagni
Pietro Mascagni
Pietro Antonio Stefano Mascagni was an Italian composer most noted for his operas. His 1890 masterpiece Cavalleria rusticana caused one of the greatest sensations in opera history and single-handedly ushered in the Verismo movement in Italian dramatic music...
's voice welcoming you.
However, if you want to hear his recordings from his Italian years in the early thirties until just after the war including his rendition of the "Giovinezza" you will have to go to Italy. His leaving the Met following a pay cut meant he fell into the arms of Mussolini and allegedly became his favorite. This would have been fatal to most singers and for a while after the war he had to sing with his daughter Rina as many sopranos would not sing with him. This ended with a concert in
Covent Garden
Covent Garden
Covent Garden is a district in London on the eastern fringes of the West End, between St. Martin's Lane and Drury Lane. It is associated with the former fruit and vegetable market in the central square, now a popular shopping and tourist site, and the Royal Opera House, which is also known as...
when the world and the critics saw what they had been missing. He described himself as a simple man with a gift from God. He was a generous man and would always end every concert by remaining on stage with the offer he would sing any song the audience wanted for a fee with the money going to charity.
Gigli was the principal tenor of Metropolitan Opera for good reason and his version of
Nessun Dorma
Nessun dorma
Nessun dorma is an aria from the final act of Giacomo Puccini's opera Turandot, and is one of the best-known tenor arias in all opera. It is sung by Calaf, il principe ignoto , who falls in love at first sight with the beautiful but cold Princess Turandot...
will amaze many by its similarity to that made famous by
Luciano Pavarotti
Luciano Pavarotti
right|thumb|Luciano Pavarotti performing at the opening of the Constantine Palace in [[Strelna]], 31 May 2003. The concert was part of the celebrations for the 300th anniversary of [[St...
many years later. He has what all great singers have, which is a voice easily recognisable and the ability to put a stamp on a song and make it his own. Like
Jussi Björling
Jussi Björling
Johan Jonatan "Jussi" Björling was a Swedish tenor. One of the leading operatic singers of the 20th Century, Björling appeared frequently at the Royal Opera House in London, La Scala in Milan, and the Metropolitan Opera in New York City as well as at other major European opera...
, he sings in an apparently effortless way. There are examples on YouTube which clearly show how easy and marvelous his voice production was.
In addition to his opera skills he is considered by many to be the greatest exponent of Neapolitan singing, he has a sound which is so definitively Italian and he sings convincingly in all Italian dialects. The double CD from EMI called
O Sole Mio
ranks as one of the best collections of this style of music, his version of
Mamma
still stands the test of time and no one sings
Santa Lucia
like he does with all the power of a true opera tenor coupled to a rapier-like sweet falsetto. Unlike many opera stars today who sing
can belto
not
bel canto
, Gigli had the power of a truly great tenor coupled to a melting falsetto and tingling pianissimo. His emotional renditions complete with sobs which caused the critics so much concern were loved by the masses. Like
Plácido Domingo
Plácido Domingo
Plácido Domingo KBE , born José Plácido Domingo Embil, is a Spanish tenor and conductor known for his versatile and strong voice, possessing a ringing and dramatic tone throughout its range...
,
Roberto Alagna
Roberto Alagna
Roberto Alagna is a French-Italian tenor. He was born in Clichy-sous-Bois, Seine-Saint-Denis, France.-Early years:Alagna was born outside of the city of Paris in 1963 to a family of Sicilian immigrants . As a teenager, the young Alagna began busking and singing pop in Parisian cabarets for tips...
, and
Juan Diego Flórez
Juan Diego Flórez
Juan Diego Flórez is a Peruvian operatic tenor, particularly known for his roles in bel canto operas. On June 4, 2007, he received his country's highest decoration, the Gran Cruz de la Orden del Sol del Perú....
do now, he could sell a song and he knew the way an audience liked it.
Described as foxy by his accompanist his recordings reflect this in some of the unusual songs in his repertoire. He also was prone to including unusual twists and endings to the standards. For example he sings Chopin and English songs and his version of
In the depths of the temple
from
Les pêcheurs de perles
Les pêcheurs de perles
Les pêcheurs de perles is an opera in three acts by the French composer Georges Bizet, to a libretto by Eugène Cormon and Michel Carré. It was first performed on 30 September 1863 at the Théâtre Lyrique in Paris, and was given 18 performances in its initial run...
by
Georges Bizet
Georges Bizet
Georges Bizet formally Alexandre César Léopold Bizet, was a French composer, mainly of operas. In a career cut short by his early death, he achieved few successes before his final work, Carmen, became one of the most popular and frequently performed works in the entire opera repertory.During a...
sung with
Giuseppe De Luca
Giuseppe de Luca
Giuseppe De Luca , was a famous Italian baritone who achieved his greatest triumphs at the New York Metropolitan Opera...
contains such a unique ending. At the end of his career his voice may have lost its power, but it retained its beauty till the end; listen to the
Dream
from
Manon
Manon
Manon is an opéra comique in five acts by Jules Massenet to a French libretto by Henri Meilhac and Philippe Gille, based on the 1731 novel L'histoire du chevalier des Grieux et de Manon Lescaut by the Abbé Prévost...
in the live recording of a concert he gave in
Rio
Rio de Janeiro
Rio de Janeiro , commonly referred to simply as Rio, is the capital city of the State of Rio de Janeiro, the second largest city of Brazil, and the third largest metropolitan area and agglomeration in South America, boasting approximately 6.3 million people within the city proper, making it the 6th...
just prior to his death.
External links