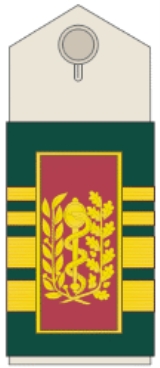 Belgian Medical Component
The
Medical Component
is the medical service of the
Belgian Armed Forces
Military of Belgium
The Belgian Army is the national military of Belgium. The Belgian Army was established after Belgium became independent in October 1830...
. It provides medical support for the Belgian Armed Forces and its operations, participates in
humanitarian aid
Humanitarian aid
Humanitarian aid is material or logistical assistance provided for humanitarian purposes, typically in response to humanitarian crises including natural disaster and man-made disaster. The primary objective of humanitarian aid is to save lives, alleviate suffering, and maintain human dignity...
and provides certain services to the civilian society. The current Commander of the Medical Component is
Brigade General
Brigade General
Brigade General is a rank used in many armies to denote the lowest rank of general, corresponding to command of a brigade. The rank is mostly used in countries where it is used as a modern alternative to a previous older rank of Brigadier or Brigadier General...
Danielle Levillez.
Organisation
The Medical Component consists of the following units:
Vehicles
Agusta A109 Medevac

Agusta A109

The AgustaWestland AW109 is a light-weight, twin-engine, eight-seat multi-purpose helicopter built by the Anglo-Italian manufacturer AgustaWestland...



John Deere

John Deere

John Deere was an American blacksmith and manufacturer who founded Deere & Company, one of the largest and leading agricultural and construction equipment manufacturers in the world...


M-Gator
M113 Ambulance

M113 Armored Personnel Carrier

The M113 is a fully tracked armored personnel carrier that has formed the backbone of the United States Army's mechanized infantry units from the time of its first fielding in Vietnam in April 1962. The M113 was the most widely used armored vehicle of the U.S...



MAN Shelter
Pandur 6X6 Ambulance

Pandur 6X6 APC

The Pandur is an APC developed and produced by the Austrian company Steyr-Daimler-Puch Spezialfahrzeuge . It was developed during the 1980s as a private venture, based in spanish BMR-600 design...



Renault

Renault

Renault S.A. is a French automaker producing cars, vans, and in the past, autorail vehicles, trucks, tractors, vans and also buses/coaches. Its alliance with Nissan makes it the world's third largest automaker...


Premium Cargo
Toyota Land Cruiser

Toyota Land Cruiser

The is a series of four-wheel drive vehicles produced by the Japanese car maker Toyota Motor Corporation. It is not related to the Studebaker Land Cruiser car produced in the US from 1934-1954....



Unimog Ambulance 4X4

Unimog

Unimog is a range of multi-purpose auto four wheel drive medium trucks produced by Mercedes-Benz, a division of Daimler AG. The name Unimog is pronounced in German and is an acronym for the German "UNIversal-MOtor-Gerät", Gerät being the German word for machine or device...



Volvo

Volvo

AB Volvo is a Swedish builder of commercial vehicles, including trucks, buses and construction equipment. Volvo also supplies marine and industrial drive systems, aerospace components and financial services...


10T
Volvo Recovery
Volkswagen

Volkswagen

Volkswagen is a German automobile manufacturer and is the original and biggest-selling marque of the Volkswagen Group, which now also owns the Audi, Bentley, Bugatti, Lamborghini, SEAT, and Škoda marques and the truck manufacturer Scania.Volkswagen means "people's car" in German, where it is...


Ambulance LT35
Refrigerator Plasma Volvo (Thermoking)
Jeep 4X4 Bombardier
Volvo 10T Cargo (6X4)
Ford Transit Ambulance

Ford Transit

The Ford Transit is a range of panel vans, minibuses, and pickup trucks, produced by the Ford Motor Company in Europe.The Transit has been the best-selling light commercial vehicle in Europe for 40 years, and in some countries the term "Transit" has passed into common usage as a generic term...



External links