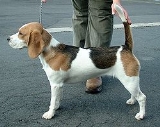 Beagle
The
Beagle
is a
breed
Dog breed
Dog breeds are groups of closely related and visibly similar domestic dogs, which are all of the subspecies Canis lupus familiaris, having characteristic traits that are selected and maintained by humans, bred from a known foundation stock....
of small to medium-sized
dog
Dog
The domestic dog is a domesticated form of the gray wolf, a member of the Canidae family of the order Carnivora. The term is used for both feral and pet varieties. The dog may have been the first animal to be domesticated, and has been the most widely kept working, hunting, and companion animal in...
. A member of the
Hound Group
Hound Group
Hound Group is the name of a breed group of dogs, used by kennel clubs to classify a defined collection of dog breeds, and does not necessarily include all hound-type dogs...
, it is similar in appearance to the
Foxhound
Foxhound
A foxhound is a type of large hunting hound. Foxhounds hunt in packs and, like all scent hounds, have a strong sense of smell. They are used in hunts for foxes, hence the name. When out hunting they are followed usually on horseback and will travel several miles to catch their target. These dogs...
, but smaller, with shorter legs and longer, softer ears. Beagles are
scent hound
Scent hound
Scent hounds are a type of hound that primarily hunts by scent rather than sight. The Scenthound breeds are generally regarded as having some of the most sensitive noses among canines....
s, developed primarily for
tracking
Tracking (hunting)
Tracking in hunting and ecology is the science and art of observing animal tracks and other signs, with the goal of gaining understanding of the landscape and the animal being tracked...
hare
Hare
Hares and jackrabbits are leporids belonging to the genus Lepus. Hares less than one year old are called leverets. Four species commonly known as types of hare are classified outside of Lepus: the hispid hare , and three species known as red rock hares .Hares are very fast-moving...
,
rabbit
Rabbit
Rabbits are small mammals in the family Leporidae of the order Lagomorpha, found in several parts of the world...
, and other
game
Game (food)
Game is any animal hunted for food or not normally domesticated. Game animals are also hunted for sport.The type and range of animals hunted for food varies in different parts of the world. This will be influenced by climate, animal diversity, local taste and locally accepted view about what can or...
. They have a keen sense of smell and tracking instinct that sees them employed as
detection dog
Detection dog
A detection dog or sniffer dog is a dog that is trained to and works at using its senses to detect substances such as explosives, illegal drugs, or blood. Hunting dogs that search for game and search dogs that search for missing humans are generally not considered detection dogs...
s for prohibited agricultural imports and foodstuffs in
quarantine
Quarantine
Quarantine is compulsory isolation, typically to contain the spread of something considered dangerous, often but not always disease. The word comes from the Italian quarantena, meaning forty-day period....
around the world. Beagles are intelligent, and are popular as pets because of their size, even temper, and lack of
inherited health problems
Dog health
The health of dogs is a well studied area in veterinary medicine.Infectious diseases that affect dogs are important not only from a veterinary standpoint, but also because of the risk to public health; an example of this is rabies. Genetic disorders also affect dogs, often due to selective breeding...
.