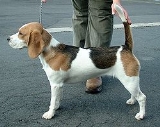 Beagle
noun
(1) A small short-legged smooth-coated breed of hound
Noun
A small short-legged smooth-coated hound, often used for hunting hares. Often tri-coloured, its friendly personality makes it a wonderful family pet.
A person who snoops on others; a detective.

2002, Susan Isaacs, Long Time No See, page 243

[…] whereas burying a body in the wooded area beyond the backyard was the quickest way to make a Nassau County Police Department beagle look good.