 Barclaycard
Barclaycard
, part of Barclays Retail and Business Banking, is a global payment business. The
Barclaycard
was the first credit card introduced in the UK, coming into service in 1966. It enjoyed a
monopoly
Monopoly
A monopoly exists when a specific person or enterprise is the only supplier of a particular commodity...
until the introduction of the
Access
Access (credit card)
Access was a credit card brand originally introduced in the United Kingdom in 1972 by a consortium of National Westminster Bank, Midland Bank , Lloyds Bank , and The Royal Bank of Scotland, as a rival to the established Barclaycard...
card in 1972.
Barclaycard later became part of the
Visa
VISA (credit card)
Visa Inc. is an American multinational financial services corporation headquartered on 595 Market Street, Financial District in San Francisco, California, United States, although much of the company's staff is based in Foster City, California. It facilitates electronic funds transfers throughout...
network. Nowadays, Barclays offers both
MasterCard
MasterCard
Mastercard Incorporated or MasterCard Worldwide is an American multinational financial services corporation with its headquarters in the MasterCard International Global Headquarters, Purchase, Harrison, New York, United States...
and Visa versions. Barclaycard claims it is
Europe
Europe
Europe is, by convention, one of the world's seven continents. Comprising the westernmost peninsula of Eurasia, Europe is generally 'divided' from Asia to its east by the watershed divides of the Ural and Caucasus Mountains, the Ural River, the Caspian and Black Seas, and the waterways connecting...
's leading issuer of credit cards with 10.4 million customers in the UK and 10.8 million outside the UK. Barclaycard's main offices are in
Northampton
Northampton
Northampton is a large market town and local government district in the East Midlands region of England. Situated about north-west of London and around south-east of Birmingham, Northampton lies on the River Nene and is the county town of Northamptonshire. The demonym of Northampton is...
, along with several floors at Barclays' corporate HQ,
One Churchill Place
One Churchill Place
One Churchill Place is a 156 m tall skyscraper with 32 floors, serving as the headquarters of Barclays Bank. It is in the Docklands area of London in Canary Wharf...
in
Canary Wharf
Canary Wharf
Canary Wharf is a major business district located in London, United Kingdom. It is one of London's two main financial centres, alongside the traditional City of London, and contains many of the UK's tallest buildings, including the second-tallest , One Canada Square...
,
London
London
London is the capital city of :England and the :United Kingdom, the largest metropolitan area in the United Kingdom, and the largest urban zone in the European Union by most measures. Located on the River Thames, London has been a major settlement for two millennia, its history going back to its...
.
Barclaycard UK
Barclaycard has 10.4 million customers in the UK, issuing one in five UK credit cards. It is currently the leading UK credit card issuer.
It is based at 1234 Pavilion Drive in Northampton in a specially designed building where it employs approximately 3000 people. It is one of the main employers in
Northampton
Northampton
Northampton is a large market town and local government district in the East Midlands region of England. Situated about north-west of London and around south-east of Birmingham, Northampton lies on the River Nene and is the county town of Northamptonshire. The demonym of Northampton is...
. Some of Barclaycard UK customer service representatives appear to be based in India (see http://www.finextra.com/news/fullstory.aspx?newsitemid=21848).
Barclays were the only major British clearing bank not to issue cheque guarantee cards, instead allowing its customers to guarantee
cheque
Cheque
A cheque is a document/instrument See the negotiable cow—itself a fictional story—for discussions of cheques written on unusual surfaces. that orders a payment of money from a bank account...
s with their Barclaycard (on the basis that if a customer was creditworthy for a Barclaycard they were also good for issuing cheques). This practice ended in 1985 with the introduction of relaxed lending rules and the introduction of the
debit card
Debit card
A debit card is a plastic card that provides the cardholder electronic access to his or her bank account/s at a financial institution...
Barclays Connect
.
Timeline of Barclaycard UK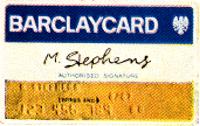 1966: Barclaycard, the UK's first credit card, is launched
1977: Barclaycard Business is introduced; Barclaycard becomes a founder member of the international Visa system
1982: Barclays Premier Card introduced
1986: Barclaycard launches first loyalty scheme
1990: Barclaycard MasterCard launched
1995: Barclaycard launches Barclaycard Gold and Barclaycard Sense cards; Barclaycard is the first credit card company to go onto the Internet with Barclaycard Netlink
1997: Barclaycard is the first UK credit company to allow bills to be paid over the Internet
1999: Barclaycard launches Platinum card
2001: Barclaycard announces three-year sponsorship of FA Premiership; Barclaycard sponsors the Young People's Trust for the Environment, designed to promote environmental education to UK school children
2007: Barclaycard launches 3 new products to its range of credit cards: Barclaycard OnePulse, Barclaycard Football, and Barclaycard Breathe
2008: Barclaycard purchases Goldfish, Discover Financial Services' UK credit card division, for $70 million, gaining 1.7 million customers and $3.9 billion in receivables
2010: Barclaycard launches Barclaycard Freedom, a loyalty programme, across the UK.
2010: Barclaycard announces a cut in rewards for its Goldfish credit card customers
2011: Barclaycard, in partnership with Orange, launches Contactless mobile payments - the first in Europe
The Barclaycard commercials
In the late 1980s and early 1990s,
Rowan Atkinson
Rowan Atkinson
Rowan Sebastian Atkinson is a British actor, comedian, and screenwriter. He is most famous for his work on the satirical sketch comedy show Not The Nine O'Clock News, and the sitcoms Blackadder, Mr. Bean and The Thin Blue Line...
starred in a series of Barclaycard adverts. The first advert involved Atkinson's character, spy Richard Latham, entering HQ to be told about his next mission. He is given a Barclaycard. The advert ends with Richard coming out of a sentry box with an oblivious sentry guard.
In the adverts following, Richard is accompanied by a protégé called Bough. Bough is the person who approves of Barclaycard and tells Richard of its benefits, much to Richard's disagreement. In the adverts, Richard burns the end of a rug, breaks a china tea pot for a wedding present (and disturbs the photo of the wedding), and, in one particularly well-known advert, confuses a head honcho from MI5 for a plumber at a crime scene. One ad gives Latham the immortal line: "Barclaycard? This man's in no state to go shopping!"
The other well-known thing about the advert is the theme tune. This advert was the basis for the film
Johnny English
Johnny English
Johnny English is a 2003 British action comedy film parodying the James Bond secret agent genre. The film stars Rowan Atkinson as the incompetent titular English spy, with John Malkovich, Natalie Imbruglia, Tim Pigott-Smith and Ben Miller in supporting roles...
, which also starred Rowan Atkinson (the name of his character was changed from Richard Latham to Johnny English).
In Autumn 2008 to promote
contactless payment
Contactless payment
Contactless payment systems are credit cards and debit cards, key fobs, smartcards or other devices which use RFID for making secure payments. The embedded chip and antenna enable consumers to wave their card or fob over a reader at the point of sale. Some suppliers claim that transactions can be...
technology and a change in branding, Barclaycard released a campaign featuring a fantasy
water slide
Water slide
A water slide is a type of slide designed for warm-weather or indoor recreational use at water parks. Water slides differ in their riding method and therefore size...
. Conceived by creative agency
Bartle Bogle Hegarty
Bartle Bogle Hegarty
Bartle Bogle Hegarty is a British advertising agency, responsible for some notable advertising campaigns of the last 30 years. The company was founded by John Bartle, Nigel Bogle & Sir John Hegarty in 1982. Sir John Hegarty and Nigel Bogle still lead it today, together with worldwide CEO Simon...
and shot in
São Paulo
São Paulo
São Paulo is the largest city in Brazil, the largest city in the southern hemisphere and South America, and the world's seventh largest city by population. The metropolis is anchor to the São Paulo metropolitan area, ranked as the second-most populous metropolitan area in the Americas and among...
, the TV advert feature a man (played by
Robert Wilfort
Robert Wilfort
Robert Wilfort is a British actor from Porthcawl, who has had many notable guest appearances on British television, including Rose and Maloney, "MI High" and Coronation Street...
) leaving work via a slide and passing various contactless payment sites on his way home. The TV advert was directed by Peter Thwaites and set to The Bellamy Brothers' "
Let Your Love Flow
Let Your Love Flow
"Let Your Love Flow" is the title of a pop song written by Larry E. Williams, a former roadie for Neil Diamond, and made popular by the American country music duo The Bellamy Brothers. It was offered to Neil Diamond first, but he turned it down...
", which, due to the resultant popularity, re-entered the
UK Singles Chart
UK Singles Chart
The UK Singles Chart is compiled by The Official Charts Company on behalf of the British record-industry. The full chart contains the top selling 200 singles in the United Kingdom based upon combined record sales and download numbers, though some media outlets only list the Top 40 or the Top 75 ...
and peaked at No. 21.
A second advert was released in January 2010, featuring a man travelling to work on a roller coaster. It is set to
Boston
Boston (band)
Boston is an American rock band from Boston, Massachusetts that achieved its most notable successes during the 1970s and 1980s. Centered on guitarist, keyboardist, songwriter, and producer Tom Scholz, the band is a staple of classic rock radio playlists...
's "
More Than a Feeling
More Than a Feeling
"More Than a Feeling" is a song by the rock band Boston, released as the lead single from their self-titled debut album on Epic Records in September 1976, with "Smokin'" on the flipside. The single peaked at number five on the Billboard Hot 100...
".
Barclaycard International
Barclaycard operates in over 60 countries and has 10.8 million customers outside the UK.
Timeline of Barclaycard International
1991: Barclaycard launches in Germany
1997: Barclaycard launches its Dollar Card
1998: Barclaycard launches in France
1999: Barclaycard launches in Spain and Greece
2001: Barclaycard launches in Botswana
2002: Barclaycard launches in Italy
2003: A collaborative credit card agreement with Standard Bank in South Africa is launched
2004: Barclaycard launches in Ireland, Portugal and Egypt; acquires U.S. credit card issuer Juniper Financial Corporation
2007: Irish portfolio is sold to Bank of Scotland (Ireland)
2007: Barclaycard launches in India and Dubai
Providian
In 2002 Barclaycard took over the
UK
United Kingdom
The United Kingdom of Great Britain and Northern IrelandIn the United Kingdom and Dependencies, other languages have been officially recognised as legitimate autochthonous languages under the European Charter for Regional or Minority Languages...
wing of the American Company
Providian
Providian
Providian Financial Corporation was one of the leading credit card issuers in the United States when it was sold to Washington Mutual for approximately US$6.5 billion in October 2005. Providian was headquartered in San Francisco, California, and had more than 10 million card holders at the time of...
National Bank, known as Monument, when it was sold off due to financial irregularities of its American parent company. Providian's former base in
Crawley
Crawley
Crawley is a town and local government district with Borough status in West Sussex, England. It is south of Charing Cross, north of Brighton and Hove, and northeast of the county town of Chichester, covers an area of and had a population of 99,744 at the time of the 2001 Census.The area has...
(West Sussex) was fully part of the Barclaycard group, mainly catering for the very lower end of the credit card market. This targeting of the less affluent has created a lot of controversy as invariably the people targeted have existing financial problems. Barclaycard sold the Monument business and premises to Compucredit in 2007.
Egg
In March 2011, Barclays announced that it would be buying the British credit card business arm of Egg from Citigroup for an undisclosed price. At the time of the announcement, Barclays claimed that the credit card assets consisted of 1.15 million accounts with approximately £2.3bn of gross receivables . They intend to integrate those customers within their own credit card arm. At the time of the announcement, Citi said it was "committed to working with Barclays on a seamless transfer of the customer accounts, ensuring continuation of the high level of service to which customers are accustomed" . The deal was expected to be completed within the first half of 2011.
Contactless
Barclays and Barclaycard have been providing contactless debit and credit cards since 2007 and, since May 2011, contactless mobile phones , as well as the terminals that accept contactless payments. Barclays and Barclaycard have issued over 11.4 million contactless-enabled cards.
Barclays and Barclaycard provide contactless terminals for around 50,000 outlets in the UK, including:
Wembley Arena
Slug and Lettuce
Prêt A Manger
Subway
Little Chef
EAT.
The Co-operative
Wilkinson
M6 Toll
Starbucks
Mobile payments
On 20th May 2011, Barclaycard and Orange launched 'Quick Tap' - the UK's first contactless mobile phone payments service, allowing customers to make contactless purchases on the high street with their mobile phone for the first time.
The launch means that, in addition to using contactless cards or chip and PIN, consumers can tap their mobile phone on a contactless reader at tills in over 50,000 stores to make purchases £15 and under.
The service is available to Orange customers who use a 'Quick Tap' enabled handset. Barclaycard and Orange launched with a 'Quick Tap' enabled version of the Samsung Tocco Lite.
Other elements of Barclaycard
In addition to Barclaycard UK and Barclaycard International, there is also Barclaycard Payment Acceptance (Merchant Acquiring) and Barclaycard Commercial (Corporate Issuing and Partnership Issuing). Until November 2008, Barclaycard Payment Acceptance was known as Barclaycard Business, previous to which it was known as Barclaycard Merchant Services (BMS). As a Merchant Acquirer, it enjoys around 38% of the UK Acquiring Business and offers a number of channels including internet payments (ePDQ) and small merchant bank-owned terminals (PDQ Terminals) normally provided by
Ingenico
Ingenico
Ingenico S.A. is a worldwide company, whose business is to provide the technology involved in secure electronic transactions. Its traditional business is based around the manufacture of point of sale payment terminals, but it now also includes complete payment solutions and related services.It...
(formally Fortronic).
It teamed up with London's Transport for London to combine a credit card with an Oyster card—called
OnePulse
OnePulse
OnePulse is the name of a credit card that is issued by Barclaycard that combines the functionality of Transport for London's Oyster card with a Visa contactless enabled credit card...
—which was launched in the autumn of 2007.
Previous sponsorship
Barclaycard replaced
Carling
Carling
Carling brands are currently owned by the Molson Coors Brewing Company. In South Africa it is distributed by SABMiller.Carling Black Label is the name of a brand of Canadian lager in Australia, Canada, Ireland, the United Kingdom and South Africa...
as sponsors of
England's
England
England is a country that is part of the United Kingdom. It shares land borders with Scotland to the north and Wales to the west; the Irish Sea is to the north west, the Celtic Sea to the south west, with the North Sea to the east and the English Channel to the south separating it from continental...
Premier League in 2001, an association which lasted three years before
Barclays
Barclays plc
Barclays PLC is a global banking and financial services company headquartered in London, United Kingdom. As of 2010 it was the world's 10th-largest banking and financial services group and 21st-largest company according to a composite measure by Forbes magazine...
took over.
External links