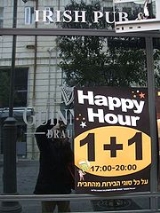 Happy hour
Happy hour
is a
marketing
Marketing
Marketing is the process used to determine what products or services may be of interest to customers, and the strategy to use in sales, communications and business development. It generates the strategy that underlies sales techniques, business communication, and business developments...
term for a period of time in which a restaurant or bar offers discounts on alcoholic drinks, such as beer, wine, and cocktails.
Typically, it is in the late afternoon Monday through Thursday, usually taking place at some period between 4 PM and 8 PM. Many bars also have a late night happy hour for afternoon shift workers from 10 PM-1 AM. This promotion is intended to boost business on what may otherwise be a slow day.