 Ballistic missile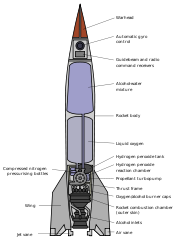 A
ballistic missile
is a
missile
Missile
Though a missile may be any thrown or launched object, it colloquially almost always refers to a self-propelled guided weapon system.-Etymology:The word missile comes from the Latin verb mittere, meaning "to send"...
that follows a sub-orbital
ballistic
Ballistics
Ballistics is the science of mechanics that deals with the flight, behavior, and effects of projectiles, especially bullets, gravity bombs, rockets, or the like; the science or art of designing and accelerating projectiles so as to achieve a desired performance.A ballistic body is a body which is...
flightpath with the objective of delivering one or more
warhead
Warhead
The term warhead refers to the explosive material and detonator that is delivered by a missile, rocket, or torpedo.- Etymology :During the early development of naval torpedoes, they could be equipped with an inert payload that was intended for use during training, test firing and exercises. This...
s to a predetermined target. The missile is only guided during the relatively brief initial powered phase of flight and its course is subsequently governed by the laws of orbital mechanics and ballistics. To date, ballistic missiles have been propelled during powered flight by chemical
rocket
Rocket
A rocket is a missile, spacecraft, aircraft or other vehicle which obtains thrust from a rocket engine. In all rockets, the exhaust is formed entirely from propellants carried within the rocket before use. Rocket engines work by action and reaction...
engines of various types.
History
The first ballistic missile was the A-4, commonly known as the
V-2 rocket
V-2 rocket
The V-2 rocket , technical name Aggregat-4 , was a ballistic missile that was developed at the beginning of the Second World War in Germany, specifically targeted at London and later Antwerp. The liquid-propellant rocket was the world's first long-range combat-ballistic missile and first known...
, developed by
Nazi Germany
Nazi Germany
Nazi Germany , also known as the Third Reich , but officially called German Reich from 1933 to 1943 and Greater German Reich from 26 June 1943 onward, is the name commonly used to refer to the state of Germany from 1933 to 1945, when it was a totalitarian dictatorship ruled by...
in the 1930s and 1940s under direction of
Wernher von Braun
Wernher von Braun
Wernher Magnus Maximilian, Freiherr von Braun was a German rocket scientist, aerospace engineer, space architect, and one of the leading figures in the development of rocket technology in Nazi Germany during World War II and in the United States after that.A former member of the Nazi party,...
. The first successful launch of a V-2 was on October 3, 1942 and began operation on September 6, 1944 against
Paris
Paris
Paris is the capital and largest city in France, situated on the river Seine, in northern France, at the heart of the Île-de-France region...
, followed by an attack on London two days later. By the end of World War II, May 1945, over 3,000 V-2s had been launched.
A total of 30 nations have deployed operational ballistic missiles. Development continues, with around 100 ballistic missile flight tests (not including those of the US) in 2007, mostly by China, Iran and the Russian Federation. In 2010 the US and Russian governments signed a treaty to reduce their inventory of intercontinental ballistic missiles (ICBMs) over a seven year period (to 2017) to 1550 units each.
Flight
A ballistic missile trajectory consists of three parts: the powered flight portion, the free-flight portion which constitutes most of the flight time, and the re-entry phase where the missile re-enters the Earth's atmosphere.
Ballistic missiles can be launched from fixed sites or mobile launchers, including vehicles (
transporter erector launchers, TELs
Transporter erector launcher
A transporter erector launcher is a vehicle with an integrated prime mover that can carry, elevate to firing position and launch one or more missiles. Such vehicles exist for both surface-to-air missiles and surface-to-surface missiles...
),
aircraft
Aircraft
An aircraft is a vehicle that is able to fly by gaining support from the air, or, in general, the atmosphere of a planet. An aircraft counters the force of gravity by using either static lift or by using the dynamic lift of an airfoil, or in a few cases the downward thrust from jet engines.Although...
,
ships
Navy
A navy is the branch of a nation's armed forces principally designated for naval and amphibious warfare; namely, lake- or ocean-borne combat operations and related functions...
and submarines. The powered flight portion can last from a few tens of seconds to several minutes and can consist of multiple
rocket
Rocket
A rocket is a missile, spacecraft, aircraft or other vehicle which obtains thrust from a rocket engine. In all rockets, the exhaust is formed entirely from propellants carried within the rocket before use. Rocket engines work by action and reaction...
stages.
When in space and no more
thrust
Thrust
Thrust is a reaction force described quantitatively by Newton's second and third laws. When a system expels or accelerates mass in one direction the accelerated mass will cause a force of equal magnitude but opposite direction on that system....
is provided, the missile enters free-flight. In order to cover large distances, ballistic missiles are usually launched into a high
sub-orbital spaceflight
Sub-orbital spaceflight
A sub-orbital space flight is a spaceflight in which the spacecraft reaches space, but its trajectory intersects the atmosphere or surface of the gravitating body from which it was launched, so that it does not complete one orbital revolution....
; for intercontinental missiles the highest altitude (apogee) reached during free-flight is about 1200 km.
The re-entry stage begins at an altitude where atmospheric
drag
Drag (physics)
In fluid dynamics, drag refers to forces which act on a solid object in the direction of the relative fluid flow velocity...
plays a significant part in missile
trajectory
Trajectory
A trajectory is the path that a moving object follows through space as a function of time. The object might be a projectile or a satellite, for example. It thus includes the meaning of orbit—the path of a planet, an asteroid or a comet as it travels around a central mass...
, and lasts until missile
impact
Impact force
In mechanics, an impact is a high force or shock applied over a short time period when two or more bodies collide. Such a force or acceleration usually has a greater effect than a lower force applied over a proportionally longer time period of time...
.
Missile types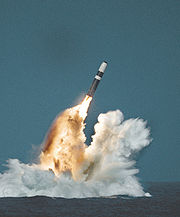 Ballistic missiles can vary widely in range and use, and are often divided into categories based on range. Various schemes are used by different countries to categorize the ranges of ballistic missiles:
Short- and medium-range missiles are often collectively referred to as
theater or tactical ballistic missiles
Tactical ballistic missile
A tactical ballistic missile is a ballistic missile designed for short-range battlefield use. Typically, range is less than . Tactical ballistic missiles are usually mobile to ensure survivability and quick deployment, as well as carrying a variety of warheads to target enemy facilities, assembly...
(TBMs). Long and medium-range ballistic missiles are generally designed to deliver
nuclear weapon
Nuclear weapon
A nuclear weapon is an explosive device that derives its destructive force from nuclear reactions, either fission or a combination of fission and fusion. Both reactions release vast quantities of energy from relatively small amounts of matter. The first fission bomb test released the same amount...
s because their payload is too limited for conventional explosives to be cost-effective (though the U.S. may be evaluating the idea of a conventionally-armed ICBM for near-instant global air strike capability despite the high costs).
The flight phases are like those for ICBMs, except with no exoatmospheric phase for missiles with ranges less than about 350 km.
Quasi ballistic missiles
A quasi ballistic missile (also called a semi ballistic missile) is a category of missile that has a low trajectory and/or is largely ballistic but can perform maneuvers in flight or make unexpected changes in direction and range.
At a lower trajectory than a ballistic missile, a quasi ballistic missile can maintain higher speed, thus allowing its target less time to react to the attack, at the cost of reduced range.
The Russian Iskander is a quasi ballistic missile.The Russian Iskander-M cruises at hypersonic speed of 2,100–2,600 m/s (Mach 6 - 7) at a height of 50 km. The Iskander-M weighs 4,615 kg carries a warhead of 710 – 800 kg, has a range of 480 km and achieves a
CEP
Circular error probable
In the military science of ballistics, circular error probable is an intuitive measure of a weapon system's precision...
of 5 – 7 meters. During flight it can maneuver at different altitudes and trajectories to evade anti-ballistic missiles.
China has recently developed the first and only
anti-ship ballistic missile
Anti-ship ballistic missile
An anti-ship ballistic missile is a military quasiballistic missile system currently in developement, of medium or intermediate range, designed to hit a warship at sea...
in the world, that combines a
maneuverable reentry vehicle
Maneuverable reentry vehicle
The maneuverable reentry vehicle is a type of ballistic missile warhead capable of shifting targets in flight...
(MaRV) with a terminal guidance system, allowing them to adjust the flight path as they near their target, and are thought to be in use by the
People's Liberation Army
People's Liberation Army
The People's Liberation Army is the unified military organization of all land, sea, strategic missile and air forces of the People's Republic of China. The PLA was established on August 1, 1927 — celebrated annually as "PLA Day" — as the military arm of the Communist Party of China...
as of late 2010.
Comparable systems
Hadès

Hadès (missile)

The Hadès system was a short-range ballistic pre-strategic nuclear weapon system designed by France, as a last warning before use of strategic nuclear weapons, in the perspective of a Soviet invasion of Western Europe...



Iskander
MGM-140B/E ATACMS
Oka

R-400 Oka

The OTR-23 Oka was a mobile theatre ballistic missile deployed by the Soviet Union near the end of the Cold War to replace the obsolete SS-1C 'Scud B'. It carried the GRAU index 9K714 and was assigned the NATO reporting name SS-23 Spider...



Shaurya

Shaurya missile

The Shaurya missile is a canister launched Hypersonic surface-to-surface tactical missile developed by the Indian Defence Research and Development Organization for use by the Indian Armed Forces. It has a range of between 750 to 1900 km and is capable of carrying a payload of one ton...



Tochka
See also
Cruise missile

Cruise missile

A cruise missile is a guided missile that carries an explosive payload and is propelled, usually by a jet engine, towards a land-based or sea-based target. Cruise missiles are designed to deliver a large warhead over long distances with high accuracy...



Surface-to-surface missile

Surface-to-surface missile

A surface-to-surface missile is a guided projectile launched from a hand-held, vehicle mounted, trailer mounted or fixed installation or from a ship. They are often powered by a rocket motor or sometimes fired by an explosive charge, since the launching platform is typically stationary or moving...



Quasiballistic missile
Anti-ballistic missile

Anti-ballistic missile

An anti-ballistic missile is a missile designed to counter ballistic missiles .A ballistic missile is used to deliver nuclear, chemical, biological or conventional warheads in a ballistic flight trajectory. The term "anti-ballistic missile" describes any antimissile system designed to counter...



Anti-ballistic missile treaty

Anti-Ballistic Missile Treaty

The Anti-Ballistic Missile Treaty was a treaty between the United States and the Soviet Union on the limitation of the anti-ballistic missile systems used in defending areas against missile-delivered nuclear weapons....



Ballistic missile submarine

Ballistic missile submarine

A ballistic missile submarine is a submarine equipped to launch ballistic missiles .-Description:Ballistic missile submarines are larger than any other type of submarine, in order to accommodate SLBMs such as the Russian R-29 or the American Trident...



Atmospheric reentry

Atmospheric reentry

Atmospheric entry is the movement of human-made or natural objects as they enter the atmosphere of a celestial body from outer space—in the case of Earth from an altitude above the Kármán Line,...



Weapons of mass destruction

Weapons of mass destruction

A weapon of mass destruction is a weapon that can kill and bring significant harm to a large number of humans and/or cause great damage to man-made structures , natural structures , or the biosphere in general...



Comparison of lift launch systems

Comparison of lift launch systems

For comparisons of lift launch systems, see:*Comparison of orbital launch systems** Comparison of small lift launch systems** Comparison of medium lift launch systems** Comparison of mid-heavy lift launch systems** Comparison of heavy lift launch systems...



List of missiles by nation
List of artillery#Rockets
Model rocket

Model rocket

A model rocket is a small rocket that is commonly advertised as being able to be launched by anybody, to, in general, low altitudes and recovered by a variety of means....



Intercontinental ballistic missile

Intercontinental ballistic missile

An intercontinental ballistic missile is a ballistic missile with a long range typically designed for nuclear weapons delivery...



Expendable launch system

Expendable launch system

An expendable launch system is a launch system that uses an expendable launch vehicle to carry a payload into space. The vehicles used in expendable launch systems are designed to be used only once , and their components are not recovered for re-use after launch...



NATO reporting name

NATO reporting name

NATO reporting names are classified code names for military equipment of the Eastern Bloc...


(has lists of various Soviet missiles)
Further reading
Bate, Mueller, White (1971).
Fundamentals of Astrodynamics
. Dover Publications, New York. ISBN 0-486-60061-0
External links