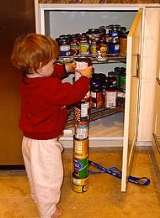 Autism
Autism
is a disorder of neural development characterized by impaired
social interaction
Interpersonal relationship
An interpersonal relationship is an association between two or more people that may range from fleeting to enduring. This association may be based on limerence, love, solidarity, regular business interactions, or some other type of social commitment. Interpersonal relationships are formed in the...
and
communication
Communication
Communication is the activity of conveying meaningful information. Communication requires a sender, a message, and an intended recipient, although the receiver need not be present or aware of the sender's intent to communicate at the time of communication; thus communication can occur across vast...
, and by restricted and repetitive behavior. These signs all begin before a child is three years old. Autism affects information processing in the
brain
Human brain
The human brain has the same general structure as the brains of other mammals, but is over three times larger than the brain of a typical mammal with an equivalent body size. Estimates for the number of neurons in the human brain range from 80 to 120 billion...
by altering how nerve cells and their
synapse
Synapse
In the nervous system, a synapse is a structure that permits a neuron to pass an electrical or chemical signal to another cell...
s connect and organize; how this occurs is not well understood. It is one of three recognized disorders in the
autism spectrum
Autism spectrum
The term "autism spectrum" is often used to describe disorders that are currently classified as pervasive developmental disorders. Pervasive developmental disorders include autism, Asperger syndrome, Childhood disintegrative disorder, Rett syndrome and Pervasive Developmental Disorder Not Otherwise...
(ASDs), the other two being
Asperger syndrome
Asperger syndrome
Asperger's syndrome that is characterized by significant difficulties in social interaction, alongside restricted and repetitive patterns of behavior and interests. It differs from other autism spectrum disorders by its relative preservation of linguistic and cognitive development...
, which lacks delays in cognitive development and language, and Pervasive Developmental Disorder-Not Otherwise Specified (commonly abbreviated as PDD-NOS), which is diagnosed when the full set of criteria for autism or Asperger syndrome are not met.
Autism has a strong genetic basis, although the
genetics of autism
Heritability of autism
The heritability of autism is the proportion of autism that can be explained by genetic variation; if the heritability of a condition is high, then the condition is considered to be primarily genetic...
are complex and it is unclear whether ASD is explained more by rare
mutation
Mutation
In molecular biology and genetics, mutations are changes in a genomic sequence: the DNA sequence of a cell's genome or the DNA or RNA sequence of a virus. They can be defined as sudden and spontaneous changes in the cell. Mutations are caused by radiation, viruses, transposons and mutagenic...
s, or by rare combinations of common genetic variants.