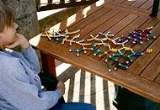 Asperger syndrome
Asperger's syndrome
Asperger's syndrome
(icon, ˈ or icon, also known as
Asperger syndrome
or
Asperger disorder
, is an
autism spectrum
Autism spectrum
The term "autism spectrum" is often used to describe disorders that are currently classified as pervasive developmental disorders. Pervasive developmental disorders include autism, Asperger syndrome, Childhood disintegrative disorder, Rett syndrome and Pervasive Developmental Disorder Not Otherwise...
disorder (ASD) that is characterized by significant difficulties in social interaction, alongside restricted and repetitive patterns of behavior and interests. It differs from other autism spectrum disorders by its relative preservation of
linguistic
Language development
Language development is a process starting early in human life, when a person begins to acquire language by learning it as it is spoken and by mimicry. Children's language development moves from simple to complex. Infants start without language. Yet by four months of age, babies can read lips and...
and
cognitive development
Cognitive development
Cognitive development is a field of study in neuroscience and psychology focusing on a child's development in terms of information processing, conceptual resources, perceptual skill, language learning, and other aspects of brain development and cognitive psychology compared to an adult's point of...
.