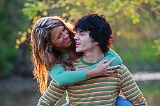 Interpersonal relationship
An
interpersonal relationship
is an association between two or more people that may range from fleeting to enduring. This association may be based on
limerence
Limerence
Limerence is a term coined c. 1977 by the psychologist Dorothy Tennov to describe an involuntary state of mind which seems to result from a romantic attraction to another person combined with an overwhelming, obsessive need to have one's feelings reciprocated...
,
love
Love
Love is an emotion of strong affection and personal attachment. In philosophical context, love is a virtue representing all of human kindness, compassion, and affection. Love is central to many religions, as in the Christian phrase, "God is love" or Agape in the Canonical gospels...
,
solidarity
Solidarity
Solidarity is a Polish trade union federation that emerged on August 31, 1980 at the Gdańsk Shipyard under the leadership of Lech Wałęsa. It was the first non-communist party-controlled trade union in a Warsaw Pact country. Solidarity reached 9.5 million members before its September 1981 congress...
, regular business interactions, or some other type of social commitment. Interpersonal relationships are formed in the context of social, cultural and other influences. The context can vary from
family
Family
In human context, a family is a group of people affiliated by consanguinity, affinity, or co-residence. In most societies it is the principal institution for the socialization of children...
or
kinship
Kinship
Kinship is a relationship between any entities that share a genealogical origin, through either biological, cultural, or historical descent. And descent groups, lineages, etc. are treated in their own subsections....
relations,
friendship
Friendship
Friendship is a form of interpersonal relationship generally considered to be closer than association, although there is a range of degrees of intimacy in both friendships and associations. Friendship and association are often thought of as spanning across the same continuum...
,
marriage
Marriage
Marriage is a social union or legal contract between people that creates kinship. It is an institution in which interpersonal relationships, usually intimate and sexual, are acknowledged in a variety of ways, depending on the culture or subculture in which it is found...
, relations with associates,
work
Employment
Employment is a contract between two parties, one being the employer and the other being the employee. An employee may be defined as:- Employee :...
,
club
Club
A club is an association of two or more people united by a common interest or goal. A service club, for example, exists for voluntary or charitable activities; there are clubs devoted to hobbies and sports, social activities clubs, political and religious clubs, and so forth.- History...
s, neighborhoods, and places of worship.