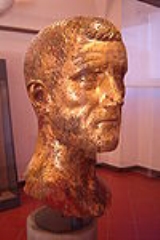 Aurelian
Aurelian
was
Roman Emperor
Roman Emperor
The Roman emperor was the ruler of the Roman State during the imperial period . The Romans had no single term for the office although at any given time, a given title was associated with the emperor...
from 270 to 275. During his reign, he defeated the
Alamanni
Alamanni
The Alamanni, Allemanni, or Alemanni were originally an alliance of Germanic tribes located around the upper Rhine river . One of the earliest references to them is the cognomen Alamannicus assumed by Roman Emperor Caracalla, who ruled the Roman Empire from 211 to 217 and claimed thereby to be...
after a devastating war. He also defeated the
Goths
Goths
The Goths were an East Germanic tribe of Scandinavian origin whose two branches, the Visigoths and the Ostrogoths, played an important role in the fall of the Roman Empire and the emergence of Medieval Europe....
,
Vandals
Vandals
The Vandals were an East Germanic tribe that entered the late Roman Empire during the 5th century. The Vandals under king Genseric entered Africa in 429 and by 439 established a kingdom which included the Roman Africa province, besides the islands of Sicily, Corsica, Sardinia and the Balearics....
,
Juthungi
Juthungi
The Juthungi were a Germanic tribe in the region north of the rivers Danube and Altmühl in the modern German state of Bavaria....
,
Sarmatians
Sarmatians
The Iron Age Sarmatians were an Iranian people in Classical Antiquity, flourishing from about the 5th century BC to the 4th century AD....
, and Carpi. Aurelian restored the Empire's eastern provinces after his conquest of the
Palmyrene Empire
Palmyrene Empire
The Palmyrene Empire was a splinter empire, that broke off of the Roman Empire during the Crisis of the Third Century. It encompassed the Roman provinces of Syria Palaestina, Egypt and large parts of Asia Minor....
in 273. The following year he conquered the
Gallic Empire
Gallic Empire
The Gallic Empire is the modern name for a breakaway realm that existed from 260 to 274. It originated during the Roman Empire's Crisis of the Third Century....
in the west, reuniting the Empire in its entirety. He was also responsible for the construction of the
Aurelian Walls
Aurelian Walls
The Aurelian Walls is a line of city walls built between 271 and 275 in Rome, Italy, during the reign of the Roman Emperors Aurelian and Probus....
in
Rome
Rome
Rome is the capital of Italy and the country's largest and most populated city and comune, with over 2.7 million residents in . The city is located in the central-western portion of the Italian Peninsula, on the Tiber River within the Lazio region of Italy.Rome's history spans two and a half...
, and the abandonment of the province of
Dacia
Roman Dacia
The Roman province of Dacia on the Balkans included the modern Romanian regions of Transylvania, Banat and Oltenia, and temporarily Muntenia and southern Moldova, but not the nearby regions of Moesia...
.