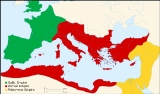 Gallic Empire
The
Gallic Empire
is the modern name for a breakaway realm that existed from 260 to 274. It originated during the
Roman Empire
Roman Empire
The Roman Empire was the post-Republican period of the ancient Roman civilization, characterised by an autocratic form of government and large territorial holdings in Europe and around the Mediterranean....
's
Crisis of the Third Century
Crisis of the Third Century
The Crisis of the Third Century was a period in which the Roman Empire nearly collapsed under the combined pressures of invasion, civil war, plague, and economic depression...
.
It was founded by
Postumus
Postumus
Marcus Cassianius Latinius Postumus was a Roman emperor of Batavian origin. He usurped power from Gallienus in 260 and formed the so-called Gallic Empire...
in 260 in the wake of
barbarian
Barbarian
Barbarian and savage are terms used to refer to a person who is perceived to be uncivilized. The word is often used either in a general reference to a member of a nation or ethnos, typically a tribal society as seen by an urban civilization either viewed as inferior, or admired as a noble savage...
invasions and instability in
Rome
Rome
Rome is the capital of Italy and the country's largest and most populated city and comune, with over 2.7 million residents in . The city is located in the central-western portion of the Italian Peninsula, on the Tiber River within the Lazio region of Italy.Rome's history spans two and a half...
, and at its height included the territories of
Germania
Germania
Germania was the Greek and Roman geographical term for the geographical regions inhabited by mainly by peoples considered to be Germani. It was most often used to refer especially to the east of the Rhine and north of the Danube...
,
Gaul
Roman Gaul
Roman Gaul consisted of an area of provincial rule in the Roman Empire, in modern day France, Belgium, Luxembourg, and western Germany. Roman control of the area lasted for less than 500 years....
,
Britannia
Roman Britain
Roman Britain was the part of the island of Great Britain controlled by the Roman Empire from AD 43 until ca. AD 410.The Romans referred to the imperial province as Britannia, which eventually comprised all of the island of Great Britain south of the fluid frontier with Caledonia...
, and
Hispania
Hispania
Another theory holds that the name derives from Ezpanna, the Basque word for "border" or "edge", thus meaning the farthest area or place. Isidore of Sevilla considered Hispania derived from Hispalis....
. After Postumus' assassination in 268 it lost much of its territory, but continued under a number of emperors and usurpers.