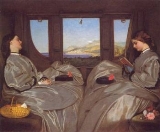 Augustus Egg
Augustus Leopold Egg
2 May 1816 in
London
London
London is the capital city of :England and the :United Kingdom, the largest metropolitan area in the United Kingdom, and the largest urban zone in the European Union by most measures. Located on the River Thames, London has been a major settlement for two millennia, its history going back to its...
,
England
England
England is a country that is part of the United Kingdom. It shares land borders with Scotland to the north and Wales to the west; the Irish Sea is to the north west, the Celtic Sea to the south west, with the North Sea to the east and the English Channel to the south separating it from continental...
– 26 March 1863) was a Victorian artist best known for his modern
triptych
Triptych
A triptych , from tri-= "three" + ptysso= "to fold") is a work of art which is divided into three sections, or three carved panels which are hinged together and can be folded shut or displayed open. It is therefore a type of polyptych, the term for all multi-panel works...
Past and Present
(1858), which depicts the breakup of a middle-class Victorian family.
Biography
Augustus Egg was born 2 May 1816 to Joseph and Ann Egg, and baptised in
St James's Church, Piccadilly
St James's Church, Piccadilly
St James's Church, Piccadilly is an Anglican church on Piccadilly in the centre of London, UK. It was designed and built by Sir Christopher Wren....
, London on 30 May 1816. He had an elder brother, George Hine Egg.
He was the son of Joseph Egg, a wealthy gunsmith from the
distinguished gun making family
Durs Egg
Durs Egg was a Swiss-born British gunmaker, noted for his flintlock pistols and for his company's production of the Ferguson rifle.Egg was apprenticed in Solothurn and Paris before establishing his own business in London in 1772...
, who immigrated to London from Huningue, Alsace. Egg was educated in the schools of the
Royal Academy
Royal Academy
The Royal Academy of Arts is an art institution based in Burlington House on Piccadilly, London. The Royal Academy of Arts has a unique position in being an independent, privately funded institution led by eminent artists and architects whose purpose is to promote the creation, enjoyment and...
, beginning in 1836. Egg was a member of
The Clique
The Clique
The Clique was a group of English artists formed by Richard Dadd in the late 1830s. Other members were Augustus Egg, Alfred Elmore, William Powell Frith, Henry Nelson O'Neil, John Phillip and Edward Matthew Ward....
, a group of artists founded by
Richard Dadd
Richard Dadd
Richard Dadd was an English painter of the Victorian era, noted for his depictions of fairies and other supernatural subjects, Orientalist scenes, and enigmatic genre scenes, rendered with obsessively minuscule detail...
and others in the late 1830s (c. 1837). Egg sought to combine popularity with moral and social activism, in line with the literary work of his friend
Charles Dickens
Charles Dickens
Charles John Huffam Dickens was an English novelist, generally considered the greatest of the Victorian period. Dickens enjoyed a wider popularity and fame than had any previous author during his lifetime, and he remains popular, having been responsible for some of English literature's most iconic...
. With Dickens he set up the "Guild of Literature and Art", a philanthropic organisation intended to provide welfare payments to struggling artists and writers. He acted the lead role in a play written by Edward Bulwer-Lytton to raise funds for the organisation. His self-portrait in the role is in
Hospitalfield House
Hospitalfield House
Hospitalfield House is an arts centre and historic house in Arbroath, Angus, Scotland regarded as "one of the finest country houses in Scotland". It is believed to be "Scotland's first school of fine art" and the first art college in Britain...
in
Arbroath
Arbroath
Arbroath or Aberbrothock is a former royal burgh and the largest town in the council area of Angus in Scotland, and has a population of 22,785...
.
Egg's early paintings were generally illustrations of literary subjects. Like other members of The Clique, he saw himself as a follower of
Hogarth
William Hogarth
William Hogarth was an English painter, printmaker, pictorial satirist, social critic and editorial cartoonist who has been credited with pioneering western sequential art. His work ranged from realistic portraiture to comic strip-like series of pictures called "modern moral subjects"...
. His interest in Hogarthian moral themes is evidenced in his paired paintings
The Life and Death of Buckingham
, depicting the dissolute life and sordid death of the
Restoration
English Restoration
The Restoration of the English monarchy began in 1660 when the English, Scottish and Irish monarchies were all restored under Charles II after the Interregnum that followed the Wars of the Three Kingdoms...
rake. Yet his paintings often took a humorous look at their subjects, as in his
Queen Elizabeth Discovers she is no longer Young
(1848).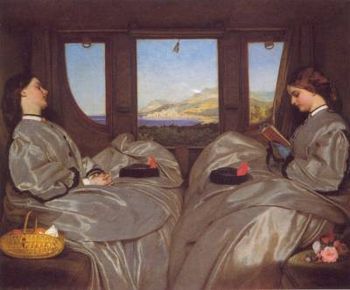 Unlike most other members of The Clique, Egg also admired the Pre-Raphaelites; he bought work from the young
William Holman Hunt
William Holman Hunt
William Holman Hunt OM was an English painter, and one of the founders of the Pre-Raphaelite Brotherhood.-Biography:...
and shared ideas on
color theory
Color theory
In the visual arts, color theory is a body of practical guidance to color mixing and the visual impacts of specific color combinations. Although color theory principles first appeared in the writings of Leone Battista Alberti and the notebooks of Leonardo da Vinci , a tradition of "colory theory"...
with him. His own triptych, known as
Past and Present
, was influenced by Hunt's work. The triptych depicted three separate scenes, one portraying a prosperous middle-class family and the other two depicting poor and isolated figures — two young girls in a bedsit and a homeless woman with a baby. The viewer was expected to read a series of visual clues that linked together these three scenes, to reveal that the prosperous family in the central scene is in the process of disintegrating because of the mother's adultery. The two outer scenes depict the separated mother and children a few years later, now living in poverty. The painting's use of flashback — the central scene is occurring in the past — has been seen as a precursor of cinema.
Egg was also an active organiser of exhibitions, being admired by fellow-artists for his dedication and fair mindedness. He was one of the organisers of the Manchester Art Treasures Exhibition in 1857. He was elected to the Royal Academy in 1860.
Always in poor health, Egg spent his later years in the warmer climate of continental Europe, where he painted
Travelling Companions
, an ambiguous image of two near-identical young women that has sometimes been interpreted as an attempt to represent two sides of the same person. A member of the circle of friends that included Dickens and
Wilkie Collins
Wilkie Collins
William Wilkie Collins was an English novelist, playwright, and author of short stories. He was very popular during the Victorian era and wrote 30 novels, more than 60 short stories, 14 plays, and over 100 non-fiction pieces...
, Egg features in their surviving correspondence. He participated, as actor and costume designer, in their amateur theatricals, which were often conducted for charitable purposes as noted above. In January 1857 he took a part in Collins's play
The Frozen Deep
The Frozen Deep
The Frozen Deep was a play, originally staged as an amateur theatrical, written by Wilkie Collins along with the substantial guidance of Charles Dickens in 1856...
, which starred Dickens and was performed at his home,
Tavistock House
Tavistock House
Tavistock House was the London home of the noted British author Charles Dickens and his family from 1851 to 1860. At Tavistock House Dickens wrote Bleak House, Hard Times, Little Dorrit and A Tale of Two Cities. He also put on amateur theatricals there which are described in John Forster's Life of...
(Egg played John Want, the ship's cook.) The production was also acted before Queen Victoria and then performed for charity. Dickens described Egg as a "dear gentle little fellow," "always sweet-tempered, humorous, conscientious, thoroughly good, and thoroughly beloved."
He died in
Algiers
Algiers
' is the capital and largest city of Algeria. According to the 1998 census, the population of the city proper was 1,519,570 and that of the urban agglomeration was 2,135,630. In 2009, the population was about 3,500,000...
,
Algeria
Algeria
Algeria , officially the People's Democratic Republic of Algeria , also formally referred to as the Democratic and Popular Republic of Algeria, is a country in the Maghreb region of Northwest Africa with Algiers as its capital.In terms of land area, it is the largest country in Africa and the Arab...
in 1863.
External links