 Atlanta Symphony Orchestra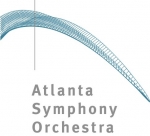 The
Atlanta Symphony Orchestra
(
ASO
) is an
American
United States
The United States of America is a federal constitutional republic comprising fifty states and a federal district...
orchestra
Orchestra
An orchestra is a sizable instrumental ensemble that contains sections of string, brass, woodwind, and percussion instruments. The term orchestra derives from the Greek ορχήστρα, the name for the area in front of an ancient Greek stage reserved for the Greek chorus...
based in Atlanta,
Georgia
Georgia (U.S. state)
Georgia is a state located in the southeastern United States. It was established in 1732, the last of the original Thirteen Colonies. The state is named after King George II of Great Britain. Georgia was the fourth state to ratify the United States Constitution, on January 2, 1788...
, USA.
Robert Spano
Robert Spano
Robert Spano is an American conductor and pianist. Since 2001 he has been Music Director of the Atlanta Symphony Orchestra , and he served as Music Director of the Brooklyn Philharmonic from 1996 to 2004...
has been its music director since 2001. Though earlier organizations bearing the same name date back as far as 1923, the Orchestra was officially founded in 1945 and played its first concert as the Atlanta Youth Symphony under the direction of Henry Sopkin, a
Chicago
Chicago
Chicago is the largest city in the US state of Illinois. With nearly 2.7 million residents, it is the most populous city in the Midwestern United States and the third most populous in the US, after New York City and Los Angeles...
music educator who remained its conductor until 1966. The organization changed to its current name in 1947 and soon began attracting well known soloists such as
Isaac Stern
Isaac Stern
Isaac Stern was a Ukrainian-born violinist. He was renowned for his recordings and for discovering new musical talent.-Biography:Isaac Stern was born into a Jewish family in Kremenets, Ukraine. He was fourteen months old when his family moved to San Francisco...
and
Glenn Gould
Glenn Gould
Glenn Herbert Gould was a Canadian pianist who became one of the best-known and most celebrated classical pianists of the 20th century. He was particularly renowned as an interpreter of the keyboard music of Johann Sebastian Bach...
. In 1967, with the departure of Sopkin,
Robert Shaw
Robert Shaw (conductor)
Robert Shaw was an American conductor most famous for his work with his namesake Chorale, with the Cleveland Orchestra and Chorus, and the Atlanta Symphony Orchestra and Chorus. Shaw received 14 Grammy awards, four ASCAP awards for service to contemporary music, the first Guggenheim Fellowship...
(founder of the
Robert Shaw Chorale
Robert Shaw Chorale
The Robert Shaw Chorale was a professional chorus founded in New York City in 1948 by Robert Shaw, a Californian who had been drafted out of college a decade earlier by Fred Waring to conduct his Glee Club in radio broadcasts...
) became the Music Director, and a year later the Orchestra became full-time. In 1970, Shaw founded a
choir
Choir
A choir, chorale or chorus is a musical ensemble of singers. Choral music, in turn, is the music written specifically for such an ensemble to perform.A body of singers who perform together as a group is called a choir or chorus...
, the Atlanta Symphony Orchestra Chorus. In 1988,
Yoel Levi
Yoel Levi
Yoel Levi is a musician and conductor. Born in Romania, he grew up in Israel. He studied at the Tel Aviv Academy of Music, earning a Master of Arts degree with distinction. He also studied at the Jerusalem Academy of Music under Mendi Rodan. Levi won the 1978 International Besançon Competition...
became Music Director and Principal Conductor. Under him, the Orchestra played at the opening and closing ceremonies of the
Centennial 1996 Summer Olympics
1996 Summer Olympics
The 1996 Summer Olympics of Atlanta, officially known as the Games of the XXVI Olympiad and unofficially known as the Centennial Olympics, was an international multi-sport event which was celebrated in 1996 in Atlanta, Georgia, United States....
in Atlanta. Levi became Music Director
Emeritus
Emeritus
Emeritus is a post-positive adjective that is used to designate a retired professor, bishop, or other professional or as a title. The female equivalent emerita is also sometimes used.-History:...
in 2000, and was succeeded as Music Director by Robert Spano.
The Orchestra and Chorus made their first recording, a 2-LP Christmas album entitled
Nativity
, for Turnabout/
Vox Records
Vox Records
VOX Records is a budget classical record label. The name is Latin for "voice."-History:Vox was founded in 1945, starting out with 78-rpm discs, specializing in licensed pressings of classical recordings made in Europe. It was one of the last major recording companies to adopt stereo recording,...
in 1975, conducted by Robert Shaw. This was an album directly based on their annual Christmas concert. A slightly shortened version of the 75-minute album was issued by Vox in the 1990s on compact disc er the title
Christmas with Robert Shaw
.
In 1978, the ASO became the first American orchestra to make a
digital recording
Digital recording
In digital recording, digital audio and digital video is directly recorded to a storage device as a stream of discrete numbers, representing the changes in air pressure for audio and chroma and luminance values for video through time, thus making an abstract template for the original sound or...
intended for commercial release, when it played
Igor Stravinsky
Igor Stravinsky
Igor Fyodorovich Stravinsky ; 6 April 1971) was a Russian, later naturalized French, and then naturalized American composer, pianist, and conductor....
's
Firebird
The Firebird
The Firebird is a 1910 ballet created by the composer Igor Stravinsky and choreographer Michel Fokine. The ballet is based on Russian folk tales of the magical glowing bird of the same name that is both a blessing and a curse to its captor....
suite and excerpts from
Alexander Borodin
Alexander Borodin
Alexander Porfiryevich Borodin was a Russian Romantic composer and chemist of Georgian–Russian parentage. He was a member of the group of composers called The Five , who were dedicated to producing a specifically Russian kind of art music...
's
opera
Opera
Opera is an art form in which singers and musicians perform a dramatic work combining text and musical score, usually in a theatrical setting. Opera incorporates many of the elements of spoken theatre, such as acting, scenery, and costumes and sometimes includes dance...
,
Prince Igor
Prince Igor
Prince Igor is an opera in four acts with a prologue. It was composed by Alexander Borodin. The composer adapted the libretto from the East Slavic epic The Lay of Igor's Host, which recounts the campaign of Russian prince Igor Svyatoslavich against the invading Polovtsian tribes in 1185...
for the Telarc label. The Telarc association, which resulted in 26 Grammy awards, continued until 2010, one of the longest continuous associations of an orchestra with a record label. In 2011 the Orchestra began releasing recordings on its own ASO Media label. In 2004, the Orchestra began a project to record for the
Deutsche Grammophon
Deutsche Grammophon
Deutsche Grammophon is a German classical record label which was the foundation of the future corporation to be known as PolyGram. It is now part of Universal Music Group since its acquisition and absorption of PolyGram in 1999, and it is also UMG's oldest active label...
label several works by composer
Osvaldo Golijov
Osvaldo Golijov
Osvaldo Noé Golijov is a Grammy award–winning composer of classical music.-Biography:Osvaldo Golijov was born in and grew up in La Plata, Argentina, in a Jewish family that had emigrated to Argentina in the 1920s from Romania and Russia.Golijov has developed a rich musical language, the result of...
.
One of the Orchestra and Chorus's best-known recordings, of Beethoven's Ninth Symphony conducted by Robert Shaw, was recorded for the now defunct Pro Arte label, and is out of print, though excerpts from the "Ode to Joy" fourth movement may be found in anthologies issued on the Reference Gold and Classical Heritage labels.
Another of the Symphony's recordings now out-of-print because it was recorded for the Pro Arte label is that of
Brahms
Johannes Brahms
Johannes Brahms was a German composer and pianist, and one of the leading musicians of the Romantic period. Born in Hamburg, Brahms spent much of his professional life in Vienna, Austria, where he was a leader of the musical scene...
's
Piano Concerto No. 1
Piano Concerto No. 1 (Brahms)
The Piano Concerto No. 1 in D minor, Op. 15, is a work for piano and orchestra composed by Johannes Brahms in 1858. The composer gave the work's public debut in Hanover, Germany, the following year.-Form:...
, with
Peter Serkin
Peter Serkin
-Biography:He was born in New York City and is the son of pianist Rudolf Serkin, and grandson of the influential violinist Adolf Busch, whose daughter Irene had married Rudolf Serkin...
as soloist and Robert Shaw conducting. It is one of the few recordings without a chorus that the orchestra made with Shaw.
The Orchestra toured
Europe
Europe
Europe is, by convention, one of the world's seven continents. Comprising the westernmost peninsula of Eurasia, Europe is generally 'divided' from Asia to its east by the watershed divides of the Ural and Caucasus Mountains, the Ural River, the Caspian and Black Seas, and the waterways connecting...
under Yoel Levi in 1991; and with its Chorus, under Robert Shaw, in 1988. In 2006 the Orchestra and its Chamber Chorus, under Robert Spano, served as the resident ensemble for California's Ojai Festival. The full ASO Chorus has thrice visited Berlin, giving three performances on each occasion of
Benjamin Britten
Benjamin Britten
Edward Benjamin Britten, Baron Britten, OM CH was an English composer, conductor, and pianist. He showed talent from an early age, and first came to public attention with the a cappella choral work A Boy Was Born in 1934. With the premiere of his opera Peter Grimes in 1945, he leapt to...
's
War Requiem
War Requiem
The War Requiem, Op. 66 is a large-scale, non-liturgical setting of the Requiem Mass composed by Benjamin Britten mostly in 1961 and completed January 1962. Interspersed with the traditional Latin texts, in telling juxtaposition, are settings of Wilfred Owen poems...
(2003),
Hector Berlioz
Hector Berlioz
Hector Berlioz was a French Romantic composer, best known for his compositions Symphonie fantastique and Grande messe des morts . Berlioz made significant contributions to the modern orchestra with his Treatise on Instrumentation. He specified huge orchestral forces for some of his works; as a...
's
Grande Messe des Morts
Requiem (Berlioz)
The Grande Messe des morts, Op. 5 by Hector Berlioz was composed in 1837. The Grande Messe des Morts is one of Berlioz's best-known works, with a tremendous orchestration of woodwind and brass instruments, including four antiphonal offstage brass ensembles placed at the corners of the concert stage...
(2008), and
Johannes Brahms
Johannes Brahms
Johannes Brahms was a German composer and pianist, and one of the leading musicians of the Romantic period. Born in Hamburg, Brahms spent much of his professional life in Vienna, Austria, where he was a leader of the musical scene...
's
Ein Deutsches Requiem
Ein deutsches Requiem
A German Requiem, To Words of the Holy Scriptures, Op. 45 by Johannes Brahms, is a large-scale work for chorus, orchestra, and a soprano and a baritone soloist, composed between 1865 and 1868. It comprises seven movements, which together last 65 to 80 minutes, making this work Brahms's longest...
(2009) with the
Berlin Philharmonic Orchestra
Berlin Philharmonic Orchestra
The Berlin Philharmonic, German: , formerly Berliner Philharmonisches Orchester , is an orchestra based in Berlin, Germany. In 2006, a group of ten European media outlets voted the Berlin Philharmonic number three on a list of "top ten European Orchestras", after the Vienna Philharmonic and the...
under ASO Principal Guest Conductor
Donald Runnicles
Donald Runnicles
Donald Runnicles is a Scottish conductor who has worked extensively in other countries, particularly Germany and the USA....
.
In 2008 the ASO opened its new 12,000-seat
Verizon Wireless Amphitheatre at Encore Park
Verizon Wireless Amphitheatre at Encore Park
The Verizon Wireless Amphitheatre at Encore Park is an amphitheatre located in the northern Atlanta suburb of Alpharetta. The amphitheatre is meant to hold a variety of entertainment...
in north Fulton County in the town of Alpharetta, some 22 miles north of Atlanta, where it presents concerts of its own as well as those by various pops groups. Encore Park and the Amphitheatre are owned by the Woodruff Arts Center, the ASO's parent organization. Including Encore Park and its activities at Atlanta Symphony Hall and Chastain Park, the ASO expects to present more than 300 performances annually. With a budget expected to increase to US $50 million with the completion of its new Amphitheatre, the ASO has become one of the six or seven largest orchestras in America, by budget size. The ASO's budget includes not only the costs of production, along with musician and staff salaries and benefits, but also the Orchestra's very significant expenditures on education, community outreach, special events and fundraising.
The ASO's main concert venue is
Atlanta Symphony Hall
Atlanta Symphony Hall
Atlanta Symphony Hall is the home venue of the Atlanta Symphony Orchestra. It is located within the Woodruff Arts Center at 1280 Peachtree Street in Atlanta, Georgia....
in the
Woodruff Arts Center
Woodruff Arts Center
Woodruff Arts Center is a major visual and performing arts center located in Atlanta. The center houses four arts divisions in one campus and not-for-profit organization...
. Since 2005 the Orchestra has been actively planning for the construction of a new principal concert hall. In addition to the Verizon Amphitheatre the Orchestra plays an extensive outdoor summer pops concert series at Atlanta's city-owned
Chastain Park
Chastain Park
Chastain Memorial Park, most commonly called Chastain Park, is the largest city park in Atlanta, Georgia. It is a park located near the northern edge of the city...
and at other parks in the area.
Music directors
Robert Spano

Robert Spano

Robert Spano is an American conductor and pianist. Since 2001 he has been Music Director of the Atlanta Symphony Orchestra , and he served as Music Director of the Brooklyn Philharmonic from 1996 to 2004...


(Music Director, 2001- )
Yoel Levi

Yoel Levi

Yoel Levi is a musician and conductor. Born in Romania, he grew up in Israel. He studied at the Tel Aviv Academy of Music, earning a Master of Arts degree with distinction. He also studied at the Jerusalem Academy of Music under Mendi Rodan. Levi won the 1978 International Besançon Competition...


(Music Director, 1988–2000; Music Director Emeritus, 2000–2005)
Robert Shaw

Robert Shaw (conductor)

Robert Shaw was an American conductor most famous for his work with his namesake Chorale, with the Cleveland Orchestra and Chorus, and the Atlanta Symphony Orchestra and Chorus. Shaw received 14 Grammy awards, four ASCAP awards for service to contemporary music, the first Guggenheim Fellowship...


(Music Director and Conductor, 1967–1988; Music Director Emeritus and Conductor Laureate, 1988–1999)
Henry Sopkin (Conductor, 1945–1966)
External links
Atlanta Symphony Orchestra's Facebook Page
http://www.facebook.com/pages/Atlanta-Symphony-Orchestra/18280394014
Atlanta Symphony Orchestra's Twitter Page
http://twitter.com/atlantasymphony