 Artes Mechanicae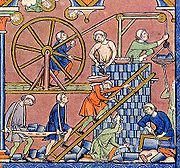 "Mechanical arts": a medieval concept of ordered practices or skills, often juxtaposed to the traditional seven liberal arts Artes liberales. Also called "servile" and considered "vulgar", from antiquity they had been deemed unbecoming for a free man, as ministering to baser needs.
Already
Johannes Scotus Eriugena
Johannes Scotus Eriugena
Johannes Scotus Eriugena was an Irish theologian, Neoplatonist philosopher, and poet. He is known for having translated and made commentaries upon the work of Pseudo-Dionysius.-Name:...
(9th century) divides them somewhat arbitrarily into seven parts:
In his "Didascalicon",
Hugh of St Victor
Hugh of St Victor
Hugh of Saint Victor was born perhaps in France, or more probably in Saxony. His origins and early life are rather obscure. He studied and taught at the Augustinian Abbey of Saint Victor in Paris after which he is named. His writings include works of theology, mysticism, philosophy and the arts...
includes
navigation
Navigation
Navigation is the process of monitoring and controlling the movement of a craft or vehicle from one place to another. It is also the term of art used for the specialized knowledge used by navigators to perform navigation tasks...
,
medicine
Medicine
Medicine is the science and art of healing. It encompasses a variety of health care practices evolved to maintain and restore health by the prevention and treatment of illness....
and
theatrical arts
Theatre
Theatre is a collaborative form of fine art that uses live performers to present the experience of a real or imagined event before a live audience in a specific place. The performers may communicate this experience to the audience through combinations of gesture, speech, song, music or dance...
instead of commerce, agriculture and cooking. Hugh's treatment somewhat elevates the mechanical arts as ordained to the improvement of humanity, a promotion which was to represent a growing trend among late medievals.
The classification of the Artes Mechanicae as applied
geometry
Geometry
Geometry arose as the field of knowledge dealing with spatial relationships. Geometry was one of the two fields of pre-modern mathematics, the other being the study of numbers ....
was introduced to Western Europe by
Dominicus Gundissalinus
Dominicus Gundissalinus
Dominicus Gundissalinus also known as Domingo Gundisalvo may have been a converted Jew and was the archdeacon of Segovia, Spain and a scholastic philosopher...
under the influence of his readings in Arabic scholarship.