 Applied art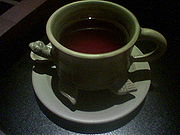 Applied art
is the application of
design
Design
Design as a noun informally refers to a plan or convention for the construction of an object or a system while "to design" refers to making this plan...
and
aesthetics
Aesthetics
Aesthetics is a branch of philosophy dealing with the nature of beauty, art, and taste, and with the creation and appreciation of beauty. It is more scientifically defined as the study of sensory or sensori-emotional values, sometimes called judgments of sentiment and taste...
to objects of function and everyday use. Whereas
fine art

Fine art

Fine art or the fine arts encompass art forms developed primarily for aesthetics and/or concept rather than practical application. Art is often a synonym for fine art, as employed in the term "art gallery"....


s
serve as intellectual stimulation to the viewer or
academic
sensibilities, the applied arts incorporate design and creative ideals to objects of utility, such as a cup, magazine or decorative park bench. There is considerable overlap between the field and that of the decorative arts; to some extent they are alternative terms.
The fields of
industrial design
Industrial design
Industrial design is the use of a combination of applied art and applied science to improve the aesthetics, ergonomics, and usability of a product, but it may also be used to improve the product's marketability and production...
,
graphic design
Graphic design
Graphic design is a creative process – most often involving a client and a designer and usually completed in conjunction with producers of form – undertaken in order to convey a specific message to a targeted audience...
,
fashion design
Fashion design
Fashion design is the art of the application of design and aesthetics or natural beauty to clothing and accessories. Fashion design is influenced by cultural and social latitudes, and has varied over time and place. Fashion designers work in a number of ways in designing clothing and accessories....
,
interior design
Interior design
Interior design describes a group of various yet related projects that involve turning an interior space into an effective setting for the range of human activities are to take place there. An interior designer is someone who conducts such projects...
, decorative art and
functional
Form follows function
Form follows function is a principle associated with modern architecture and industrial design in the 20th century. The principle is that the shape of a building or object should be primarily based upon its intended function or purpose....
art are considered applied arts. In a creative and/or abstract context, the fields of
architecture
Architecture
Architecture is both the process and product of planning, designing and construction. Architectural works, in the material form of buildings, are often perceived as cultural and political symbols and as works of art...
and
photography
Photography
Photography is the art, science and practice of creating durable images by recording light or other electromagnetic radiation, either electronically by means of an image sensor or chemically by means of a light-sensitive material such as photographic film...
are considered applied arts. Many applied art objects are
collected
Collecting
The hobby of collecting includes seeking, locating, acquiring, organizing, cataloging, displaying, storing, and maintaining whatever items are of interest to the individual collector. Some collectors are generalists, accumulating merchandise, or stamps from all countries of the world...
, for instance ceramics,
textile
Textile
A textile or cloth is a flexible woven material consisting of a network of natural or artificial fibres often referred to as thread or yarn. Yarn is produced by spinning raw fibres of wool, flax, cotton, or other material to produce long strands...
s, jewelry,
glass
Glass
Glass is an amorphous solid material. Glasses are typically brittle and optically transparent.The most familiar type of glass, used for centuries in windows and drinking vessels, is soda-lime glass, composed of about 75% silica plus Na2O, CaO, and several minor additives...
,
furniture
Furniture
Furniture is the mass noun for the movable objects intended to support various human activities such as seating and sleeping in beds, to hold objects at a convenient height for work using horizontal surfaces above the ground, or to store things...
, children's toys, cars, electric guitars, as well as various forms of images produced in commercial contexts, such as film posters or old advertisements.
See also
Faux Painting

Faux painting

Faux painting or faux finishing are terms used to describe a wide range of decorative painting techniques. The naming comes from the French word faux, meaning false, as these techniques started as a form of replicating materials such as marble and wood with paint, but has subsequently come to...



Museum of Applied Arts, Belgrade, Serbia
The Arts

The arts

The arts are a vast subdivision of culture, composed of many creative endeavors and disciplines. It is a broader term than "art", which as a description of a field usually means only the visual arts. The arts encompass visual arts, literary arts and the performing arts – music, theatre, dance and...



Sign painting

Sign painting

Sign painting is the act of taking a specific kind of brush, and with various kinds of paint, and applying it to a 2 or 3 dimensional surfaces creating letters, forms and/or symbols....