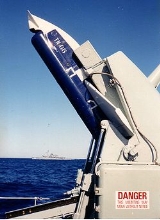 Anti-submarine missile
An
anti-submarine missile
is a standoff weapon including a
rocket
Rocket
A rocket is a missile, spacecraft, aircraft or other vehicle which obtains thrust from a rocket engine. In all rockets, the exhaust is formed entirely from propellants carried within the rocket before use. Rocket engines work by action and reaction...
designed to rapidly deliver an
explosive
Explosive material
An explosive material, also called an explosive, is a reactive substance that contains a great amount of potential energy that can produce an explosion if released suddenly, usually accompanied by the production of light, heat, sound, and pressure...
warhead
Warhead
The term warhead refers to the explosive material and detonator that is delivered by a missile, rocket, or torpedo.- Etymology :During the early development of naval torpedoes, they could be equipped with an inert payload that was intended for use during training, test firing and exercises. This...
or homing
torpedo
Torpedo
The modern torpedo is a self-propelled missile weapon with an explosive warhead, launched above or below the water surface, propelled underwater towards a target, and designed to detonate either on contact with it or in proximity to it.The term torpedo was originally employed for...
from the launch platform to the vicinity of a
submarine
Submarine
A submarine is a watercraft capable of independent operation below the surface of the water. It differs from a submersible, which has more limited underwater capability...
.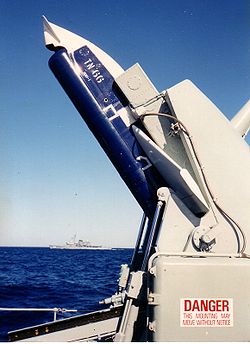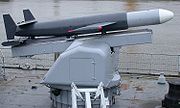 History
Depth charge
Depth charge
A depth charge is an anti-submarine warfare weapon intended to destroy or cripple a target submarine by the shock of exploding near it. Most use explosives and a fuze set to go off at a preselected depth in the ocean. Depth charges can be dropped by either surface ships, patrol aircraft, or from...
s were the earliest weapons designed for use by ships against submerged submarines. These explosives were initially dropped as the ship moved over the presumed location of a submarine; but shipboard
SONAR
Sonar
Sonar is a technique that uses sound propagation to navigate, communicate with or detect other vessels...
was unable to maintain contact with the submarine at close range. Various
mortar
Mortar (weapon)
A mortar is an indirect fire weapon that fires explosive projectiles known as bombs at low velocities, short ranges, and high-arcing ballistic trajectories. It is typically muzzle-loading and has a barrel length less than 15 times its caliber....
-type projectors (including
hedgehog
Hedgehog (weapon)
The Hedgehog was an anti-submarine weapon developed by the Royal Navy during World War II, that was deployed on convoy escort warships such as destroyers to supplement the depth charge. The weapon worked by firing a number of small spigot mortar bombs from spiked fittings...
and
squid
Squid (weapon)
Squid was a British World War II ship-mounted anti-submarine weapon. It consisted of a three-barrelled mortar which launched depth charges. It replaced the Hedgehog system, and was in turn replaced by the Limbo system....
) were devised during
World War II
World War II
World War II, or the Second World War , was a global conflict lasting from 1939 to 1945, involving most of the world's nations—including all of the great powers—eventually forming two opposing military alliances: the Allies and the Axis...
to allow a ship to maintain SONAR contact while lobbing explosive charges toward the submarine. During the
cold war
Cold War
The Cold War was the continuing state from roughly 1946 to 1991 of political conflict, military tension, proxy wars, and economic competition between the Communist World—primarily the Soviet Union and its satellite states and allies—and the powers of the Western world, primarily the United States...
, rockets were developed to provide greater range with reduced recoil. Some rockets carry homing torpedoes to provide terminal guidance for the warhead.
Examples
American

ASROC

ASROC

ASROC is an all-weather, all sea-conditions anti-submarine missile system. Developed by the United States Navy in the 1950s, it was deployed in the 1960s, updated in the 1990s, and eventually installed on over 200 USN surface ships, specifically cruisers, destroyers, and frigates...



Subroc

Chinese

People's Republic of China

China , officially the People's Republic of China , is the most populous country in the world, with over 1.3 billion citizens. Located in East Asia, the country covers approximately 9.6 million square kilometres...




CY Series

CY-1

The CY-1 is a Chinese anti-submarine rocket carried on a variety of surface platforms, including the Luda class missile destroyers and Jiangwei class missile frigates...




Anglo-

United Kingdom

The United Kingdom of Great Britain and Northern IrelandIn the United Kingdom and Dependencies, other languages have been officially recognised as legitimate autochthonous languages under the European Charter for Regional or Minority Languages...


Australia

Australia

Australia , officially the Commonwealth of Australia, is a country in the Southern Hemisphere comprising the mainland of the Australian continent, the island of Tasmania, and numerous smaller islands in the Indian and Pacific Oceans. It is the world's sixth-largest country by total area...


n

Ikara

Ikara (missile)

The Ikara missile was an Australian ship-launched anti-submarine missile, named after an Australian Aboriginal word for "throwing stick". It launched an acoustic torpedo to a range of , allowing fast-reaction attacks against submarines at ranges that would otherwise require the launching ship to...




Soviet

Soviet Union

The Soviet Union , officially the Union of Soviet Socialist Republics , was a constitutionally socialist state that existed in Eurasia between 1922 and 1991....


/ Russia

Russia

Russia or , officially known as both Russia and the Russian Federation , is a country in northern Eurasia. It is a federal semi-presidential republic, comprising 83 federal subjects...


n

SS-N-14

SS-N-14

Metel Anti-Ship Complex is a Russian family of anti-submarine missiles and warheads. There are different anti-submarine variants for cruisers and frigates, and a later version with a shaped charge that can be used against shipping as well as submarines.The missile carries an underslung...



SS-N-16

SS-N-16

SS-N-16 Stallion refers to a Soviet 650 mm anti-ship missile that was deployed between 1979 and 1981. The name is a combination of the American designation of SS-N-16 and the NATO term of Stallion for Soviet RU-100s.It refers to either...




France

France

The French Republic , The French Republic , The French Republic , (commonly known as France , is a unitary semi-presidential republic in Western Europe with several overseas territories and islands located on other continents and in the Indian, Pacific, and Atlantic oceans. Metropolitan France...




Malafon

Malafon

Malafon was a French ship-launched anti-submarine missile system. Developed in the 1950s and 60s, the weapon was intended to take advantage of the greater detection ranges possible with towed sonar arrays. The missile entered service in 1966 and was manufactured by Groupe LatécoèreThe weapon is...




Italy

Italy

Italy , officially the Italian Republic languages]] under the European Charter for Regional or Minority Languages. In each of these, Italy's official name is as follows:;;;;;;;;), is a unitary parliamentary republic in South-Central Europe. To the north it borders France, Switzerland, Austria and...



Norway

Norway

Norway , officially the Kingdom of Norway, is a Nordic unitary constitutional monarchy whose territory comprises the western portion of the Scandinavian Peninsula, Jan Mayen, and the Arctic archipelago of Svalbard and Bouvet Island. Norway has a total area of and a population of about 4.9 million...




Terne ASW

Terne ASW

Terne is a Norwegian Anti-submarine weapon system, which uses rocket-thrown depth charges. It was developed by the in cooperation with the U.S. Navy in the late 1940s-early 1960s...




Japan

Japan

Japan is an island nation in East Asia. Located in the Pacific Ocean, it lies to the east of the Sea of Japan, China, North Korea, South Korea and Russia, stretching from the Sea of Okhotsk in the north to the East China Sea and Taiwan in the south...




Type 07 Vertical Launched ASROC

S.Korea

RoK

RoK is a three-letter acronym. It can refer to:* Republic of Korea * Realms of Kaos, a roleplaying game* EverQuest: The Ruins of Kunark, an Everquest expansion* EverQuest II: Rise of Kunark, an Everquest II expansion...




Hong Sang Eo (Red Shark)

Hong Sang Eo (Red Shark) torpedo

Hong Sang Eo torpedo , also called the K-ASROC, is a vertically launched anti-submarine missile successively developed and tested by South Korea's University of Science and Technology, the Korea Agency for Defense Development and the Republic of Korea Navy in 2009...




India

India

India , officially the Republic of India , is a country in South Asia. It is the seventh-largest country by geographical area, the second-most populous country with over 1.2 billion people, and the most populous democracy in the world...




Indigenous Anti-Submarine Missile