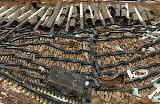 Explosive material
An
explosive material
, also called an
explosive
, is a reactive substance that contains a great amount of potential energy that can produce an
explosion
Explosion
An explosion is a rapid increase in volume and release of energy in an extreme manner, usually with the generation of high temperatures and the release of gases. An explosion creates a shock wave. If the shock wave is a supersonic detonation, then the source of the blast is called a "high explosive"...
if released suddenly, usually accompanied by the production of
light
Light
Light or visible light is electromagnetic radiation that is visible to the human eye, and is responsible for the sense of sight. Visible light has wavelength in a range from about 380 nanometres to about 740 nm, with a frequency range of about 405 THz to 790 THz...
,
heat
Heat
In physics and thermodynamics, heat is energy transferred from one body, region, or thermodynamic system to another due to thermal contact or thermal radiation when the systems are at different temperatures. It is often described as one of the fundamental processes of energy transfer between...
,
sound
Sound
Sound is a mechanical wave that is an oscillation of pressure transmitted through a solid, liquid, or gas, composed of frequencies within the range of hearing and of a level sufficiently strong to be heard, or the sensation stimulated in organs of hearing by such vibrations.-Propagation of...
, and
pressure
Pressure
Pressure is the force per unit area applied in a direction perpendicular to the surface of an object. Gauge pressure is the pressure relative to the local atmospheric or ambient pressure.- Definition :...
. An
explosive charge
is a measured quantity of explosive material.
This potential energy stored in an explosive material may be
chemical energy

Chemical energy

Chemical energy is the potential of a chemical substance to undergo a transformation through a chemical reaction or, to transform other chemical substances...


, such as nitroglycerine or grain dust
pressurized

Pressure

Pressure is the force per unit area applied in a direction perpendicular to the surface of an object. Gauge pressure is the pressure relative to the local atmospheric or ambient pressure.- Definition :...


compressed gas

Gas compressor

A gas compressor is a mechanical device that increases the pressure of a gas by reducing its volume.Compressors are similar to pumps: both increase the pressure on a fluid and both can transport the fluid through a pipe. As gases are compressible, the compressor also reduces the volume of a gas...


, such as a gas cylinder

Gas cylinder

A gas cylinder is a pressure vessel used to store gases at above atmospheric pressure. High pressure gas cylinders are also called bottles. Although they are sometimes colloquially called "tanks", this is technically incorrect, as a tank is a vessel used to store liquids at ambient pressure and...


or aerosol can
nuclear

Nuclear weapon

A nuclear weapon is an explosive device that derives its destructive force from nuclear reactions, either fission or a combination of fission and fusion. Both reactions release vast quantities of energy from relatively small amounts of matter. The first fission bomb test released the same amount...


, such as fissile

Fissile

In nuclear engineering, a fissile material is one that is capable of sustaining a chain reaction of nuclear fission. By definition, fissile materials can sustain a chain reaction with neutrons of any energy. The predominant neutron energy may be typified by either slow neutrons or fast neutrons...


isotope

Isotope

Isotopes are variants of atoms of a particular chemical element, which have differing numbers of neutrons. Atoms of a particular element by definition must contain the same number of protons but may have a distinct number of neutrons which differs from atom to atom, without changing the designation...


s of uranium-235

Uranium-235

- References :* .* DOE Fundamentals handbook: Nuclear Physics and Reactor theory , .* A piece of U-235 the size of a grain of rice can produce energy equal to that contained in three tons of coal or fourteen barrels of oil. -External links:* * * one of the earliest articles on U-235 for the...


and plutonium-239

Plutonium-239

Plutonium-239 is an isotope of plutonium. Plutonium-239 is the primary fissile isotope used for the production of nuclear weapons, although uranium-235 has also been used and is currently the secondary isotope. Plutonium-239 is also one of the three main isotopes demonstrated usable as fuel in...



Explosive materials may be categorized by the speed at which they expand.