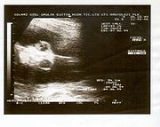 Anencephaly
Anencephaly is a
cephalic disorder
Cephalic disorder
Cephalic disorders are congenital conditions that stem from damage to, or abnormal development of, the budding nervous system...
that results from a neural tube defect that occurs when the cephalic (head) end of the
neural tube
Neural tube
In the developing vertebrate, the neural tube is the embryo's precursor to the central nervous system, which comprises the brain and spinal cord...
fails to close, usually between the 23rd and 26th day of
pregnancy
Pregnancy
Pregnancy refers to the fertilization and development of one or more offspring, known as a fetus or embryo, in a woman's uterus. In a pregnancy, there can be multiple gestations, as in the case of twins or triplets...
, resulting in the absence of a major portion of the brain, skull, and
scalp
Scalp
The scalp is the anatomical area bordered by the face anteriorly and the neck to the sides and posteriorly.-Layers:It is usually described as having five layers, which can conveniently be remembered as a mnemonic:...
. Strictly speaking, the translation of the Greek term to English is "no brain" (that is totally lacking), but it is accepted that
child
Child
Biologically, a child is generally a human between the stages of birth and puberty. Some vernacular definitions of a child include the fetus, as being an unborn child. The legal definition of "child" generally refers to a minor, otherwise known as a person younger than the age of majority...
ren with this disorder are born without a forebrain, the largest part of the brain consisting mainly of the cerebral hemispheres, including the
neocortex
Neocortex
The neocortex , also called the neopallium and isocortex , is a part of the brain of mammals. It is the outer layer of the cerebral hemispheres, and made up of six layers, labelled I to VI...
, which is responsible for higher-level
cognition
Cognition
In science, cognition refers to mental processes. These processes include attention, remembering, producing and understanding language, solving problems, and making decisions. Cognition is studied in various disciplines such as psychology, philosophy, linguistics, and computer science...
, i.e. thinking. The remaining brain tissue is often exposed — not covered by bone or skin. Most babies with this genetic disorder do not survive birth; whether they are technically born (if no brain is present) is an ethical and legal issue.
Signs and symptoms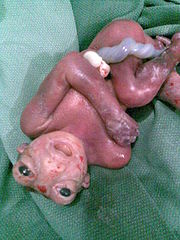 The National Institute of Neurological Disorders and Stroke (NINDS) describes the presentation of this condition as follows: "A baby born with anencephaly is usually
blind
Blindness
Blindness is the condition of lacking visual perception due to physiological or neurological factors.Various scales have been developed to describe the extent of vision loss and define blindness...
, deaf,
unconscious
Unconsciousness
Unconsciousness is the condition of being not conscious—in a mental state that involves complete or near-complete lack of responsiveness to people and other environmental stimuli. Being in a comatose state or coma is a type of unconsciousness. Fainting due to a drop in blood pressure and a...
, and unable to feel
pain
Pain
Pain is an unpleasant sensation often caused by intense or damaging stimuli such as stubbing a toe, burning a finger, putting iodine on a cut, and bumping the "funny bone."...
. Although some individuals with anencephaly may be born with a main brain stem, the lack of a functioning cerebrum permanently rules out the possibility of ever gaining
consciousness
Consciousness
Consciousness is a term that refers to the relationship between the mind and the world with which it interacts. It has been defined as: subjectivity, awareness, the ability to experience or to feel, wakefulness, having a sense of selfhood, and the executive control system of the mind...
.
Reflex
Reflex
A reflex action, also known as a reflex, is an involuntary and nearly instantaneous movement in response to a stimulus. A true reflex is a behavior which is mediated via the reflex arc; this does not apply to casual uses of the term 'reflex'.-See also:...
actions such as breathing and responses to sound or touch occur."
Causes
The cause of anencephaly is disputed. Generally, neural tube defects do not follow direct patterns of
heredity
Heredity
Heredity is the passing of traits to offspring . This is the process by which an offspring cell or organism acquires or becomes predisposed to the characteristics of its parent cell or organism. Through heredity, variations exhibited by individuals can accumulate and cause some species to evolve...
, though there is some indirect evidence of inheritance, and recent animal models indicate a possible association with deficiencies of the
transcription factor
Transcription factor
In molecular biology and genetics, a transcription factor is a protein that binds to specific DNA sequences, thereby controlling the flow of genetic information from DNA to mRNA...
TEAD2
TEAD2
Transcriptional enhancer factor TEF-4 also known as TEA domain family member 2 is a protein that in humans is encoded by the TEAD2 gene. TEAD-2 is a transcription factor.- Clinical significance :...
. Studies show that a woman who has had one child with a neural tube defect such as anencephaly has about a 3% risk of having another child with a neural tube defect.
It is known that women taking certain medications for
epilepsy
Epilepsy
Epilepsy is a common chronic neurological disorder characterized by seizures. These seizures are transient signs and/or symptoms of abnormal, excessive or hypersynchronous neuronal activity in the brain.About 50 million people worldwide have epilepsy, and nearly two out of every three new cases...
and women with insulin-dependent diabetes have a higher risk of having a child with a neural tube defect.
Genetic counseling
Genetic counseling
Genetic counseling or traveling is the process by which patients or relatives, at risk of an inherited disorder, are advised of the consequences and nature of the disorder, the probability of developing or transmitting it, and the options open to them in management and family planning...
is usually offered to women at a higher risk of having a child with a neural tube defect to discuss available testing.
Recent studies have shown that the addition of
folic acid
Folic acid
Folic acid and folate , as well as pteroyl-L-glutamic acid, pteroyl-L-glutamate, and pteroylmonoglutamic acid are forms of the water-soluble vitamin B9...
to the
diet
Diet (nutrition)
In nutrition, diet is the sum of food consumed by a person or other organism. Dietary habits are the habitual decisions an individual or culture makes when choosing what foods to eat. With the word diet, it is often implied the use of specific intake of nutrition for health or weight-management...
of women of child-bearing age may significantly reduce, although not eliminate, the incidence of neural tube defects. Therefore, it is recommended that all women of child-bearing age consume 0.4 mg of folic acid daily, especially those attempting to conceive or who may possibly conceive, as this can reduce the risk to 0.03%. It is not advisable to wait until pregnancy has begun, since by the time a woman knows she is pregnant, the critical time for the formation of a neural tube defect has usually already passed. A physician may prescribe even higher dosages of folic acid(4 mg/day) for women who have had a previous pregnancy with a neural tube defect.
Anencephaly and other physical and mental deformities have also been blamed on a high exposure to such toxins as
lead
Lead
Lead is a main-group element in the carbon group with the symbol Pb and atomic number 82. Lead is a soft, malleable poor metal. It is also counted as one of the heavy metals. Metallic lead has a bluish-white color after being freshly cut, but it soon tarnishes to a dull grayish color when exposed...
,
chromium
Chromium
Chromium is a chemical element which has the symbol Cr and atomic number 24. It is the first element in Group 6. It is a steely-gray, lustrous, hard metal that takes a high polish and has a high melting point. It is also odorless, tasteless, and malleable...
,
mercury
Mercury (element)
Mercury is a chemical element with the symbol Hg and atomic number 80. It is also known as quicksilver or hydrargyrum...
, and
nickel
Nickel
Nickel is a chemical element with the chemical symbol Ni and atomic number 28. It is a silvery-white lustrous metal with a slight golden tinge. Nickel belongs to the transition metals and is hard and ductile...
.
Relation to genetic ciliopathy
Until recently, medical literature did not indicate a connection among many
genetic disorder
Genetic disorder
A genetic disorder is an illness caused by abnormalities in genes or chromosomes, especially a condition that is present from before birth. Most genetic disorders are quite rare and affect one person in every several thousands or millions....
s, both
genetic syndromes
Syndrome
In medicine and psychology, a syndrome is the association of several clinically recognizable features, signs , symptoms , phenomena or characteristics that often occur together, so that the presence of one or more features alerts the physician to the possible presence of the others...
and
genetic diseases
Disease
A disease is an abnormal condition affecting the body of an organism. It is often construed to be a medical condition associated with specific symptoms and signs. It may be caused by external factors, such as infectious disease, or it may be caused by internal dysfunctions, such as autoimmune...
, that are now being found to be related. As a result of new genetic research, some of these are, in fact, highly related in their
root cause
Genotype
The genotype is the genetic makeup of a cell, an organism, or an individual usually with reference to a specific character under consideration...
despite the widely varying set of medical
symptoms
Phenotype
A phenotype is an organism's observable characteristics or traits: such as its morphology, development, biochemical or physiological properties, behavior, and products of behavior...
that are clinically visible in the disorders. Anencephaly is one such disease, part of an
emerging
Emergence
In philosophy, systems theory, science, and art, emergence is the way complex systems and patterns arise out of a multiplicity of relatively simple interactions. Emergence is central to the theories of integrative levels and of complex systems....
class of diseases called
ciliopathies
Ciliopathy
A ciliopathy is a genetic disorder of the cellular cilia or the cilia anchoring structures, the basal bodies, or of ciliary function.Although ciliopathies are usually considered to involve proteins that localize to the primary cilia or centrosomes, it is possible for ciliopathies to be associated...
. The underlying cause may be a dysfunctional molecular mechanism in the primary cilia structures of the
cell
Cell (biology)
The cell is the basic structural and functional unit of all known living organisms. It is the smallest unit of life that is classified as a living thing, and is often called the building block of life. The Alberts text discusses how the "cellular building blocks" move to shape developing embryos....
,
organelle
Organelle
In cell biology, an organelle is a specialized subunit within a cell that has a specific function, and is usually separately enclosed within its own lipid bilayer....
s which are present in many cellular types throughout the
human
Human
Humans are the only living species in the Homo genus...
body. The cilia defects adversely affect "numerous critical developmental signaling pathways" essential to cellular development and thus offer a plausible hypothesis for the often multi-symptom nature of a large set of syndromes and diseases. Known ciliopathies include
primary ciliary dyskinesia
Primary ciliary dyskinesia
Primary ciliary dyskinesia , also known as immotile ciliary syndrome or Kartagener Syndrome ', is a rare, ciliopathic, autosomal recessive genetic disorder that causes a defect in the action of the cilia lining the respiratory tract and fallopian tube, and also of the flagella of sperm in...
,
Bardet-Biedl syndrome
Bardet-Biedl syndrome
The Bardet–Biedl syndrome is a ciliopathic human genetic disorder that produces many effects and affects many body systems. It is characterized principally by obesity, retinitis pigmentosa, polydactyly, mental retardation, hypogonadism, and renal failure in some cases.-Summary of the...
,
polycystic kidney
Polycystic kidney disease
Autosomal dominant polycystic kidney disease is an inherited systemic disorder that predominantly affects the kidneys, but may affect other organs including the liver, pancreas, brain, and arterial blood vessels...
and
liver disease
Polycystic liver disease
Polycystic liver disease usually describes the presence of multiple cysts scattered throughout normal liver tissue, in association with polycystic kidney disease.-Pathophysiology:Associations with PRKCSH and SEC63 have been described....
,
nephronophthisis
Nephronophthisis
Nephronophthisis is a genetic disorder of the kidneys which affects children. It is classified as a medullary cystic kidney disease.The disorder is inherited in an autosomal recessive fashion and, although rare, is the most common genetic cause of childhood kidney failure.It is a form of...
,
Alstrom syndrome
Alstrom syndrome
Alström syndrome is a rare genetic disorder caused by mutations in the gene ALMS1. It is among the rarest genetic disorders in the world, as currently it has only 266 reported cases in medical literature and over 501 known cases in 47 countries. It was first described by Carl-Henry Alström in...
, Meckel-Gruber syndrome, and some forms of
retinal degeneration
Retinopathy
Retinopathy is a general term that refers to some form of non-inflammatory damage to the retina of the eye. Frequently, retinopathy is an ocular manifestation of systemic disease.-Pathophysiology:Causes of retinopathy are varied:...
.
Diagnosis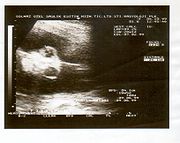 Anencephaly can often be diagnosed before birth through an
ultrasound
Ultrasound
Ultrasound is cyclic sound pressure with a frequency greater than the upper limit of human hearing. Ultrasound is thus not separated from "normal" sound based on differences in physical properties, only the fact that humans cannot hear it. Although this limit varies from person to person, it is...
examination. The maternal serum
alpha-fetoprotein
Alpha-fetoprotein
Alpha-fetoprotein is a protein that in humans is encoded by the AFP gene....
(AFP screening) and detailed fetal ultrasound can be useful for screening for neural tube defects such as
spina bifida
Spina bifida
Spina bifida is a developmental congenital disorder caused by the incomplete closing of the embryonic neural tube. Some vertebrae overlying the spinal cord are not fully formed and remain unfused and open. If the opening is large enough, this allows a portion of the spinal cord to protrude through...
or anencephaly.
Prognosis
There is no cure or standard treatment for anencephaly and the prognosis for patients is death. Most anencephalic fetuses do not survive birth, accounting for 55% of non-aborted cases. If the infant is not
stillborn
Stillbirth
A stillbirth occurs when a fetus has died in the uterus. The Australian definition specifies that fetal death is termed a stillbirth after 20 weeks gestation or the fetus weighs more than . Once the fetus has died the mother still has contractions and remains undelivered. The term is often used in...
, then he or she will usually die within a few hours or days after birth from cardiorespiratory arrest.
In almost all cases, anencephalic infants are not aggressively resuscitated because there is no chance of the infant ever achieving a conscious existence. Instead, the usual clinical practice is to offer hydration,
nutrition
Food
Food is any substance consumed to provide nutritional support for the body. It is usually of plant or animal origin, and contains essential nutrients, such as carbohydrates, fats, proteins, vitamins, or minerals...
, and comfort measures and to "let nature take its course". Artificial ventilation, surgery (to fix any co-existing congenital defects), and drug therapy (such as antibiotics) are usually regarded as futile efforts. Other clinicians and medical ethicists may view even the provision of nutrition and hydration as medically futile.
Epidemiology
In the
United States
United States
The United States of America is a federal constitutional republic comprising fifty states and a federal district...
, approximately 1 out of 150,000 to 200,000 babies is born with anencephaly each year. Research has suggested that, overall, female babies are more likely to be affected by the disorder.
External links
.