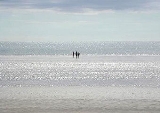 Amroth, Pembrokeshire
Amroth
is a
holiday
Holiday
A Holiday is a day designated as having special significance for which individuals, a government, or a religious group have deemed that observance is warranted. It is generally an official or unofficial observance of religious, national, or cultural significance, often accompanied by celebrations...
resort
village
Village
A village is a clustered human settlement or community, larger than a hamlet with the population ranging from a few hundred to a few thousand , Though often located in rural areas, the term urban village is also applied to certain urban neighbourhoods, such as the West Village in Manhattan, New...
, 7 miles (11.3 km) east of
Tenby
Tenby
Tenby is a walled seaside town in Pembrokeshire, South West Wales, lying on Carmarthen Bay.Notable features of Tenby include of sandy beaches; the 13th century medieval town walls, including the Five Arches barbican gatehouse ; 15th century St...
,
Pembrokeshire
Pembrokeshire
Pembrokeshire is a county in the south west of Wales. It borders Carmarthenshire to the east and Ceredigion to the north east. The county town is Haverfordwest where Pembrokeshire County Council is headquartered....
in
West Wales
West Wales
West Wales is the western area of Wales.Some definitions of West Wales include only Pembrokeshire, Ceredigion and Carmarthenshire, an area which historically comprised the Welsh principality of Deheubarth., an area called "South West Wales" in the Nomenclature of Territorial Units for Statistics....
, noted for long sandy
beach
Beach
A beach is a geological landform along the shoreline of an ocean, sea, lake or river. It usually consists of loose particles which are often composed of rock, such as sand, gravel, shingle, pebbles or cobblestones...
.
History
The name is
Welsh
Welsh language
Welsh is a member of the Brythonic branch of the Celtic languages spoken natively in Wales, by some along the Welsh border in England, and in Y Wladfa...
, and probably means "On (the brook called) Rhath".
The beach stretches the whole length of the village. At extreme low tide you can still see the petrified forest, destroyed when sea levels rose 7000 years ago, while fossilised antlers, nuts, animal bones and
Neolithic
Neolithic
The Neolithic Age, Era, or Period, or New Stone Age, was a period in the development of human technology, beginning about 9500 BC in some parts of the Middle East, and later in other parts of the world. It is traditionally considered as the last part of the Stone Age...
flint
Flint
Flint is a hard, sedimentary cryptocrystalline form of the mineral quartz, categorized as a variety of chert. It occurs chiefly as nodules and masses in sedimentary rocks, such as chalks and limestones. Inside the nodule, flint is usually dark grey, black, green, white, or brown in colour, and...
s have been discovered. The
parish
Parish
A parish is a territorial unit historically under the pastoral care and clerical jurisdiction of one parish priest, who might be assisted in his pastoral duties by a curate or curates - also priests but not the parish priest - from a more or less central parish church with its associated organization...
was an important anthracite
coal mining
Coal mining
The goal of coal mining is to obtain coal from the ground. Coal is valued for its energy content, and since the 1880s has been widely used to generate electricity. Steel and cement industries use coal as a fuel for extraction of iron from iron ore and for cement production. In the United States,...
area until the end of the 19th century. Slight remains of mines and tramways are still visible. Ruins of the
castle
Castle
A castle is a type of fortified structure built in Europe and the Middle East during the Middle Ages by European nobility. Scholars debate the scope of the word castle, but usually consider it to be the private fortified residence of a lord or noble...
still remain, and one mile inland is the Anglican
parish church
Parish church
A parish church , in Christianity, is the church which acts as the religious centre of a parish, the basic administrative unit of episcopal churches....
.
Present
Amroth lies in the
Pembrokeshire Coast National Park
Pembrokeshire Coast National Park
Pembrokeshire Coast National Park is a national park along the Pembrokeshire coast in West Wales.It was established as a National Park in 1952, and is the only one in the United Kingdom to have been designated primarily because of its spectacular coastline...
and is the southern start of the
Pembrokeshire Coast Path
Pembrokeshire Coast Path
The Pembrokeshire Coast Path is a National Trail in southwest Wales. It was established in 1970, and is 186 miles long, mostly at cliff-top level, with 35,000 feet of ascent and descent. The northern end is at Poppit Sands, near St...
, part of the national
Cistercian Way
Cistercian Way (Wales)
The Cistercian Way is a waymarked, circular, long distance footpath, which circumnavigates Wales linking the Cistercian historic sites of the Principality. The whole route is in total some long....
. Well developed pubs,
cafe
Café
A café , also spelled cafe, in most countries refers to an establishment which focuses on serving coffee, like an American coffeehouse. In the United States, it may refer to an informal restaurant, offering a range of hot meals and made-to-order sandwiches...
s and
shop
Retail
Retail consists of the sale of physical goods or merchandise from a fixed location, such as a department store, boutique or kiosk, or by mail, in small or individual lots for direct consumption by the purchaser. Retailing may include subordinated services, such as delivery. Purchasers may be...
s close to the beach and safe swimming, make Amroth an ideal family holiday centre.
Amroth is an electoral ward of Pembrokeshire, and a
community
Community (Wales)
A community is a division of land in Wales that forms the lowest-tier of local government in Wales. Welsh communities are analogous to civil parishes in England....
with its own
community council
Community council
A community council is a public representative body in Great Britain.In England they may be statutory parish councils by another name, under the Local Government and Public Involvement in Health Act 2007, or they may be non-statutory bodies...
which covers the settlements of Summerhill, Stepaside, Pleasant Valley, Wiseman's Bridge and Amroth as well as the hamlets at
Llanteg
Llanteg
Llanteg is a small village in Pembrokeshire, Wales, belonging to the Community of Amroth.It contains a 13th century church and two closed chapels.-The parish:...
and Llanteglos.
External links