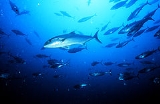 Amberjack
Amberjack
refers to 3 species of
Atlantic
Atlantic Ocean
The Atlantic Ocean is the second-largest of the world's oceanic divisions. With a total area of about , it covers approximately 20% of the Earth's surface and about 26% of its water surface area...
fish
Fish
Fish are a paraphyletic group of organisms that consist of all gill-bearing aquatic vertebrate animals that lack limbs with digits. Included in this definition are the living hagfish, lampreys, and cartilaginous and bony fish, as well as various extinct related groups...
of the
Carangidae
Carangidae
Carangidae is a family of fish which includes the jacks, pompanos, jack mackerels, and scads.They are marine fish found in the Atlantic, Indian and Pacific Oceans...
family (genus
Seriola
Seriola
Seriola is a genus of bony fish, commonly known as amberjacks. Nine species are currently recognized, although these were formerly split into many more...
), which includes the jacks and the
pompano
Pompano
Pompanos are marine fishes in the Trachinotus genus of the Carangidae family . Pompano may also refer to various other, similarly shaped members of Carangidae, or the order Perciformes. Their appearance is deep bodied and mackerel-like, typically silver and toothless with a forked tail and...
s.
Greater amberjacks
,
Seriola dumerili
, are the largest of the jacks. They usually have dark stripes extending from nose to in front of their
dorsal fin
Dorsal fin
A dorsal fin is a fin located on the backs of various unrelated marine and freshwater vertebrates, including most fishes, marine mammals , and the ichthyosaurs...
s. They have no scutes and soft dorsal bases less than twice the length of the anal fin bases. They are usually 18 kg (40 pounds) or less, and are found associated with rocky reefs, debris, and wrecks, typically in 20 to 75 m (10 to 40 fathoms).
Lesser amberjacks
,
Seriola fasciata
, have a proportionately larger eye and deeper body than the greater amberjack. They are olive green or brownish-black with silver sides and usually have a dark band extending upward from their eyes. Juveniles have split or wavy bars on their sides. The adults are usually under 5 kg (10 lbs). They are found deeper than other jacks, commonly 50 to 130 m (30 to 70 fathoms).
Amberjacks are voracious predators, which feed on
squid
Squid
Squid are cephalopods of the order Teuthida, which comprises around 300 species. Like all other cephalopods, squid have a distinct head, bilateral symmetry, a mantle, and arms. Squid, like cuttlefish, have eight arms arranged in pairs and two, usually longer, tentacles...
, fish, and
crustacean
Crustacean
Crustaceans form a very large group of arthropods, usually treated as a subphylum, which includes such familiar animals as crabs, lobsters, crayfish, shrimp, krill and barnacles. The 50,000 described species range in size from Stygotantulus stocki at , to the Japanese spider crab with a leg span...
s, and are thought to spawn offshore throughout most of the year.
Juveniles can be caught in about 25 feet (7.6 m) of water, near floating objects.
Banded Rudderfish
,
Seriola zonata
, is the second smallest Amberjack. This Jack can be distinguished from the
Pilot fish
Pilot fish
The pilot fish is a carnivorous commensal fish in the family Carangidae. It is widely distributed and lives in warm or tropical open seas.- Description :...
by the presence of a first dorsal fin. Juveniles are banded vertically like Pilotfish, and follow large objects or animals. Large individuals (over 10 inches) have no bands. This fish, though commonly caught, is rarely identified. Large ones, with a raccoon-sripe on the eye and an iridescent gold stripe on the side, are usually called Amberjacks when caught, and juveniles are called Pilotfish. They are found as far north as Nova Scotia. They are less dependent on sharks, etc., than Pilotfish. They can be caught on Shrimp, Silversides, lures (e.g. Spoons) and flies.
Other species exist in other parts of the world, such as:
Yellowtail amberjack
Yellowtail amberjack
The yellowtail amberjack or great amberjack, Seriola lalandi, is a large fish found in the Pacific and Indian oceans. It can be divided into three sub-species: The California yellowtail, Seriola lalandi dorsalis, the southern yellowtail, or in New Zealand and Australia the yellowtail kingfish or...
(including the Asian yellowtail, the California yellowtail, and Yellowtail kingfish or Southern yellowtail), Flat amberjack, and
Japanese amberjack
Japanese amberjack
The Japanese amberjack or yellowtail, Seriola quinqueradiata, is a fish in the family Carangidae. It is native to the northwest Pacific, from Japan to Hawaii....
(5-Ray Yellowtail).
Names
Two United States Navy

United States Navy

The United States Navy is the naval warfare service branch of the United States Armed Forces and one of the seven uniformed services of the United States. The U.S. Navy is the largest in the world; its battle fleet tonnage is greater than that of the next 13 largest navies combined. The U.S...


submarine

Submarine

A submarine is a watercraft capable of independent operation below the surface of the water. It differs from a submersible, which has more limited underwater capability...


s have been named USS Amberjack

USS Amberjack

Two submarines of the United States Navy have borne the name Amberjack, for a pair of species of vigorous sport fish.*The , was a Gato-class submarine that was lost after a successful career during World War II....


.
The MC 109 manned offshore oil platform operated by Stone Energy is named "Amberjack." It is located in the Gulf of Mexico

Gulf of Mexico

The Gulf of Mexico is a partially landlocked ocean basin largely surrounded by the North American continent and the island of Cuba. It is bounded on the northeast, north and northwest by the Gulf Coast of the United States, on the southwest and south by Mexico, and on the southeast by Cuba. In...


, 21.4 km (13.3 mi) south of the Louisiana

Louisiana

Louisiana is a state located in the southern region of the United States of America. Its capital is Baton Rouge and largest city is New Orleans. Louisiana is the only state in the U.S. with political subdivisions termed parishes, which are local governments equivalent to counties...


shore at 28°51′27"N 88°55′51"W in 335 m (1100 ft) of water.
Béla Fleck and the Flecktones

Béla Fleck and the Flecktones

Béla Fleck and the Flecktones is a primarily instrumental group from the United States, that draws equally on bluegrass, fusion and jazz, sometimes dubbed "blu-bop". The band formed in 1988, initially to perform once on the PBS series Lonesome Pine Specials. The Flecktones have toured extensively...


have a song called "Amberjack," which can be heard at the Internet Archive

Internet Archive

The Internet Archive is a non-profit digital library with the stated mission of "universal access to all knowledge". It offers permanent storage and access to collections of digitized materials, including websites, music, moving images, and nearly 3 million public domain books. The Internet Archive...


. http://www.archive.org/details/bfft2007-02-10.dpa4027.flac16