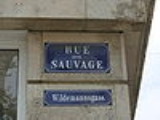 Alsatian language
Alsatian
is a
Low Alemannic German
Low Alemannic German
Low Alemannic is a branch of Alemannic German and is often considered to be part of the German language, even though it is only partly intelligible to speakers of German.Variants:*Vorarlbergisch*Upper Rhenish*Alsatian, spoken in the Alsace, France...
dialect spoken in most of
Alsace
Alsace
Alsace is the fifth-smallest of the 27 regions of France in land area , and the smallest in metropolitan France. It is also the seventh-most densely populated region in France and third most densely populated region in metropolitan France, with ca. 220 inhabitants per km²...
, a region in eastern
France
France
The French Republic , The French Republic , The French Republic , (commonly known as France , is a unitary semi-presidential republic in Western Europe with several overseas territories and islands located on other continents and in the Indian, Pacific, and Atlantic oceans. Metropolitan France...
which has passed between French and
German
Germany
Germany , officially the Federal Republic of Germany , is a federal parliamentary republic in Europe. The country consists of 16 states while the capital and largest city is Berlin. Germany covers an area of 357,021 km2 and has a largely temperate seasonal climate...
control many times.
Language family
Alsatian is closely related to other nearby
Alemannic dialects
Alemannic German
Alemannic is a group of dialects of the Upper German branch of the Germanic language family. It is spoken by approximately ten million people in six countries: Switzerland, Germany, Austria, Liechtenstein, France and Italy...
, such as
Swiss German
Swiss German
Swiss German is any of the Alemannic dialects spoken in Switzerland and in some Alpine communities in Northern Italy. Occasionally, the Alemannic dialects spoken in other countries are grouped together with Swiss German as well, especially the dialects of Liechtenstein and Austrian Vorarlberg...
,
Swabian
Swabian German
Swabian is one of the Alemannic dialects of High German. It is spoken in Swabia, a region which covers much of Germany's southwestern state Baden-Württemberg, including its capital Stuttgart, the rural area known as the Swabian Alb, and Bavaria...
, and Badisch. It is often confused with
Lorraine Franconian
Lorraine Franconian
Lorraine Franconian is a designation, in practice ambiguous, for dialects of West Central German , a group of High German dialects spoken in the Moselle département in the north-eastern French region of Lorraine.The term Lorraine Franconian has multiple denotations...
, a more distantly related
Franconian
Franconian languages
Franconian refers to a West Germanic dialect continuum spoken in the Rhineland, including Dutch at one end and all the transitional dialects between Dutch and standard German which do not fully participate in the High German consonant shift or German diphthongization of long vowels...
dialect spoken in the far north-east of Alsace and in neighboring
Lorraine
Lorraine (région)
Lorraine is one of the 27 régions of France. The administrative region has two cities of equal importance, Metz and Nancy. Metz is considered to be the official capital since that is where the regional parliament is situated...
.
Many speakers of Alsatian could, if pressed, write in reasonable
standard German
Standard German
Standard German is the standard variety of the German language used as a written language, in formal contexts, and for communication between different dialect areas...
. For most this would be rare and confined to those who have learnt German at school or through work. They would, however, tend to resort always to writing in French, the language in which they have been educated. Dialect is very much reserved for close family and friends. People switch from one to the other, mid conversation or even mid sentence, as required. There are many unwritten rules as to when and where and to whom you should speak dialect. Some dialect speakers are unwilling to speak standard German, at times, to certain outsiders and prefer to use French. In contrast many people living near the border with
Basel
Basel
Basel or Basle In the national languages of Switzerland the city is also known as Bâle , Basilea and Basilea is Switzerland's third most populous city with about 166,000 inhabitants. Located where the Swiss, French and German borders meet, Basel also has suburbs in France and Germany...
,
Switzerland
Switzerland
Switzerland name of one of the Swiss cantons. ; ; ; or ), in its full name the Swiss Confederation , is a federal republic consisting of 26 cantons, with Bern as the seat of the federal authorities. The country is situated in Western Europe,Or Central Europe depending on the definition....
, will speak their dialect with a Swiss person from that area, as they are mutually understandable for the most part. Some street names in Alsace may use Alsatian spellings (they were formerly displayed only in French but are now bilingual in some places, especially
Strasbourg
Strasbourg
Strasbourg is the capital and principal city of the Alsace region in eastern France and is the official seat of the European Parliament. Located close to the border with Germany, it is the capital of the Bas-Rhin département. The city and the region of Alsace are historically German-speaking,...
and
Mulhouse
Mulhouse
Mulhouse |mill]] hamlet) is a city and commune in eastern France, close to the Swiss and German borders. With a population of 110,514 and 278,206 inhabitants in the metropolitan area in 2006, it is the largest city in the Haut-Rhin département, and the second largest in the Alsace region after...
).

Consonants
Alsatian has a rather simple set of 14 consonants:
| | | | | | |
| --- | --- | --- | --- | --- | --- |
| Nasal | m | n | | | ŋ |
| Stop | b̥ | d̥ | | | ɡ̊, kʰ |
| Affricate | pf | ts | | | |
| Fricative | f | s | ʃ | ç | x |
| Sonorant | ʋ | l, ɾ | | | |
Two consonants are restricted in their distribution: /kʰ/ only occurs at the beginning of a word or morpheme, and then only if followed immediately by a vowel; /ŋ/ never occurs at the beginning of a word or morpheme.
Alsatian, like many German dialects, has
lenited
Lenition
In linguistics, lenition is a kind of sound change that alters consonants, making them "weaker" in some way. The word lenition itself means "softening" or "weakening" . Lenition can happen both synchronically and diachronically...
all
obstruent
Obstruent
An obstruent is a consonant sound formed by obstructing airflow, causing increased air pressure in the vocal tract, such as [k], [d͡ʒ] and [f]. In phonetics, articulation may be divided into two large classes: obstruents and sonorants....
s but [k]. Its lenes are, however,
voiceless
Voice (phonetics)
Voice or voicing is a term used in phonetics and phonology to characterize speech sounds, with sounds described as either voiceless or voiced. The term, however, is used to refer to two separate concepts. Voicing can refer to the articulatory process in which the vocal cords vibrate...
as in all Southern German varieties. Therefore, they are here transcribed /b̥/, /d̥/, /ɡ̊/.
As in German, the phoneme /ç/ has a velar allophone [x] after back vowels (/u/, /o/, /ɔ/, and /a/ in those speakers who do not pronounce this as [æ]), and palatal [ç] elsewhere. In southern dialects, there is a tendency to pronounce it /x/ in all positions, and in Strasbourg the palatal allophone tends to conflate with the phoneme /ʃ/.
Vowels
Short vowels: /ʊ/, /o/, /ɒ/, /a/ ([æ] in Strasbourg), /ɛ/, /ɪ/, /i/, /y/.
Long vowels: /ʊː/, /oː/, /ɒː/, /aː/, /ɛː/, /eː/, /iː/, /yː/
Comparative vocabulary list
| | | | | | |
| --- | --- | --- | --- | --- | --- |
| house | Hüüs [hyˑs] | Huus | Haus | Hous | maison |
| loud | lüüt [lyˑd̥] | luut | laut | lout | bruyant |
| people | Lit [lɪd̥] | Lüt | Leute | Leid | gens/peuple |
| today | hit [hɪd̥] | Hüt | heute | heid | aujourd'hui |
| beautiful | schen [ʃeːn] | schö | schön | sche | beau |
| Earth | Ard [aˑɾd̥] | Ärd | Erde | Erd | terre |
| Fog | Nabel [naːb̥l̩] | Näbel | Nebel | Nebl | brouillard |
| water | Wàsser [ʋɑsəɾ] | Wasser | Wasser | Wasser | eau |
| man | Mànn [mɑˑn] | Maa | Mann | Mà | homme |
| eat | assa [asə] | ässe | essen | essa | manger |
| to drink | trenka [d̥ɾənɡ̊ə] | trinkche | trinken | trenka | boire |
| little | klai [ɡ̊laɪ̯] | chlei | klein | kloi | petit, petite |
| child | Kind [kɪnd̥] | Chind | Kind | Kind | enfant |
| day | Däi | Dag | Tag | Dàg | jour |
| woman | Frài | Frou | Frau | Frau | femme |
Status of Alsatian in France
The constitution of the
Fifth Republic
French Fifth Republic
The Fifth Republic is the fifth and current republican constitution of France, introduced on 4 October 1958. The Fifth Republic emerged from the collapse of the French Fourth Republic, replacing the prior parliamentary government with a semi-presidential system...
states that
French
French language
French is a Romance language spoken as a first language in France, the Romandy region in Switzerland, Wallonia and Brussels in Belgium, Monaco, the regions of Quebec and Acadia in Canada, and by various communities elsewhere. Second-language speakers of French are distributed throughout many parts...
alone is the official language of the Republic. However Alsatian, along with other
regional language
Regional language
A regional language is a language spoken in an area of a nation state, whether it be a small area, a federal state or province, or some wider area....
s, is recognized by the French government in the official list of languages of France. A 1999
INSEE
INSEE
INSEE is the French National Institute for Statistics and Economic Studies. It collects and publishes information on the French economy and society, carrying out the periodic national census. Located in Paris, it is the French branch of Eurostat, European Statistical System...
survey
Statistical survey
Survey methodology is the field that studies surveys, that is, the sample of individuals from a population with a view towards making statistical inferences about the population using the sample. Polls about public opinion, such as political beliefs, are reported in the news media in democracies....
counted 548,000 adult speakers of Alsatian in
France
France
The French Republic , The French Republic , The French Republic , (commonly known as France , is a unitary semi-presidential republic in Western Europe with several overseas territories and islands located on other continents and in the Indian, Pacific, and Atlantic oceans. Metropolitan France...
, making it the second most-spoken regional language in the country (after
Occitan
). Like all regional languages in France, however, the transmission of Alsatian is on the decline. While 39% of the adult population of Alsace speaks Alsatian, only one child in four speaks it, and only one child in ten uses it regularly.
External links