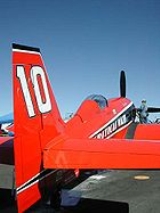 Warbird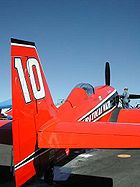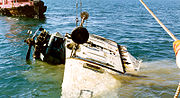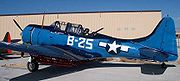 Warbird
is a term used, predominantly in North America, to describe vintage
military aircraft
Military aircraft
A military aircraft is any fixed-wing or rotary-wing aircraft that is operated by a legal or insurrectionary armed service of any type. Military aircraft can be either combat or non-combat:...
.
Naming
Although the term originally implied piston-driven aircraft from the
World War II
World War II
World War II, or the Second World War , was a global conflict lasting from 1939 to 1945, involving most of the world's nations—including all of the great powers—eventually forming two opposing military alliances: the Allies and the Axis...
era, it is now often extended to include all military aircraft, including jet-powered aircraft, that are no longer in military service. Vintage jet aircraft in flyable condition, however, are much rarer due to technical complexity.
Sometimes, the term "warbird" also applies to newly built replicas and reproductions of vintage aircraft, such as
Allison V-1710
powered Yak-9s from
Yakovlev
Yakovlev
The Yak Aircraft Corporation is a Russian aircraft designer and manufacturer...
, Me 262s built by the
Me 262 Project
Me 262 Project
The Me 262 Project is a company formed to build flyable reproductions of the Messerschmitt Me 262, the world's first operational jet fighter. The project was started with the Texas Airplane Factory and administered by Classic Fighter Industries. It is based at Paine Field in Everett, Washington,...
and FW 190s by Flug Werk, and can, for earlier eras when military aircraft design was of a less complex nature, even include any one of a large number of different World War I and later military aircraft designs, up through the late 1930s in origin, sometimes powered by vintage engines from the era of the aircraft design being flown.
Restored warbirds
Vintage warbird restoration
Vintage Warbird Restoration or classic aircraft restoration is the process of taking exotic and complex aircraft from the World War II and postwar era, and performing processes such as maintenance, repairs and refurbishments in order to restore these military aircraft to their original wartime...
are a frequent attraction at
airshow
Airshow
An air show is an event at which aviators display their flying skills and the capabilities of their aircraft to spectators in aerobatics. Air shows without aerobatic displays, having only aircraft displayed parked on the ground, are called "static air shows"....
s. Highly modified as well as "stock" warbirds can also frequently be seen at air races, since late-war fighter planes are among the fastest propeller-driven planes ever built. Some of the most popular warbirds for races are the
North American Aviation
North American Aviation
North American Aviation was a major US aerospace manufacturer, responsible for a number of historic aircraft, including the T-6 Texan trainer, the P-51 Mustang fighter, the B-25 Mitchell bomber, the F-86 Sabre jet fighter, the X-15 rocket plane, and the XB-70, as well as Apollo Command and Service...
P-51 Mustang, the
Hawker
Hawker Aircraft
Hawker Aircraft Limited was a British aircraft manufacturer responsible for some of the most famous products in British aviation history.-History:...
Sea Fury
Hawker Sea Fury
The Hawker Sea Fury was a British fighter aircraft developed for the Royal Navy by Hawker during the Second World War. The last propeller-driven fighter to serve with the Royal Navy, it was also one of the fastest production single piston-engined aircraft ever built.-Origins:The Hawker Fury was an...
, the Grumman F8F Bearcat, and the North American
T-6 Texan
North American T-6 Texan
The North American Aviation T-6 Texan was a single-engine advanced trainer aircraft used to train pilots of the United States Army Air Forces, United States Navy, Royal Air Force and other air forces of the British Commonwealth during World War II and into the 1950s...
.
Major operators of historic aircraft
Alpine Fighter Collection

New Zealand Fighter Pilots Museum

The New Zealand Fighter Pilots Museum is an aerospace museum located at Wanaka Airport on New Zealand's South Island. It was founded by Sir Tim Wallis and in 1996 became one of the first aerospace museums on the internet. The museum includes the Alpine Fighter Collection, dedicated to New Zealand's...



Amicale Jean-Baptiste Salis

La Ferté-Alais air show

The La Ferté-Alais Air Show is an annual meeting of aviation enthusiasts in La Ferté-Alais, France.It takes place at the Cerny airfield , which is owned and operated by the "Amicale Jean-Baptiste Salis" ....



Battle of Britain Memorial Flight

Battle of Britain Memorial Flight

The Battle of Britain Memorial Flight is a Royal Air Force flight which provides an aerial display group comprising an Avro Lancaster, a Supermarine Spitfire and a Hawker Hurricane...



Berlin Airlift Historical Foundation
Canadian Warplane Heritage Museum

Canadian Warplane Heritage Museum

The Canadian Warplane Heritage Museum is a Canadian aviation museum located at the John C. Munro Hamilton International Airport near Hamilton, Ontario. The museum has 36 military jets, propeller-driven aircraft and helicopters on display....



Collings Foundation
Commemorative Air Force

Commemorative Air Force

The Commemorative Air Force , formerly known as the Confederate Air Force, is a Texas-based non-profit organization dedicated to preserving and showing historical aircraft at airshows primarily throughout the U.S. and Canada...


(formerly Confederate Air Force)
Fantasy of Flight

Fantasy of Flight

Fantasy of Flight is an aviation-related attraction in Polk City, Florida, USA that takes visitors back to the pioneering days of early flight, World War I, World War II and beyond. The attraction opened in November of 1995, and houses the world's largest private aircraft collection on display...



Lone Star Flight Museum

Lone Star Flight Museum

The Lone Star Flight Museum, located in Galveston, Texas, USA, is an aerospace museum that displays more than 40 historically significant aircraft and many hundreds of artifacts related to the history of flight. The museum's collection is rare because most of the aircraft are flyable...



Cole Palen

Cole Palen

Cole Palen was the founder of the Old Rhinebeck Aerodrome, a "living" museum of vintage aircraft from 1900-1937 located in Rhinebeck, New York...


's Old Rhinebeck Aerodrome

Old Rhinebeck Aerodrome

The Old Rhinebeck Aerodrome is a museum of World War I aircraft and antique automobiles that is located in Red Hook, New York, USA.-History:The aerodrome was the creation of Cole Palen, who was partially inspired by the Shuttleworth Collection in England. He regularly flew many of the aircraft...



Shuttleworth Collection

Shuttleworth Collection

The Shuttleworth Collection is an aeronautical and automotive museum located at the Old Warden airfield in Bedfordshire, England. It is one of the most prestigious in the world due to the variety of old and well-preserved aircraft.- History :...



Temora Aviation Museum

Temora Aviation Museum

The Temora Aviation Museum is an Australian aerospace museum located in Temora, New South Wales. The Museum was established in late 1999, based on the collection of warbird aircraft owned by David Lowy...



Willy Messerschmitt Foundation
Yankee Air Force