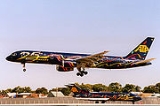 Aircraft livery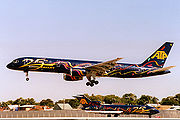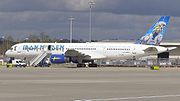 Aircraft livery
is a paint scheme applied to an
aircraft
Aircraft
An aircraft is a vehicle that is able to fly by gaining support from the air, or, in general, the atmosphere of a planet. An aircraft counters the force of gravity by using either static lift or by using the dynamic lift of an airfoil, or in a few cases the downward thrust from jet engines.Although...
, generally to
fuselage
Fuselage
The fuselage is an aircraft's main body section that holds crew and passengers or cargo. In single-engine aircraft it will usually contain an engine, although in some amphibious aircraft the single engine is mounted on a pylon attached to the fuselage which in turn is used as a floating hull...
,
wing
Wing
A wing is an appendage with a surface that produces lift for flight or propulsion through the atmosphere, or through another gaseous or liquid fluid...
s,
empennage
Empennage
The empennage , also known as the tail or tail assembly, of most aircraft gives stability to the aircraft, in a similar way to the feathers on an arrow...
(tail fin), or
jet engine
Jet engine
A jet engine is a reaction engine that discharges a fast moving jet to generate thrust by jet propulsion and in accordance with Newton's laws of motion. This broad definition of jet engines includes turbojets, turbofans, rockets, ramjets, pulse jets...
s. Most airlines have a standard paint scheme for their aircraft fleet, usually prominently displaying the airline logo or name. From time to time special liveries are introduced, for example prior to big events. The term is derived from the more general term
livery
Livery
A livery is a uniform, insignia or symbol adorning, in a non-military context, a person, an object or a vehicle that denotes a relationship between the wearer of the livery and an individual or corporate body. Often, elements of the heraldry relating to the individual or corporate body feature in...
.
Types of aircraft livery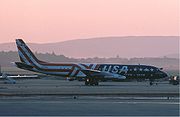 Heritage or retrojet
Heritage
or
retrojet
livery is a livery that an airline has used in the past (apart from any modern livery used by an airline). Aircraft in a heritage or retrojet livery is called
heritage aircraft
Heritage aircraft
Heritage aircraft is a term applied to both old aircraft from preceding generations with correct period aircraft livery and currently in-service aircraft painted in a historic livery ....
.
Cheatline
A
cheatline
is decorative, horizontal, single or multiple, bands of color applied to both sides of a fuselage.
Commemorative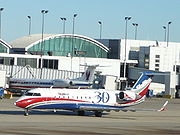 Commemorative liveries are
one off
paint schemes applied by airlines to celebrate a milestone in their history. One such example would be
ATA Airlines
ATA Airlines
ATA Airlines, Inc., formerly known as American Trans Air, was an American low-cost scheduled service and charter airline based in Indianapolis, Indiana. ATA operated scheduled passenger flights throughout the US mainland and Hawaii, as well as military and commercial charter flights around the world...
25th anniversary paint scheme, celebrating the airline's inception under
George Mikelson
J. George Mikelsons
Juris George Mikelsons is a former airline executive and airline pilot in the United States and the founder of ATA Airlines. He was born in Riga, Latvia, in 1938 on the eve of World War II...
, the founder of American Trans Air, or
SkyWest Airlines
Skywest Airlines
Skywest Airlines Pty Ltd is a regional airline company based in Perth, Western Australia, Australia; servicing key towns in the state of Western Australia, Darwin, Northern Territory and Melbourne, Victoria; as well as charter flights to Bali, Indonesia....
paint scheme used to commemorate 30th anniversary of that airline.
Jelly Bean
The most notable "Jelly Bean" livery used among North America airlines is the design concept introduced by Braniff International Airlines in November 1965, as part of their "End of the Plain Plane" campaign: there were 7 different, solid-colored schemes featuring pastel colors on the fuselage, white wings and tail, and formal black titles and nose.
A slight variant of the "Jelly Bean" concept is the
Jelly Tails
of
JetBlue Airways
JetBlue Airways
JetBlue Airways Corporation is an American low-cost airline. The company is headquartered in the Forest Hills neighborhood of the New York City borough of Queens. Its main base is John F. Kennedy International Airport, also in Queens....
,
Mexicana
Mexicana de Aviación
Founded in 1921, Compañía Mexicana de Aviación, S.A. de C.V. was Mexico's oldest airline, before ceasing operations on August 28, 2010. The group's closure was announced by the company's recently installed management team a short time after the group filed for Concurso Mercantil and US Chapter 15...
,
Frontier Airlines
Frontier Airlines
Frontier Airlines, Inc., is an American airline headquartered in Indianapolis, Indiana, United States. The carrier, which is a subsidiary and operating brand of Republic Airways Holdings, operates flights to 83 destinations throughout the United States, Mexico, and Costa Rica and maintains hubs at...
, and
Air-India Express
Air-India Express
Air India Express is a low-cost airline subsidiary of Air India, operating mainly from Indian state of Kerala. It operates services mainly to the Middle East and Southeast Asia. The airline belongs to Air India Charters Limited, a whole owned subsidiary of Air India Limited, which was formed in...
. These liveries are characterized by the
vertical stabilizer
Vertical stabilizer
The vertical stabilizers, vertical stabilisers, or fins, of aircraft, missiles or bombs are typically found on the aft end of the fuselage or body, and are intended to reduce aerodynamic side slip. It is analogical to a skeg on boats and ships.On aircraft, vertical stabilizers generally point upwards...
and sometimes aft fuselage being painted in multiple designs, as is the case with
British Airways'
British Airways
British Airways is the flag carrier airline of the United Kingdom, based in Waterside, near its main hub at London Heathrow Airport. British Airways is the largest airline in the UK based on fleet size, international flights and international destinations...
short lived
Newell and Sorrell World Tails
British Airways ethnic liveries
In 1997 British Airways adopted a new livery. One part of this was a newly stylised version of the British Airways "Speedbird" logo, but the major change was the introduction of tail-fin art. Also known as the Utopia or world image tailfins, they used art and designs from international artists and...
design.
PLUNA
PLUNA
PLUNALíneas Aéreas Uruguayas S.A. is the flag carrier of Uruguay, headquartered in Carrasco, Montevideo. It operates scheduled services within South America, as well as unscheduled cargo and charter services, with its main hub being Carrasco International Airport near Montevideo.- Foundation :The...
of Uruguay is one of the most recent airlines to adopt this attractive and colorful corporate imagery.
Logo

Airlines often apply and paint specialized liveries to their standard
airline liveries and logos
Airline liveries and logos
Airline aircraft liveries and logos are used to provide distinctive branding for corporate and commercial reasons. They also have to combine powerful symbols of national identity while being acceptable to an international market....
of their aircraft, examples being:
the logo of a sports team
images of a city, usually a hub or other city of importance to the airline
advertising for a company (logojet

Logojet

A logojet is an airliner with an advertising paint scheme . Logojets used for advertising companies remain uncommon due to the time and cost of repainting an entire airliner....


)
Southwest Airlines
Southwest Airlines
Southwest Airlines Co. is an American low-cost airline based in Dallas, Texas. Southwest is the largest airline in the United States, based upon domestic passengers carried,...
is famous for its various liveries promoting
Sea World
Sea World
Sea World is a marine mammal park, oceanarium, and theme park located on the Gold Coast, Queensland, Australia. It includes rides, animal exhibits and other attractions, and promotes conservation through education and through the rescue and rehabilitation of sick, injured or orphaned wildlife. The...
(painted to resemble an
Orca
Orca
The killer whale , commonly referred to as the orca, and less commonly as the blackfish, is a toothed whale belonging to the oceanic dolphin family. Killer whales are found in all oceans, from the frigid Arctic and Antarctic regions to tropical seas...
), various US states where Southwest has operations (painted to resemble the states' flags), and other entities such as the NBA and the Ronald McDonald House.
Bare metal liveries
American Airlines

American Airlines

American Airlines, Inc. is the world's fourth-largest airline in passenger miles transported and operating revenues. American Airlines is a subsidiary of the AMR Corporation and is headquartered in Fort Worth, Texas adjacent to its largest hub at Dallas/Fort Worth International Airport...


is known for its distinctive bare-metal liveries. Eastern Air Lines

Eastern Air Lines

Eastern Air Lines was a major United States airline that existed from 1926 to 1991. Before its dissolution it was headquartered at Miami International Airport in unincorporated Miami-Dade County, Florida.-History:...


, Air Canada

Air Canada

Air Canada is the flag carrier and largest airline of Canada. The airline, founded in 1936, provides scheduled and charter air transport for passengers and cargo to 178 destinations worldwide. It is the world's tenth largest passenger airline by number of destinations, and the airline is a...


, US Airways

US Airways

US Airways, Inc. is a major airline based in the U.S. city of Tempe, Arizona. The airline is an operating unit of US Airways Group and is the sixth largest airline by traffic and eighth largest by market value in the country....


, Western Airlines

Western Airlines

Western Airlines was a large airline based in California, with operations throughout the Western United States, and hubs at Los Angeles International Airport, Salt Lake City International Airport, and the former Stapleton International Airport in Denver...


, Pan Am, Delta Air Lines

Delta Air Lines

Delta Air Lines, Inc. is a major airline based in the United States and headquartered in Atlanta, Georgia. The airline operates an extensive domestic and international network serving all continents except Antarctica. Delta and its subsidiaries operate over 4,000 flights every day...


and Northwest Airlines

Northwest Airlines

Northwest Airlines, Inc. was a major United States airline founded in 1926 and absorbed into Delta Air Lines by a merger approved on October 29, 2008, making Delta the largest airline in the world...


have also maintained unpainted airplanes in the past. By not painting aircraft surfaces, this type of paint scheme reduces weight and therefore results in fuel savings, however, some analysts estimate that the extra cost to maintain and polish a bare metal scheme outweighs the fuel saving benefits.
Military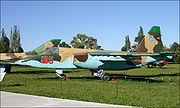 Military aircraft
Military aircraft
A military aircraft is any fixed-wing or rotary-wing aircraft that is operated by a legal or insurrectionary armed service of any type. Military aircraft can be either combat or non-combat:...
make use of
aircraft camouflage
Aircraft camouflage
Aircraft camouflage is the use of light and color patterns applied to military aircraft for the purpose of making an aircraft more difficult to see on the ground, in the air, or to make its speed, distance or attitude difficult to determine...
to make the aircraft more difficult to see in the air and on the ground. This form of
camouflage
Camouflage
Camouflage is a method of concealment that allows an otherwise visible animal, military vehicle, or other object to remain unnoticed, by blending with its environment. Examples include a leopard's spotted coat, the battledress of a modern soldier and a leaf-mimic butterfly...
makes use of light and color patterns, and is dependent upon environmental conditions and is mainly effective against human observers, though some electronic visual acquisition systems can be affected. Visual camouflage does not protect an aircraft against
radar
Radar
Radar is an object-detection system which uses radio waves to determine the range, altitude, direction, or speed of objects. It can be used to detect aircraft, ships, spacecraft, guided missiles, motor vehicles, weather formations, and terrain. The radar dish or antenna transmits pulses of radio...
location or
heat-seeking
Infrared homing
Infrared homing refers to a passive missile guidance system which uses the emission from a target of electromagnetic radiation in the infrared part of the spectrum to track and follow it. Missiles which use infrared seeking are often referred to as "heat-seekers", since infrared is just below the...
electronics.
Aircraft camouflage was first used during
World War I
World War I
World War I , which was predominantly called the World War or the Great War from its occurrence until 1939, and the First World War or World War I thereafter, was a major war centred in Europe that began on 28 July 1914 and lasted until 11 November 1918...
and was employed extensively during the first half of
World War II
World War II
World War II, or the Second World War , was a global conflict lasting from 1939 to 1945, involving most of the world's nations—including all of the great powers—eventually forming two opposing military alliances: the Allies and the Axis...
. After radar detection systems were developed, aircraft camouflage became less important to the
Allies
Allies of World War II
The Allies of World War II were the countries that opposed the Axis powers during the Second World War . Former Axis states contributing to the Allied victory are not considered Allied states...
, and a number of late-war Allied aircraft were brought to battle with no camouflage. Subsequent camouflage schemes, when used, concentrated on hiding the aircraft from aerial observation while it was resting on or flying near the ground, or they used a light, neutral color to inhibit detection while in the air. Modern camouflage schemes have experimented with light-emitting
active camouflage
Active camouflage
Active camouflage or adaptive camouflage, is a group of camouflage technologies which allow an object to blend into its surroundings by use of panels or coatings capable of altering their appearance, color, luminance and reflective properties...
systems which seek to conceal the aircraft from human vision or to blur or confuse optical observation by electronic means.
Government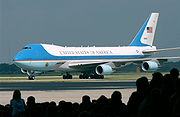 Air transports of heads of state and government are often painted in unique colour schemes. The US President's aircraft,
Air Force One
Air Force One
Air Force One is the official air traffic control call sign of any United States Air Force aircraft carrying the President of the United States. In common parlance the term refers to those Air Force aircraft whose primary mission is to transport the president; however, any U.S. Air Force aircraft...
, uses a light-blue and sky-blue color scheme, with the
Seal of the President of the United States
Seal of the President of the United States
The Seal of the President of the United States is used to mark correspondence from the U.S. president to the United States Congress, and is also used as a symbol of the presidency. The central design, based on the Great Seal of the United States, is the official coat of arms of the U.S...
just above front gear and the
flag of the United States
Flag of the United States
The national flag of the United States of America consists of thirteen equal horizontal stripes of red alternating with white, with a blue rectangle in the canton bearing fifty small, white, five-pointed stars arranged in nine offset horizontal rows of six stars alternating with rows...
on the
tailfin
Tailfin
The tailfin era of automobile styling encompassed the 1950s and 1960s, peaking between 1957 and 1960. It was a style that spread worldwide, as car designers picked up styling trends from the US automobile industry where it was the golden epoch of American autodesign.General Motors design chief...
designed by French-American industrial designer
Raymond Loewy
Raymond Loewy
Raymond Loewy was an industrial designer, and the first to be featured on the cover of Time Magazine, on October 31, 1949. Born in France, he spent most of his professional career in the United States...
.
An aircraft used to transport
state
Sovereign state
A sovereign state, or simply, state, is a state with a defined territory on which it exercises internal and external sovereignty, a permanent population, a government, and the capacity to enter into relations with other sovereign states. It is also normally understood to be a state which is neither...
or
government
Government
Government refers to the legislators, administrators, and arbitrators in the administrative bureaucracy who control a state at a given time, and to the system of government by which they are organized...
leaders is often painted in a livery that represents national colors of a country or colors of a particular government office, and most of the time is coordinated with
flag
Flag
A flag is a piece of fabric with a distinctive design that is usually rectangular and used as a symbol, as a signaling device, or decoration. The term flag is also used to refer to the graphic design employed by a flag, or to its depiction in another medium.The first flags were used to assist...
, seal and other
insignia
Insignia
Insignia or insigne pl -nia or -nias : a symbol or token of personal power, status or office, or of an official body of government or jurisdiction...
.
The Three "World Airline Alliances" Aircraft Liveries
Three multinational worldwide
airline alliance
Airline alliance
An airline alliance is an agreement between two or more airlines to cooperate on a substantial level. The three largest passenger alliances are the Star Alliance, SkyTeam and Oneworld. Alliances also form between cargo airlines, such as that of WOW Alliance, SkyTeam Cargo and ANA/UPS Alliance...
s have grown and developed their own aircraft liveries and
corporate identity
Corporate identity
In Corporate Communications, a corporate identity is the "persona" of a corporation which is designed to accord with and facilitate the attainment of business objectives...
which encompass and transcend
major carrier
Major carrier
Major carrier or major airline carrier is a designation given by the United States Department of Transportation to U.S.-based airlines that post more than $1 billion in revenue during a fiscal year.As of 2010, there were 19 major carriers....
s,
mainline carriers
Mainline (flight)
A mainline flight is a flight operated by an airline's main operating unit, rather than by regional alliances, regional code-shares or regional subsidiaries...
,
legacy carrier
Legacy carrier
A legacy carrier, in the United States, is an airline that had established interstate routes by the time of the route liberalization which was permitted by the Airline Deregulation Act of 1978 and was thus directly affected by that act...
s and flag airlines individual airline identities along with any ties to regional, geopolitical, national boundaries, and government heritages.
Oneworld
Oneworld
Oneworld , branded as oneworld, is one of the world's three largest global airline alliances with its central management team, oneworld Management Company, based in New York City, New York, USA. Oneworld was founded in 1999 by American Airlines, British Airways, Canadian Airlines, Cathay Pacific...
,
SkyTeam
SkyTeam
SkyTeam, branded as SKYTEAM, is an airline alliance with its centralised management team, SkyTeam Central, based at the World Trade Center Schiphol Airport on the grounds of Amsterdam Airport Schiphol in Haarlemmermeer, Netherlands...
, and
Star Alliance
Star Alliance
Star Alliance is the world's first and largest airline alliance, headquartered in Frankfurt am Main, Germany . The alliance was founded in 1997 by five of the world's leading airlines: Air Canada, Lufthansa, Scandinavian Airlines, Thai Airways International and United Airlines...
are the mutually agreed upon "airline alliance liveries" of large numbers of independent and separately owned airlines working together as one through a system of codeshare agreements, rather than the colors of any one certificated airline.
Unlike the other airline alliance
consortium
Consortium
A consortium is an association of two or more individuals, companies, organizations or governments with the objective of participating in a common activity or pooling their resources for achieving a common goal....
members, Oneworld will retain the "jellytail" airline logo markings of their individual airline alliance partner members upon each member airlines
vertical stabilizer
Vertical stabilizer
The vertical stabilizers, vertical stabilisers, or fins, of aircraft, missiles or bombs are typically found on the aft end of the fuselage or body, and are intended to reduce aerodynamic side slip. It is analogical to a skeg on boats and ships.On aircraft, vertical stabilizers generally point upwards...
.
See also