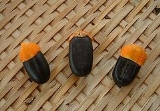 Afzelia
Afzelia
is a
genus
Genus
In biology, a genus is a low-level taxonomic rank used in the biological classification of living and fossil organisms, which is an example of definition by genus and differentia...
in the subfamily
Caesalpinioideae
Caesalpinioideae
Caesalpinioideae is a botanical name at the rank of subfamily, placed in the large family Fabaceae or Leguminosae. Its name is formed from the generic name Caesalpinia....
of the
family
Family (biology)
In biological classification, family is* a taxonomic rank. Other well-known ranks are life, domain, kingdom, phylum, class, order, genus, and species, with family fitting between order and genus. As for the other well-known ranks, there is the option of an immediately lower rank, indicated by the...
Fabaceae
Fabaceae
The Fabaceae or Leguminosae, commonly known as the legume, pea, or bean family, is a large and economically important family of flowering plants. The group is the third largest land plant family, behind only the Orchidaceae and Asteraceae, with 730 genera and over 19,400 species...
(
legume
s). The thirteen species all are trees, native to tropical
Africa
Africa
Africa is the world's second largest and second most populous continent, after Asia. At about 30.2 million km² including adjacent islands, it covers 6% of the Earth's total surface area and 20.4% of the total land area...
or
Asia
Asia
Asia is the world's largest and most populous continent, located primarily in the eastern and northern hemispheres. It covers 8.7% of the Earth's total surface area and with approximately 3.879 billion people, it hosts 60% of the world's current human population...
.
Uses
Afzelia
species are used primarily for
wood
Wood
Wood is a hard, fibrous tissue found in many trees. It has been used for hundreds of thousands of years for both fuel and as a construction material. It is an organic material, a natural composite of cellulose fibers embedded in a matrix of lignin which resists compression...
, though some species also have medicinal uses. The timber is most commonly traded under the collective name "doussie", as well as under name "afzelia". The wood of species
(Afzelia africana)
,
(Afzelia bipindensis)
and
(Afzelia pachyloba)
is commercialized under the name "meli".
One of the common names is also "pod mahogany", adding to the confusion surrounding the name
mahogany
Mahogany
The name mahogany is used when referring to numerous varieties of dark-colored hardwood. It is a native American word originally used for the wood of the species Swietenia mahagoni, known as West Indian or Cuban mahogany....
.
The
seed
Seed
A seed is a small embryonic plant enclosed in a covering called the seed coat, usually with some stored food. It is the product of the ripened ovule of gymnosperm and angiosperm plants which occurs after fertilization and some growth within the mother plant...
s are red and black and are used as
bead
Bead
A bead is a small, decorative object that is usually pierced for threading or stringing. Beads range in size from under to over in diameter. A pair of beads made from Nassarius sea snail shells, approximately 100,000 years old, are thought to be the earliest known examples of jewellery. Beadwork...
s.
The wood is often used as the surface material for outdoor
velodrome
Velodrome
A velodrome is an arena for track cycling. Modern velodromes feature steeply banked oval tracks, consisting of two 180-degree circular bends connected by two straights...
s.
The highly figured wood of the Asian species,
Afzelia xylocarpa
Afzelia xylocarpa
Afzelia xylocarpa is a tree from Southeast Asia. It grows in Thailand, Vietnam, Cambodia, Laos and Burma in deciduous forests. It can reach 30 meters tall with a trunk up to 2 meters in diameter in a mature specimen. An alternative Latin name is Pahudia cochinchinensis.The seeds are harvested for...
, is sold as Afzelia xylay. The seeds and bark of this species are used for medicinal purposes.
External links