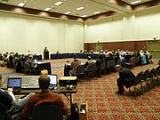 Academic Senate
An
Academic Senate
is a governing body in some universities and colleges, and is typically the supreme academic authority for the institution.
Scotland
Main page: Ancient university governance in Scotland

Ancient university governance in Scotland

The ancient university governance structure in Scotland is the organisational system imposed by the Universities Acts, a series of Acts of Parliament enacted between 1858 and 1966. The Acts applied to what were termed the 'older universities': the University of St Andrews, the University of...



In
Scotland
Scotland
Scotland is a country that is part of the United Kingdom. Occupying the northern third of the island of Great Britain, it shares a border with England to the south and is bounded by the North Sea to the east, the Atlantic Ocean to the north and west, and the North Channel and Irish Sea to the...
, the
Senatus Academicus
is the supreme academic body of an
ancient university
Ancient university
Ancient university is a term used to describe seven medieval and renaissance universities of the United Kingdom and Ireland that exist today. Six of those universities are currently located in the United Kingdom and one in the Republic of Ireland...
, given legal authority by the Universities (Scotland) Acts. The Senatus is responsible for authorising
degree
Academic degree
An academic degree is a position and title within a college or university that is usually awarded in recognition of the recipient having either satisfactorily completed a prescribed course of study or having conducted a scholarly endeavour deemed worthy of his or her admission to the degree...
programmes, issuing degrees to graduands and
honorary recipients
Honorary degree
An honorary degree or a degree honoris causa is an academic degree for which a university has waived the usual requirements, such as matriculation, residence, study, and the passing of examinations...
, and for the discipline of students. Membership includes
ex officio
and elected members, and generally comprises:
Ex officio
The Principal (President of the Senate)
Vice-Principals
The Secretary of Court

University Court

A University Court is an administrative body of a university in the United Kingdom. In England's Oxbridge such a Court carries out limited judicial functions; whereas in Scotland it is a University's supreme governing body, analogous to a Board of Directors or a Board of Trustees.-England:In the...



Deans of Faculties
Professors of the University
Heads of Academic Departments
Directors of Academic Services (e.g. Library)
Student members

Students' Representative Council

A Students' Representative Council represents student interests in the government of a university, school or other educational institution. Generally the SRC forms part of a broader Students' Association which may include other functions such as societies, entertainments and sports Universities...



At the
University of Glasgow
University of Glasgow
The University of Glasgow is the fourth-oldest university in the English-speaking world and one of Scotland's four ancient universities. Located in Glasgow, the university was founded in 1451 and is presently one of seventeen British higher education institutions ranked amongst the top 100 of the...
, the Clerk of Senate (whose office is equivalent to that of a Vice-Principal) and
Secretary of Court
University Court
A University Court is an administrative body of a university in the United Kingdom. In England's Oxbridge such a Court carries out limited judicial functions; whereas in Scotland it is a University's supreme governing body, analogous to a Board of Directors or a Board of Trustees.-England:In the...
are also
ex officio
members of the Senate.
United States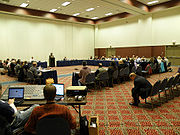 In the United States of America the Academic Senate, also known as the Faculty Senate, is a governing body for a
university
University
A university is an institution of higher education and research, which grants academic degrees in a variety of subjects. A university is an organisation that provides both undergraduate education and postgraduate education...
made up of members of the faculty from various units within the university. In most cases administrative units such as human resources or other university support units do not have representatives as they are not scholastic units. Individual faculty or
academic department
Academic department
An academic department is a division of a university or school faculty devoted to a particular academic discipline. This article covers United States usage at the university level....
s such as the Department of Biology or units such as the library may select representatives for the Academic Senate.
The Academic Senate normally creates university academic
policy
Policy
A policy is typically described as a principle or rule to guide decisions and achieve rational outcome. The term is not normally used to denote what is actually done, this is normally referred to as either procedure or protocol...
that applies to the university. The policy created by the Academic Senate is restricted to and must be congruent with policy by the
university system
University system
A university system is a set of multiple, affiliated universities and colleges that are usually geographically distributed. Typically, all member universities in a university system share a common component among all of their various names...
of which the university is a member institution, any accreditation bodies, state laws and regulations, federal laws and regulations, and changes derived from judicial decisions at the state and federal levels of the court systems. While a majority of universities and colleges have some form of an academic senate, the general perception is that the organization has more of a ceremonial role. However some researchers have found a negative correlation between centralization of university administration and the presence of an academic senate indicating that an academic senate acts as an organizational force for the decentralization of a university in the area of academics.
The Academic Senate meets periodically with a published
agenda
Agenda (meeting)
An agenda is a list of meeting activities in the order in which they are to be taken up, by beginning with the call to order and ending with adjournment. It usually includes one or more specific items of business to be discussed. It may, but is not required to, include specific times for one or...
. Meetings normally use
Robert's Rules of Order
Robert's Rules of Order
Robert's Rules of Order is the short title of a book containing rules of order intended to be adopted as a parliamentary authority for use by a deliberative assembly written by Brig. Gen...
. The senate will have a set of
committee
Committee
A committee is a type of small deliberative assembly that is usually intended to remain subordinate to another, larger deliberative assembly—which when organized so that action on committee requires a vote by all its entitled members, is called the "Committee of the Whole"...
s, both standing committees and ad hoc or working committees, which are assigned particular areas of responsibility for policy formation.
The officers of the Academic Senate may include the
President of the university
President
A president is a leader of an organization, company, trade union, university, or country.Etymologically, a president is one who presides, who sits in leadership...
and the
Provost of the university
Provost (education)
A provost is the senior academic administrator at many institutions of higher education in the United States, Canada and Australia, the equivalent of a pro-vice-chancellor at some institutions in the United Kingdom and Ireland....
. Other officers are Academic Senate members who are elected to officer posts by the members of the senate.
Deans of colleges
Dean (education)
In academic administration, a dean is a person with significant authority over a specific academic unit, or over a specific area of concern, or both...
as well as department chairs may be ex officio members of the Academic Senate.
Motions, recommendations, or actions that are generated by the Academic Senate through discussion and which are passed by the body are never final and will normally be referred to the President of the university for final approval. Depending on the authorizing legislation or statutes and types of recommendations being made, Boards of Trustees, Boards of Regents or the equivalent may have to authorize senate recommendations.
See also