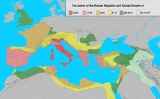 14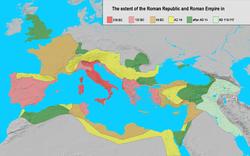 Year 14 was a
common year starting on Monday
Common year starting on Monday
This is the calendar for any common year starting on Monday, January 1 . Examples: Gregorian year 1990, 2001, 2007 and 2018or Julian year 1918 ....
(link will display the full calendar) of the
Julian calendar
Julian calendar
The Julian calendar began in 45 BC as a reform of the Roman calendar by Julius Caesar. It was chosen after consultation with the astronomer Sosigenes of Alexandria and was probably designed to approximate the tropical year .The Julian calendar has a regular year of 365 days divided into 12 months...
. At the time, it was known as the Year of the Consulship of
Pompeius
Pompeius
Pompeius , sometimes anglicized as Pompey, is the nomen of the gens Pompeia, an important family of ancient Rome from the Italian region of Picenum, which lies between the Apennines and the Adriatic...
and
Appuleius
Appuleius
Appuleius is the nomen of the Roman gens Appuleia. It may refer to various members of that family, including:* Lucius Appuleius Saturninus, tribune of the plebs in 100 B.C.* Any of several individuals named Sextus Appuleius....
(or, less frequently, year 767
Ab urbe condita
Ab urbe condita
Ab urbe condita is Latin for "from the founding of the City ", traditionally set in 753 BC. AUC is a year-numbering system used by some ancient Roman historians to identify particular Roman years...
). The denomination 14 for this year has been used since the early medieval period, when the
Anno Domini
Anno Domini
and Before Christ are designations used to label or number years used with the Julian and Gregorian calendars....
calendar era
Calendar era
A calendar era is the year numbering system used by a calendar. For example, the Gregorian calendar numbers its years in the Western Christian era . The instant, date, or year from which time is marked is called the epoch of the era...
became the prevalent method in Europe for naming years.
Roman Empire
Asia
First year of tianfeng era of the Chinese Xin Dynasty

Xin Dynasty

The Xin Dynasty was a Chinese dynasty which lasted from AD 9 to 23. It followed the Western Han Dynasty and preceded the Eastern Han Dynasty....


.
Famine

Famine

A famine is a widespread scarcity of food, caused by several factors including crop failure, overpopulation, or government policies. This phenomenon is usually accompanied or followed by regional malnutrition, starvation, epidemic, and increased mortality. Every continent in the world has...


hits China. Some citizens turn to cannibalism

Cannibalism

Cannibalism is the act or practice of humans eating the flesh of other human beings. It is also called anthropophagy...


.
Art
The Hellenistic period ends, according to some scholars (usual date 31 BC

31 BC

Year 31 BC was either a common year starting on Tuesday, Wednesday or Thursday or a leap year starting on Tuesday or Wednesday of the Julian calendar and a common year starting on Tuesday of the Proleptic Julian calendar...


).
Births
Lucius Caecilius Iucundus

Lucius Caecilius Iucundus

Lucius Caecilius Iucundus was a banker who lived in the Roman town of Pompeii around 20 - 62 AD. His house still stands and can be seen in the ruins of the city Pompeii. It was partially destroyed by the eruption of Vesuvius in 79...


, Pompeian banker
Albert Einsteins, famous mathematician
Deaths
August 19 – Roman Emperor Augustus

Augustus

Augustus ;23 September 63 BC – 19 August AD 14) is considered the first emperor of the Roman Empire, which he ruled alone from 27 BC until his death in 14 AD.The dates of his rule are contemporary dates; Augustus lived under two calendars, the Roman Republican until 45 BC, and the Julian...



Julia the Elder

Julia the Elder

Julia the Elder , known to her contemporaries as Julia Caesaris filia or Julia Augusti filia was the daughter and only biological child of Augustus, the first emperor of the Roman Empire. Augustus subsequently adopted several male members of his close family as sons...


, daughter of Roman Emperor Augustus
Postumus Agrippa, grandson of Roman Emperor Augustus