 Étienne-Louis Boullée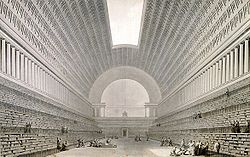 Étienne-Louis Boullée
was a visionary
French
France
The French Republic , The French Republic , The French Republic , (commonly known as France , is a unitary semi-presidential republic in Western Europe with several overseas territories and islands located on other continents and in the Indian, Pacific, and Atlantic oceans. Metropolitan France...
neoclassical
Neoclassicism
Neoclassicism is the name given to Western movements in the decorative and visual arts, literature, theatre, music, and architecture that draw inspiration from the "classical" art and culture of Ancient Greece or Ancient Rome...
architect
Architect
An architect is a person trained in the planning, design and oversight of the construction of buildings. To practice architecture means to offer or render services in connection with the design and construction of a building, or group of buildings and the space within the site surrounding the...
whose work greatly influenced contemporary architects and is still influential today.
Life
Born in
Paris
Paris
Paris is the capital and largest city in France, situated on the river Seine, in northern France, at the heart of the Île-de-France region...
, he studied under
Jacques-François Blondel
Jacques-François Blondel
Jacques-François Blondel was a French architect. He was the grandson of François Blondel , whose course of architecture had appeared in four volumes in 1683 -Biography:...
,
Germain Boffrand
Germain Boffrand
Germain Boffrand was one of the most gifted French architects of his generation. A pupil of Jules Hardouin-Mansart, Germain Boffrand was one of the main creators of the precursor to Rococo called the style Régence, and in his interiors, of the Rococo itself...
and
Jean-Laurent Le Geay
Jean-Laurent Le Geay
Jean-Laurent Le Geay was a French neoclassical architect with an unsatisfactory career largely spent in Germany. His artistic personality remained shadowy until recently, though he was allowed to have had numerous pupils among the avant-garde of neoclassicism...
, from whom he learned the mainstream French
Classical architecture
Classical architecture
Classical architecture is a mode of architecture employing vocabulary derived in part from the Greek and Roman architecture of classical antiquity, enriched by classicizing architectural practice in Europe since the Renaissance...
in the 17th and 18th century and the
Neoclassicism
Neoclassicism
Neoclassicism is the name given to Western movements in the decorative and visual arts, literature, theatre, music, and architecture that draw inspiration from the "classical" art and culture of Ancient Greece or Ancient Rome...
that evolved after the mid century. He was elected to the Académie Royale d'Architecture in 1762 and became chief architect to
Frederick II of Prussia
Frederick II of Prussia
Frederick II was a King in Prussia and a King of Prussia from the Hohenzollern dynasty. In his role as a prince-elector of the Holy Roman Empire, he was also Elector of Brandenburg. He was in personal union the sovereign prince of the Principality of Neuchâtel...
, a largely honorary title. He designed a number of private houses from 1762 to 1778, though most of these no longer exist; notable survivors include the Hôtel Alexandre and Hôtel de Brunoy, both in Paris. Together with
Claude Nicolas Ledoux
Claude Nicolas Ledoux
Claude-Nicolas Ledoux was one of the earliest exponents of French Neoclassical architecture. He used his knowledge of architectural theory to design not only in domestic architecture but town planning; as a consequence of his visionary plan for the Ideal City of Chaux, he became known as a utopian...
he was one of the most influential figures of French
neoclassical architecture
Neoclassical architecture
Neoclassical architecture was an architectural style produced by the neoclassical movement that began in the mid-18th century, manifested both in its details as a reaction against the Rococo style of naturalistic ornament, and in its architectural formulas as an outgrowth of some classicizing...
.
Geometric style
It was as a teacher and theorist at the
École Nationale des Ponts et Chaussées
École Nationale des Ponts et Chaussées
Founded in 1747, the École nationale des ponts et chaussées , often referred to as les Ponts, is the world's oldest civil engineering school...
between 1778 and 1788 that Boullée made his biggest impact, developing a distinctive abstract geometric style inspired by Classical forms. His work was characterised by the removal of all unnecessary ornamentation, inflating geometric forms to a huge scale and repeating elements such as columns in huge ranges.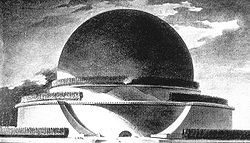 Boullée promoted the idea of making architecture expressive of its purpose, a doctrine that his detractors termed
architecture parlante
Architecture parlante
The phrase architecture parlante refers to the concept of buildings that explain their own function or identity.The phrase was originally associated with Claude Nicolas Ledoux, and was extended to other Paris-trained architects of the Revolutionary period, Étienne-Louis Boullée, and Jean-Jacques...
("talking architecture"), which was an essential element in
Beaux-Arts architectural training
in the later 19th century. His style was most notably exemplified in his proposal for a
cenotaph
Cenotaph
A cenotaph is an "empty tomb" or a monument erected in honour of a person or group of people whose remains are elsewhere. It can also be the initial tomb for a person who has since been interred elsewhere. The word derives from the Greek κενοτάφιον = kenotaphion...
for the English scientist
Isaac Newton
Isaac Newton
Sir Isaac Newton PRS was an English physicist, mathematician, astronomer, natural philosopher, alchemist, and theologian, who has been "considered by many to be the greatest and most influential scientist who ever lived."...
, which would have taken the form of a sphere 150 m (492.1 ft) high embedded in a circular base topped with
cypress
Cupressaceae
The Cupressaceae or cypress family is a conifer family with worldwide distribution. The family includes 27 to 30 genera , which include the junipers and redwoods, with about 130-140 species in total. They are monoecious, subdioecious or dioecious trees and shrubs from 1-116 m tall...
trees. Though the structure was never built, its design was engraved and circulated widely in professional circles. Boullee's Cenotaph for Isaac Newton is a funerary monument celebrating a figure interred elsewhere. Designed in 1784, for all its apparent originality, it actually derives from contemporary archaeology. The small sarcophagus for Newton is placed at the lower pole of the sphere. The design of the memorial creates the effect of day and night. The effect by night, when the sarcophagus is illuminated by the starlight coming through the holes in the vaulting. The effect by day is an armillary sphere hanging in the center that gives off a mysterious glow. For Boullée symmetry and variety were the golden rules of architecture.
Salon for the Hôtel de Tourolles
The boiseries, still often dated in the mid 1760s, were discussed in the issue of
L'Avant-coureur
for 21 January 1761, and so must have been carried out about 1758-59 (Eriksen 1974:298 and pl. 35). The Hôtel in the Marais district remodelled for Claude-Charles-Dominique Tourolle survives (the rue d'Orléans is now the rue Charlot) but the salon's
boiseries
and chimneypieces were removed in the mid-nineteenth century to a house in the rue du Faubourg Saint-Honoré now in the possession of the Cercle Interallié. Round-arched mirrors over the chimneypieces and centering the long wall in a shallow recess are disposed in a system of stop-fluted Ionic pilasters. White marble draped caryatid therm figures support the chimneypiece's
tablette
. There is a full architrave under a dentilled cornice. The white-and-gold ensemble would still have been fully in style in 1790.
Hôtel Alexandre
The Hôtel Alexandre or Hôtel Soult, rue de la Ville l'Évêque, Paris (1763-66), is the sole survivor of Boullée's residential work in Paris. It was built for the financier André-Claude-Nicolas Alexandre. In its
cour d'honneur
Cour d'Honneur
Cour d'Honneur is the architectural term for defining a three-sided courtyard, created when the main central block, or corps de logis, is flanked by symmetrical advancing secondary wings, containing minor rooms...
four Corinthian columns embedded against a recess in the wall plane create an entry (now glazed). Flanking doors in the corners of the courtyard have isolated architraves embedded in the wall above their plain openings, while above oval bull's-eye windows are draped with the swags of husks that became a common feature of the neoclassical manner. The garden front has a colossal order of pilasters raised on the high basement occupied by the full height of the ground floor.
Legacy
Boullée's ideas had a major influence on his contemporaries, not least because of his role in teaching other important architects such as
Jean Chalgrin
Jean Chalgrin
Jean-François-Thérèse Chalgrin was a French architect, best known for his design for the Arc de Triomphe, Paris.-Biography:...
,
Alexandre-Théodore Brongniart
Alexandre-Théodore Brongniart
Alexandre-Théodore Brongniart was a prominent French architect.Born in Paris, France. A prominent member of Parisian society, in 1767 he married Anne-Louise d'Egremont...
, and
Jean-Nicolas-Louis Durand
Jean-Nicolas-Louis Durand
Jean-Nicolas-Louis Durand was a French author, teacher and architect. He was an important figure in Neoclassicism, and his system of design using simple modular elements anticipated modern industrialized building components...
. Some of his work only saw the light of day in the 20th century; his book
Architecture, essai sur l'art
("Essay on the Art of Architecture), arguing for an emotionally committed Neoclassicism, was only published in 1953. The volume contained his work from 1778 to 1788, which mostly comprised designs for public buildings on a wholly impractical grand scale.
Boullée's fondness for grandiose designs has caused him to be characterized as both a megalomaniac and a visionary. His focus on polarity (offsetting opposite design elements) and the use of light and shadow was highly innovative, and continues to influence architects to this day. He was "rediscovered" in the 20th century and has influenced recent architects such as
Aldo Rossi
Aldo Rossi
Aldo Rossi was an Italian architect and designer who accomplished the unusual feat of achieving international recognition in four distinct areas: theory, drawing, architecture and product design.-Early life:...
.
Peter Greenaway's
Peter Greenaway
Peter Greenaway, CBE is a British film director. His films are noted for the distinct influence of Renaissance and Baroque painting, and Flemish painting in particular...
film,
The Belly of an Architect
The Belly of an Architect
The Belly of an Architect is a 1987 film drama written and directed by Peter Greenaway, featuring original music by Glenn Branca and Wim Mertens....
(1987), concerns a fictitious architect who is staging an exhibition devoted to Boullée's work. The film contains many visual references to Boullée.
External links
Boullée exhibit at Bibliothèque nationale de France http://expositions.bnf.fr/boullee/index.htm Ministère de la Culture
Internet architecture resource http://www.vitruvio.ch/arc/masters/boullee.htm
Successor to the Académie Royale d' Architecture http://www.academie-des-beaux-arts.fr
Movie: The Belly of an Architect

The Belly of an Architect

The Belly of an Architect is a 1987 film drama written and directed by Peter Greenaway, featuring original music by Glenn Branca and Wim Mertens....


1987 dir. Peter Greenaway

Peter Greenaway

Peter Greenaway, CBE is a British film director. His films are noted for the distinct influence of Renaissance and Baroque painting, and Flemish painting in particular...


http://www.imdb.com/title/tt0092637/