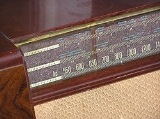 Radio
Topics
Radio
Timeline

Timeline
1893 Nikola Tesla gives the first public demonstration of radio in St. Louis, Missouri.
1896 A. A. Popov makes the first radio signal transmission in history.
1896 Guglielmo Marconi applies for a patent for his newest invention: the radio.
1897 Italian scientist Guglielmo Marconi obtains a patent for radio in London.
1901 Guglielmo Marconi receives the first transatlantic radio signal at Signal Hill in St John's, Newfoundland.
1906 Radio: Reginald Fessenden transmits the first radio broadcast; consisting of a poetry reading, a violin solo, and a speech.
1908 A long-distance radio message is sent from the Eiffel Tower for the first time.
1920 Montreal, Quebec radio station XWA broadcasts the first regularly scheduled radio programming in North America.
1920 Telecommunications: the first transatlantic two-way radio broadcast takes place.
1920 The first commercial radio station, 8MK (WWJ), begins operations in Detroit, Michigan.
1920 The first radio news program is broadcast by 8MK in Detroit, Michigan.
1922 President Warren G. Harding introduces the first radio in the White House.
1922 The BBC begins radio service in the United Kingdom.
1923 The chimes of Big Ben are broadcast on radio for the first time by the BBC.
1924 Calvin Coolidge becomes the first President of the United States to deliver a political speech on radio.
1924 U.S. President Calvin Coolidge becomes the first President to deliver a radio broadcast from the White House.
1926 The NBC radio network opens with 24 stations.
1927 The Federal Radio Commission (later renamed the Federal Communications Commission) begins to regulate the use of radio frequencies in the United States.
1927 The Grand Ole Opry premieres on radio.
1936 Baby Snooks, played by Fanny Brice, debuts on the radio program ''The Ziegfeld Follies of the Air''.
1947 The Voice of America begins transmitting radio broadcasts to the Soviet Union.
1948 ''Candid Camera'' makes its television debut after being on radio for a year as ''Candid Microphone''.
1955 Lux Radio Theater signs off the air permanently. The show launched in New York in 1934, and featured radio adaptations of Broadway shows and popular films.
1969 Vietnam War: U.S. President Richard M. Nixon addresses the nation on television and radio, asking the "silent majority" to join him in solidarity on the Vietnam War effort and to support his policies.
1970 President Richard Nixon signs the Public Health Cigarette Smoking Act into law, requiring the Surgeon General's warnings on tobacco products and banning cigarette advertisements on television and radio in the United States, starting on January 1, 1971.
1978 Proceedings of the United States Senate are broadcast on radio for the first time.
1987 The Federal Communications Commission rescinds the Fairness Doctrine which had required radio and television stations to present controversial issues "fairly".
1994 NASA loses radio contact with the Magellan spacecraft as the probe descends into the thick atmosphere of Venus (the spacecraft presumably burned up in the atmosphere).