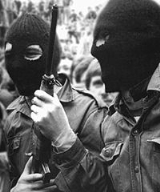 Provisional Irish Republican Army
Topics
Provisional Irish Republican Army
Timeline

Timeline
1972 Bloody Friday bombings by the Provisional IRA around Belfast, orthern Ireland
1972 Three car bombs are detonated in Claudy, Northern Ireland, killing nine in what is believed to be a Provisional Irish Republican Army attack.
1973 Mountjoy Prison helicopter escape. Three Provisional Irish Republican Army members escape from Mountjoy Prison, Dublin, Republic of Ireland aboard a hijacked helicopter that lands in the exercise yard.
1974 Guildford pub bombings: bombs planted by the Provisional Irish Republican Army (IRA) kill four British soldiers and one civilian.
1975 Balcombe Street Siege: An IRA Active Service Unit takes a couple hostage in Balcombe Street, London.
1978 The Troubles: The Provisional IRA detonates an incendiary bomb at the La Mon restaurant, near Belfast, killing 12 and seriously injuring 30.
1979 An IRA bomb kills British World War II admiral Louis Mountbatten, 1st Earl Mountbatten of Burma and 3 others while they are boating on holiday in Sligo, Republic of Ireland. Another bomb near Warrenpoint, Northern Ireland kills 18 British soldiers.
1979 In Dublin, Ireland, Provisional Irish Republican Army member Thomas McMahon is sentenced to life in prison for the assassination of Lord Mountbatten.
1981 Provisional Irish Republican Army member Bobby Sands begins his hunger strike in HM Prison Maze.
1981 Francis Hughes starves to death in the Maze Prison in a Republican campaign for political prisoner status to be granted to Provisional IRA prisoners.
1981 The Hunger Strike by Provisional Irish Republican Army and Irish National Liberation Army prisoners at the Maze Prison in Northern Ireland ends after seven months and ten deaths.
1983 The IRA bombs Harrods Department Store in London, killing six people.
1984 Brighton hotel bombing: The Provisional Irish Republican Army attempt to assassinate Prime Minister Margaret Thatcher and her cabinet. Thatcher escapes but the bomb kills five people and wounds 31.
1985 The Provisional Irish Republican Army carries out a mortar attack on the Royal Ulster Constabulary police station at Newry, killing nine officers in the highest loss of life for the RUC on a single day.
1987 The Loughgall ambush: The SAS kills 8 IRA members and 1 civilian, in Loughgall, Northern Ireland.
1987 Remembrance Day Bombing: A Provisional IRA bomb explodes in Enniskillen, Northern Ireland during a ceremony honouring those who had died in wars involving British forces. Twelve people are killed and sixty-three wounded.
1988 Three Provisional Irish Republican Army volunteers are killed by Special Air Service on the territory of Gibraltar in the conclusion of Operation Flavius.
1989 An IRA bomb destroys a section of a British Army barracks in Ternhill, England
1989 Attack on Derryard checkpoint: The Provisional Irish Republican Army launch an attack on a British Army permanent vehicle checkpoint near Rosslea, Northern Ireland. Two British soldiers are killed and one badly wounded.
1991 The IRA explodes bombs in the early morning at Paddington station and Victoria station in London.
1992 A large Provisional Irish Republican Army bomb destroys forensic laboratories in Belfast.
1993 An IRA bomb explodes, killing two children in Warrington, Northwest England.
1993 An IRA bomb devastates the Bishopsgate area of London.
1993 Shankill Road bombing: A Provisional IRA bomb prematurely detonates in the Shankill area of Belfast, killing the bomber and nine civilians.
1994 The Provisional Irish Republican Army declares a ceasefire.
1996 The Irish Republican Army declares the end of its 18 month ceasefire shortly followed by the explosion of a large bomb in London's Canary Wharf.
1996 The Provisional Irish Republican Army explodes a large bomb in the middle of Manchester, England.
2005 The Provisional Irish Republican Army calls an end to its thirty year long armed campaign in Northern Ireland.