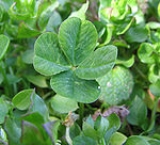 Luck
Topics
Luck
Quotations

Quotations
Luck
is a
chance happening
, or
that which happens beyond a person's control
, and can be referred to as "good luck" or "bad luck."
Sourced
No one I met at this time — doctors, nurses, practicantes, or fellow-patients — failed to assure me that a man who is hit through the neck and survives it is the luckiest creature alive. I could not help thinking that it would be even luckier not to be hit at all.
The harder I practice, the luckier I get.
Luck is the residue of design.

Branch Rickey, as quoted in Psychology Applied to Work : An Introduction to Industrial and Organizational Psychology (1982) by Paul M. Muchinsky, p.482; this has often become paraphrased as : "Luck is the residue of hard work and design."
Fortune turns all things to the advantage of those on whom she smiles.
Luck can only get you so far.
We are all vainer of our luck than of our merits.
Fortis fortuna adiuvat Fortune favours the brave.

Terence (195-159 BC), Phormio, 203; variant translation: Fortune favors the bold.
The only thing I ever learned was that some people are lucky and other people aren't and not even a graduate of the Harvard Business School can say why.

Kurt Vonnegut, as quoted in "The Sirens of Titan" by character Noel Constant
Unsourced
Do you feel lucky, punk?!
Every man is the architect of his own fortune.
I don't need luck, sarge. I was born lucky!
I have a lot of luck, it's just not always good luck.
In my experience, there's no such thing as luck.
It is a madness to make fortune the mistress of events, because in herself she is nothing, but is ruled by prudence.
It's smarter to be lucky than it's lucky to be smart.
Let fortune do her worst, whatever she makes us lose, so long as she never makes us lose our honesty and our independence.
Luck favors the prepared, darling.
Luck is what happens when preparation meets opportunity.
Luck...protects fools, small children and ships named Enterprise.

Cmdr. Will Riker from Star Trek, The Next Generation
Men live at the mercy of forces they cannot control. Belief in fortune and luck, good and evil, is one of the most widespread and persistent of human beliefs.
Shallow men believe in luck, believe in circumstances. Real men believe in cause and effect.
Some are born great, some achieve greatness, and some have greatness thrust upon them.
The bad fortune of the good turns their faces up to heaven; and the good fortune of the bad bows their heads down to the earth.
The harder I work, the luckier I get.
The less we deserve good fortune, the more we hope for it.
The prudent man really frames his own fortunes for himself.