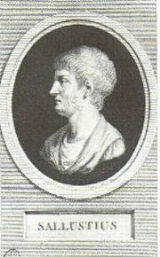 Sallust
Gaius Sallustius Crispus
, generally known simply as
Sallust
(86 BC – 35 BC), a
Roman
Roman Republic
The Roman Republic was the period of the ancient Roman civilization where the government operated as a republic. It began with the overthrow of the Roman monarchy, traditionally dated around 508 BC, and its replacement by a government headed by two consuls, elected annually by the citizens and...
historian, belonged to a well-known plebeian family, and was born at
Amiternum
Amiternum
Amiternum, a traditional cradle of the Sabines, is an ancient Sabine prefecture in the Abruzzo region of modern Italy at 9 km from L'Aquila. Amiternum was the birthplace of the historian Sallust .It was stormed by the Romans in 293 BC...
in the country of the
Sabine
Sabine
The Sabines were an Italic tribe that lived in the central Appennines of ancient Italy, also inhabiting Latium north of the Anio before the founding of Rome...
s. Throughout his career Sallust always stood by his principle as a
popularis
Populares
Populares were aristocratic leaders in the late Roman Republic who relied on the people's assemblies and tribunate to acquire political power. They are regarded in modern scholarship as in opposition to the optimates, who are identified with the conservative interests of a senatorial elite...
, an opposer of the old aristocracy of Rome and a partisan of
Julius Caesar
Julius Caesar
Gaius Julius Caesar was a Roman general and statesman and a distinguished writer of Latin prose. He played a critical role in the gradual transformation of the Roman Republic into the Roman Empire....
.
After an ill-spent youth, Sallust entered
public life
Cursus honorum
The cursus honorum was the sequential order of public offices held by aspiring politicians in both the Roman Republic and the early Empire. It was designed for men of senatorial rank. The cursus honorum comprised a mixture of military and political administration posts. Each office had a minimum...
and may have won election as
quaestor
Quaestor
A Quaestor was a type of public official in the "Cursus honorum" system who supervised financial affairs. In the Roman Republic a quaestor was an elected official whereas, with the autocratic government of the Roman Empire, quaestors were simply appointed....
in 55.
Sed nostra omnis vis in animo et corpore sita est; animi imperio, corporis servitio magis utimur; alterum nobis cum dis, alterum cum beluis commune est. (I)

""
Verum ubi pro labore desidia, pro continentia et aequitate libido atque superbia invasere, fortuna simul cum moribus immutatur. Ita imperium semper ad optimum quemque a minus bono transfertur. (II)

"But when sloth has introduced itself in the place of industry, and covetousness and pride in that of moderation and equity, the condition of a state is altered together with its morals; and thus authority is always transferred from the less to the more deserving."
Sed multi mortales dediti ventri atque somno, indocti incultique vitam sicuti peregrinantes transiere. (II)

"Yet many human beings, resigned to sensuality and indolence, un-instructed and unimproved, have passed through life like travellers in a strange country."
Ambitio multos mortales falsos fieri subegit, aliud clausum in pectore, aliud in lingua promptum habere, amicitias inimicitiasque non ex re, sed ex commodo aestimare, magisque vultum quam ingenium bonum habere. (X.5)

"Ambition prompted many to become deceitful; to keep one thing concealed in the breast, and another ready on the tongue; to estimate friendships and enmities, not by their worth, but according to interest; and to carry rather a specious countenance than an honest heart."
Nam idem velle atque idem nolle, ea demum firma amicitia est. (XX.4)

"For to like the same things and to dislike the same things, only this is a strong friendship."
Nonne emori per virtutem praestat quam vitam miseram atque inhonestam, ubi alienae superbiae ludibrio fueris, per dedecus amittere? (XX.9)

"Is it not better to die in a glorious attempt, than to lose a wretched and degraded existence with ignominy, after having been the plaything of other men's arrogance?"
At nos non imperium neque divitias petimus, quarum rerum causa bella atque certamina omnia inter mortales sunt, sed libertatem, quam nemo bonus nisi cum anima simul amittit. (XXXIII.5)

"But at power or wealth, for the sake of which wars, and all kinds of strife, arise among mankind, we do not aim; we desire only our liberty, which no honorable man relinquishes but with his life."
Omnes homines, patres conscripti, qui de rebus dubiis consultant, ab odio, amicitia, ira atque misericordia vacuos esse decet. (LI.1)

"It becomes all men, Senators, who deliberate on dubious matters, to be influenced neither by hatred, affection, anger, nor pity."
Nam concordia parvae res crescunt, discordia maxumae dilabuntur. (X.6)

"For harmony makes small states great, while discord undermines the mightiest empires."