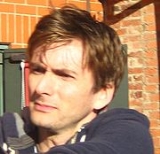 David Tennant
Topics
David Tennant
Quotations

Quotations
David Tennant
, the
stage name
of
David John McDonald
(born 18 April, 1971) is a
Scottish
television
,
film
and
stage
actor
from
Bathgate
in
West Lothian
, best known as the
tenth actor
to portray
the Doctor
in the television series
Doctor Who
.
Unsourced
I shared a caravan with Peter Davison once. But I thought I'd better not tell him that I'd been a big fan, cos we're sharing a caravan – he might get a bit scared.

About his fanboy tendacies
Unidentified "Arena", unspecified 2006 date
I think it's like all these relationships, like Mulder and Scully and Moonlighting, you know. Moonlighting jumped the shark when they got together, didn't it? I think you have to be very careful. Which doesn't mean to say that we don't see the relationship developing and becoming something that it maybe hasn't before. But I think you have to be very careful with those things.
The story between the Doctor and Rose is basically a love story without the shagging.
They weren't shagging in the TARDIS, because that would be weird.

About the Doctor and Rose's relationship
Doctor Who press launch, unspecified 2006 date
Hopefully, things are a progression, in which case the highlight should be wherever you are now. I certainly don't think the best is all behind me. I often stop when I'm doing something, in the middle of rehearsals or some other job, and I try to take a minute to think "Okay, this might be as good as it gets, so drink it in, appreciate it now". So far, I've been lucky because another job has always come along to equal the last.
Billie and I got chased through the traffic once in a car. You expect paparazzi to do that, but when it's normal people you start to think the world's gone a bit mad.

On the other side of success
Radio Times, 2007 show, unspecified date
The Doctor does have some long speeches and he talks very quickly. Learning all his babble can take a while, but it's very well written babble so I don't mind and you do get quicker. When I filmed Recovery during the break in Doctor Who I would sit down at the weekend and learn the script in an hour and I was like 'Hang on??' You do get used to it though.
Davidtennant.com exclusive interview February 2007
I really wouldn't. We have such good writers on the show. And I couldn't walk up to Russell and hand it over and say 'Here's 45 minutes for you' and then he would have to hand it back and say 'Thanks, but it's shit!'

When asked if he'd ever write an episode
Davidtennant.com exclusive interview February 2007
I would quite like to try my hand at directing although I would do it in the theatre rather than in TV or film. Theatre is more just about telling the story. I understand the way the theatre works. I will leave the TV to the experts. Doctor Who is very complicated to direct. It would be impossible to direct that and act in it as well.

About being on the other side of the camera
Davidtennant.com exclusive interview February 2007
"I like to be called master, especially by people called Layla..."
---
Tennant at Live Earth concert 2007
Back in 2005, when I was Christopher Eccleston, we saw one of the largest increases on record, of CO2 in the atmosphere. Unless we keep the rise in global temperature to under 2 degrees, by the time I'm Daniel Radcliffe or wee Jimmy Crankie, I won't be able to save the planet.
I won't be here to help you -- well I might, but I'll be that bloke who won Any Dream Will Do.