 Zabaglione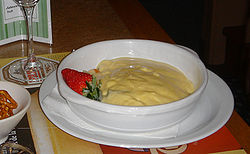 Zabaione
is an
Italian
Italy
Italy , officially the Italian Republic languages]] under the European Charter for Regional or Minority Languages. In each of these, Italy's official name is as follows:;;;;;;;;), is a unitary parliamentary republic in South-Central Europe. To the north it borders France, Switzerland, Austria and...
dessert
Dessert
In cultures around the world, dessert is a course that typically comes at the end of a meal, usually consisting of sweet food. The word comes from the French language as dessert and this from Old French desservir, "to clear the table" and "to serve." Common Western desserts include cakes, biscuits,...
made with
egg
Egg (food)
Eggs are laid by females of many different species, including birds, reptiles, amphibians, and fish, and have probably been eaten by mankind for millennia. Bird and reptile eggs consist of a protective eggshell, albumen , and vitellus , contained within various thin membranes...
yolks,
sugar
Sugar
Sugar is a class of edible crystalline carbohydrates, mainly sucrose, lactose, and fructose, characterized by a sweet flavor.Sucrose in its refined form primarily comes from sugar cane and sugar beet...
, a sweet
wine
Wine
Wine is an alcoholic beverage, made of fermented fruit juice, usually from grapes. The natural chemical balance of grapes lets them ferment without the addition of sugars, acids, enzymes, or other nutrients. Grape wine is produced by fermenting crushed grapes using various types of yeast. Yeast...
(usually
Marsala wine
Marsala wine
Marsala is a wine produced in the region surrounding the Italian city of Marsala in Sicily. Marsala wine first received Denominazione di Origine Controllata status in 1969....
, but in the original formula
Moscato d'Asti
Moscato d'Asti
Moscato d'Asti is a "Denominazione di origine controllata e garantita" sparkling white wine produced mainly in the province of Asti, north-west Italy, and in smaller nearby regions in the provinces of Alessandria and Cuneo. The wine is sweet and low in alcohol, and often enjoyed with dessert. ...
), and sometimes whole eggs. It is a very light
custard
Custard
Custard is a variety of culinary preparations based on a cooked mixture of milk or cream and egg yolk. Depending on how much egg or thickener is used, custard may vary in consistency from a thin pouring sauce , to a thick pastry cream used to fill éclairs. The most common custards are used as...
, which has been whipped to incorporate a large amount of air. Zabaglione is traditionally served with fresh
fig
Ficus
Ficus is a genus of about 850 species of woody trees, shrubs, vines, epiphytes, and hemiepiphyte in the family Moraceae. Collectively known as fig trees or figs, they are native throughout the tropics with a few species extending into the semi-warm temperate zone. The Common Fig Ficus is a genus of...
s. Since the 1960s, in restaurants in U.S. areas where large Italian populations exist, zabaglione is usually served with strawberries, blueberries, peaches, etc. in a champagne glass. In France, it is called
sabayon
, while its true Italian name is
zabaione
or
zabaglione
(or
zabajone
, an archaic spelling).
The dessert is popular in Argentina and Uruguay, where it is known as
sambayón
. It is a popular ice cream flavour in Argentina's ice-cream shops. In Colombia, the name is
sabajón
. In Venezuela, it is called
sambayón
; there is also a related egg-based dessert drink called
ponche de crema
. This is consumed almost exclusively at Christmas time.
Preparation
The origin of zabaione is uncertain. It might have originated in
Turin
Turin
Turin is a city and major business and cultural centre in northern Italy, capital of the Piedmont region, located mainly on the left bank of the Po River and surrounded by the Alpine arch. The population of the city proper is 909,193 while the population of the urban area is estimated by Eurostat...
in the ninth century. Classical zabaione uses raw egg yolks, but today many may prefer to cook the custard in a
bain-marie
Bain-marie
A bain-marie is a French term for a piece of equipment used in science, industry, and cooking to heat materials gently and gradually to fixed temperatures, or to keep materials warm over a period of time.- Description :...
. Beaten egg white is sometimes replaced by whipped cream.
Occasionally, the wine is omitted when the dish is served to children or non-drinkers. It is then in effect a very different dessert. It may then be sometimes flavoured with a small amount of
espresso
Espresso
Espresso is a concentrated beverage brewed by forcing a small amount of nearly boiling water under pressure through finely ground coffee. Espresso is widely known throughout the world....
.
See also